Rate cut talk sinks the Aussie
---
The Aussie dollar has fallen more than a cent this week, with the sharpest move coming in response to Australia's Q1 inflation data on Wednesday. The below-consensus inflation reading stoked a fresh wave of pricing for RBA rate cuts. 
A cash rate cut to 1.25% had only been fully priced by the October 2019 meeting but after the CPI data it was priced as early as June, with the chance of a May cut – in the heat of the election campaign no less – around 2/3.
Since then, pricing has eased off a little bit, but it is still a very big change overall, with 2 rate cuts priced by December and pricing for early 2020 below 1%. Westpac's view remains for the first move to be delivered in August, followed by November.
The debate over the RBA policy outlook will dominate discussion in the week ahead, with little on Australia's data calendar to provide fresh direction. This is likely to keep AUD/USD on the back foot.
Looking at the CPI details, the zero percent change in overall inflation was in large part due to petrol prices. But underlying inflation was also weak. The trimmed mean CPI rose just 0.3% in the quarter, 1.6% over the year, leaving an uphill battle to the 2% pace by end-2019 forecast by the RBA in February.
Yet the debate will continue over the timing of the first move, given that the RBA effectively has a neutral, not an easing bias and has been focused mostly on the unemployment rate, projecting that wages growth would continue to rise, albeit gradually. Recall that at the 2 April meeting, the RBA said that the "Australian labour market remains strong" and since then, we have seen an above-consensus 26k rise in jobs, with full-time work up 48k. So their optimism over the job market probably hasn't changed. The question is the weight placed on the CPI.
In offshore trade during our Anzac Day holiday, the Aussie dipped below 70 cents for the first time since early January. But downside pressure on the currency from the debate over the RBA could be contained by a more positive global mood. This week US equities hit record highs as Q1 earnings reports mostly surprised on the strong side, while China March data showed a sharp rebound and iron ore prices remain above $90 a tonne.
We will discuss the latest in the battle between RBA rate cut talk and a more upbeat global mood when we speak to you next week.
---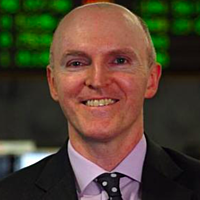 Senior Currency Strategist
Westpac Bank
Sean Callow is Westpac Bank's Senior Currency Strategist, based in Sydney. Sean focuses on the Australian dollar and other G10 and Asian currencies. He has worked in strategy and economics roles in New York, London, Singapore and Melbourne.
Expertise