RBA brutally bashes bond bandits
---
In the AFR I write that the Reserve Bank of Australia's Governor Phil Lowe did a sublime job this week of radically recalibrating flawed market perceptions of the central bank's monetary policy posture while quietly, yet brutally, steam-rolling "short-sellers" that were questioning his commitment to unconventional stimulus. Excerpt only enclosed:

All of this brings me to Lowe's blockbuster speech this week. Traders and economists had convinced themselves that they could force the RBA to discard its 3-year "yield curve control" policy, whereby it targets keeping 3-year government bond yields at 0.1 per cent, because of its struggles to defend the policy in recent times. In particular, some in the market were aggressively betting against 3-year Aussie yields remaining at 0.1 per cent by short-selling the relevant bonds and lifting yields above the RBA's official target.
These traders were encouraged by chatter that the RBA was a reluctant QE participant, which was ostensibly reinforced by an awkward and unnecessarily academic debate between Labor politician Andrew Leigh and the RBA on whether they could do more. This left the impression that the RBA was sceptical about the benefits of additional QE despite its restraint on the exchange rate, incentivising traders to take Lowe on.
The brewing battle resembled a central bank trying to defend a currency peg. Every day trading desks were advising clients that there were mounting questions regarding the RBA's credibility. As long-term rates started to soar around the world in February, some offshore investors felt the RBA's battle with markets was becoming a test-case for all central banks.
On Tuesday, the RBA delivered a savage knock-out blow to the short-sellers by two brutal means. First, they stopped the Commonwealth treasury lending-out 3-year government bonds, which partially denied short-sellers access to these assets to dump on market. This meant the main lender of 3-year bonds was the RBA itself, as their single largest owner (via QE). The second hammer was the RBA massively increasing the cost of borrowing these bonds, making it prohibitively expensive to short-sell them.
In just one day Martin Place brought short-sellers to their knees, and 3-year government bond yields rapidly converged back to the 0.1 per cent target. This was followed on Wednesday by Lowe's speech, which was, as the governor remarked afterwards, designed to deliver some "clear messages" to investors.
The first was that contrary to widely-held expectations, "the Bank remains committed to the 3-year yield target". In case you missed that message, Lowe repeated it: "We are not considering removing the target or changing the target from 10 basis points". The only question was whether "to keep the April 2024 bond as the target bond, or to move to the next bond – that is the November 2024 bond – later this year".
One bank commented that there was substantial interest in buying Aussie government bonds after "Lowe reiterated the RBA's commitment to its 3-year bond yield target, which we see as a response to markets challenging the credibility of the policy".
Lowe's second message was that ( silly ) expectation for "possible increases in the cash rate as early as late next year and then again in 2023" were plainly wrong. Or, in Lowe's blunt words: "This is not an expectation that we share." And by "we" he means the people that set interest rates!
A third message was that the RBA is comfortable with the idea of increasing QE whenever it needs to, as it did a couple of weeks ago when it bought $4 billion of bonds on a single day. "We remain prepared to alter the timing of purchases under the current programs in response to market conditions," Lowe affirmed. "We did this last week when liquidity conditions deteriorated...and will do so again if necessary."
The fourth message was that markets should be pricing in a high likelihood of QE3 after the second $100 billion bond-buying program ends. "Later in the year, the Board will also consider the case for further extending the bond purchase program," Lowe stressed. "We are prepared to undertake further bond purchases if that is required to reach our goals."
The final, and arguably most significant message, was that the RBA has materially lowered its estimate of its "full-employment" target down to a jobless rate in the low 4 per cent range. Only a few years ago this was figured to be 5 per cent. When asked by the AFR's John Kehoe whether full employment could be consistent with a jobless rate of just 3-point-something per cent (as has been the case in the US), Lowe responded that this was "entirely possible".
"I certainly hope, and it's not inconceivable, that we could sustain an unemployment rate in Australia starting with a 3," Lowe said. This column foreshadowed that a 3-point-something per cent full employment estimate was plausible only a week ago.
Access Coolabah's intellectual edge
With the biggest team in investment-grade Australian fixed-income, Coolabah Capital Investments publishes unique insights and research on markets and macroeconomics from around the world overlaid leveraging its 13 analysts and 5 portfolio managers. Click the 'CONTACT' button below to get in touch
........
Investment Disclaimer Past performance does not assure future returns. All investments carry risks, including that the value of investments may vary, future returns may differ from past returns, and that your capital is not guaranteed. This information has been prepared by Coolabah Capital Investments Pty Ltd (ACN 153 327 872). It is general information only and is not intended to provide you with financial advice. You should not rely on any information herein in making any investment decisions. To the extent permitted by law, no liability is accepted for any loss or damage as a result of any reliance on this information. The Product Disclosure Statement (PDS) for the funds should be considered before deciding whether to acquire or hold units in it. A PDS for these products can be obtained by visiting www.coolabahcapital.com. Neither Coolabah Capital Investments Pty Ltd, EQT Responsible Entity Services Ltd (ACN 101 103 011), Equity Trustees Ltd (ACN 004 031 298) nor their respective shareholders, directors and associated businesses assume any liability to investors in connection with any investment in the funds, or guarantees the performance of any obligations to investors, the performance of the funds or any particular rate of return. The repayment of capital is not guaranteed. Investments in the funds are not deposits or liabilities of any of the above-mentioned parties, nor of any Authorised Deposit-taking Institution. The funds are subject to investment risks, which could include delays in repayment and/or loss of income and capital invested. Past performance is not an indicator of nor assures any future returns or risks. Coolabah Capital Institutional Investments Pty Ltd holds Australian Financial Services Licence No. 482238 and is an authorised representative #001277030 of EQT Responsible Entity Services Ltd that holds Australian Financial Services Licence No. 223271. Equity Trustees Ltd that holds Australian Financial Services Licence No. 240975. Forward-Looking Disclaimer This presentation contains some forward-looking information. These statements are not guarantees of future performance and undue reliance should not be placed on them. Such forward-looking statements necessarily involve known and unknown risks and uncertainties, which may cause actual performance and financial results in future periods to differ materially from any projections of future performance or result expressed or implied by such forward-looking statements. Although forward-looking statements contained in this presentation are based upon what Coolabah Capital Investments Pty Ltd believes are reasonable assumptions, there can be no assurance that forward-looking statements will prove to be accurate, as actual results and future events could differ materially from those anticipated in such statements. Coolabah Capital Investments Pty Ltd undertakes no obligation to update forward-looking statements if circumstances or management's estimates or opinions should change except as required by applicable securities laws. The reader is cautioned not to place undue reliance on forward-looking statements.
---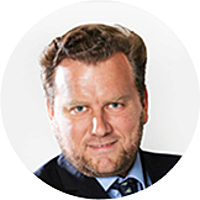 Portfolio Manager & Chief Investment Officer
Coolabah Capital
Chris co-founded Coolabah in 2011, which today runs over $8 billion with a team of 26 executives focussed on generating credit alpha from mispricings across fixed-income markets. In 2019, Chris was selected as one of FE fundinfo's Top 10 "Alpha...