Bunnings, the tenant, had long-term leases plus options on sites meaning that they could potentially be there for decades to come. Bunnings' sites are always in good locations and would be ultimately suited to potential residential schemes. The stock had screened expensive on a relative basis, so we have been underweight.
Astro Japan (AJA)
Astro offers exposure to Japanese real estate via the ASX. It's been around since 2005 and management did a great job during the GFC keeping the ship afloat because while gearing levels were monstrous, the ICR covenants did not breach. The Japanese Government has announced a number of fiscal stimulus packages to complement the Bank of Japan programme of buying government bonds and securities, including J-REITs. As a result, there is strong demand for Japanese real estate and Astro has benefitted. Management continues to do a good job, even better if you consider they have to convince people to buy a Japanese real estate company listed on the ASX with currency and economic risks.
Arena REIT (ARF)
One of the better results as ARF continues to deliver mid to high single-digit EPS/DPS growth, despite having one of the most resilient and defensive business models with its long-term leases to childcare operators. We continue to be overweight.
Charter Hall Group (CHC)
CHC experienced strong growth in funds management during FY16 (+30%) and are rapidly becoming one of Australia's leading providers of real estate exposure. The only problem is that given the massive growth in earnings, their tax bill in FY17 also lifts considerably, such that on an underlying basis they've guided to +7 to +9% earnings growth but post tax it's around +2% (domestic investors will be entitled to a franking credit). There was limited detail about the upcoming IPO of the "Long WALE REIT" except that the average lease term (WALE) will be 12 years, and it will have $1bn of assets under management. We should know more next week, and while the risk metrics appear favourable, it all depends on the price.
Cromwell (CMW)
It was a disappointing result, to the point where one broker (CLSA) titled their note Crom-SELL. The FY16 result was fine, but it was the write down of A$86m of goodwill associated with its Valad Europe acquisition acquired in March 2015 for A$207m. This is a 42% write-down in 18 months. Management noted that a combination of changing UK sentiment/uncertainty (Brexit) and shift in strategy to focus on more annuity-style AUM fees. It takes me back to June 2007 where the Valad Property Group purchased the Scarborough business (UK and Europe fund manager that became Valad Europe) for A$1.2bn. In October 2008 they wrote-off A$247m of goodwill on the purchase, but worse was to come for Valad. Hopefully, this is the end of the bad news from Cromwell.
GDI Property Group (GDI)
GDI reported a solid result, beating consensus due to higher than expected holding income at Ashfield and Townsville (ahead of the formation of the GDI syndicate #42), lower interest expense, and recognition of lease surrender payments (tenant lease building early and pays landlord outstanding rent). No guidance was provided; however, GDI has indicated that they intend to sell potentially up to three assets during FY17, which will likely result in earnings declining in FY17. GDI have indicated that distributions will be at least 7.75cps.
Peet (PPC)
One investor complained on the results call that there was a massive disconnect between the share price and the business results. The results were quite solid with operating profit up 11% and their Perth sales exposure falling from ~40% in FY14 to ~20% in FY16. Victorian sales accounted for ~60% of earnings vs. ~30% in FY14. Also, a number of new estates will start selling in Qld in FY17. On the surface, it seems fine, but it is a residential developer based in Perth with no Sydney exposure. From a valuation perspective, it offers compelling value but has screened well for many years. Maybe they need to move their headquarters to Melbourne.
Scentre Group (SCG)
SCG (the old Westfield Australia) provided a half year update (their financial year is December) and guided to CY16 FFO growth of 3% and DPS growth of 2%. Comparable net property income growth of 2.5%–3.0% was provided despite the lower than expected inflationary environment and downtime resulting from 40 Dick Smith closures (all have been released). In addition, management provided guidance on its key growth drivers beyond CY16 including 3.5%–4.0% net income growth which includes the impact from redevelopments. SCG reported jewellers sales were up +9% during FY16, leisure +6%, health and beauty +6%. Property markets do mirror State conditions with NSW, ACT leading the sales growth while WA and Qld have lagged (as you'd expect).
Westfield Group (WFD)
WFD has revised CY16 FFO guidance to 33.7–34.0cps (down 1.5%) purely due to the weaker GBP but maintained DPS guidance of 25.1cps. Net income came in slightly below consensus due to lower occupancy, although this was offset by stronger project income. While WFD's circa $10bn pipeline is world class, it won't be fully crystallised until 2020/21. Westfield is very adept at maintaining their long-term vision and not being swayed by short-term noise such as Brexit and FX moves. After all, they opened Westfield London in the depths of the GFC. The recent opening of the World Trade Centre in New York is testimony to their vision and world class expertise. There's a lot more information on their website:  (VIEW LINK)
Written by Pat Barrett, Property Analyst. Contributed by UBS Asset Management Australia:  (VIEW LINK)
---

Follow Pat Barrett's wires
---
---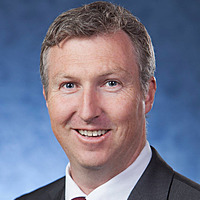 Pat Barrett has twenty five years experience in the listed and direct property industries, most recently covering property securities, infrastructure and utilities analysis at UBS.
Expertise