Rhett Kessler - The emperor has no clothes
---
Are the big Australian banks value traps? As the disparity in valuations between value and growth stocks widen, Rhett and I discuss why. The impact of technological disruption has seen several growth stock multiples stretch well beyond traditional valuation methods, and Rhett believes that there are more rational returns to be found in less favoured companies such as Telstra and Viva Energy.
The Pengana Australian Equities Fund is an absolute return focused fund that aims to deliver returns of 6% greater than the risk-free rate throughout the cycle. Since inception in June 2008, the fund has returned 10.23% p.a. as at October 2019.
More podcasts
If you're enjoying Inside the Rope and don't want to miss a future episode, subscribe now to get notified when a new episode is released.
........
This research note has been prepared without consideration of any client's investment objectives, financial situation or needs. Before acting on any advice in this document, Koda Capital Pty Ltd recommends that you consider whether this is appropriate for your circumstances. While this document is based on the information from sources which are considered reliable, Koda Capital Pty Ltd, its directors, employees and consultants do not represent, warrant or guarantee, expressly or impliedly, that the information contained in this document is complete or accurate. Koda does not accept any responsibility to inform you of any matter that subsequently comes to its notice, which may affect any of the information contained in this document. © Copyright Koda Capital 2019 | AFSL: 452 581 | ABN: 65 166 491 961 | www.kodacapital.com
---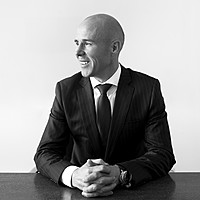 Adviser & Partner
Koda Capital
David Clark is an Adviser & Partner at Koda Capital. In his podcast 'Inside the Rope', David interviews some of the leading minds in wealth management.
Expertise