Seeking to reduce brain tissue death after stroke - Dr Liz Dallimore, CEO of Argenica Therapeutics
---
This episode is just such an absolute cracker! We have such an awesome opportunity to spend some time in conversation with a true leader in their field - Life Sciences, Technology and Data Strategy, Commercialisation and Innovation specialist Dr Liz Dallimore, the inaugural CEO of Argenica Therapeutics, stock code AGN. Argenica Therapeutics is a biotechnology company developing novel therapeutics to reduce brain tissue death after stroke.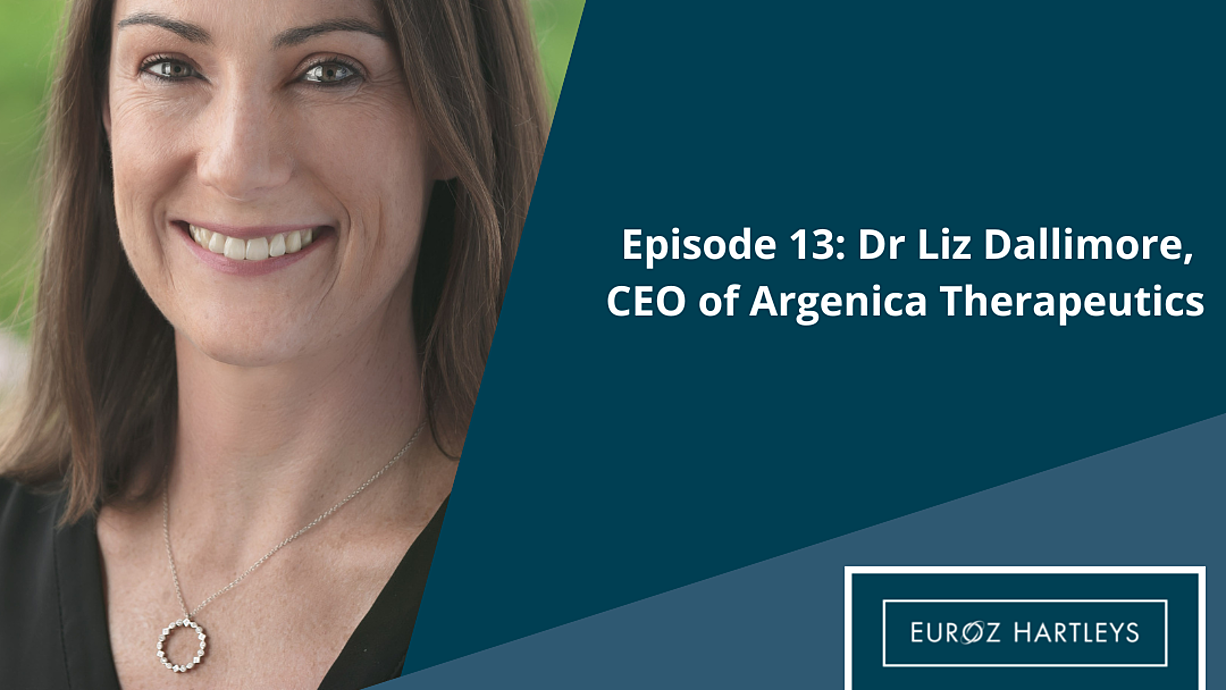 Liz grew up with science as part of her life. Her father achieved a PhD in nuclear physics from Oxford University and her love of science grew from an early stage. She then went on to graduate from the University of WA and Oxford University with a PhD in Nueroscience. In this podcast Liz speaks openly, drawing from her more than 20 years of experience and her deep understanding and highly educated insights. This results in a seriously thought provoking discussion into the human brain, the effect of stroke on the human brain, and the business side of the life sciences and Australian biotechnology sector – a sector which she is very passionate about.
Liz is also a mother of three kids who during her career was awarded winner of the 2019 Women in Technology WA Tech + Awards, was featured in the Sunday Times STM Magazine for International Women's Day 2020 as one of three WA Women making a difference and was selected as 1 of 25 Australian Female Leaders in the STEM for 2022 Federal Government Women in Leadership Development Program as well as Co-Founding a Medical Device Start Up Company and being the inaugural CEO of an ASX listed Biotech Company. She has numerous Board and Advisory roles including a Non-Executive Director role with the National Energy Resources Australia organisation, a General Council role with the WA Chamber of Commerce and Industry, and with the Stan Perron Charitable Foundation, being part of the Research Investment Advisory Panel.
........
Disclaimer & Disclosure Euroz Hartleys Limited ('Euroz Hartleys') is the holder of an Australian Financial Services Licence (AFSL 230052) issued by the Australian Securities and Investments Commission ("ASIC") and is a participant of the Australian Securities Exchange Group ("ASX Group"), Cboe Australia Pty Ltd (Cboe) and the National Stock Exchange (NSX). Euroz Hartleys and its associates declare that they deal in securities as part of their securities business and consequently may have a relevant interest in the securities participating in the Euroz Hartleys "Finding the Front" Podcast interviews. This may include providing equity capital market services to their issuing company, hold a position in the securities, acting as principal or agent, or make a market therein. Euroz Hartleys declares that it may have acted as an underwriter, arranger, co-arranger or adviser in equity capital raisings, and will have received a fee for its services, for some of the companies that have participated in the Euroz Hartleys "Finding the Front" podcast during the last 12 months. The Euroz Hartleys "Finding the Front" Podcast is general information only. Nothing in the Euroz Hartleys "Finding the Front" Podcast shall be construed as a solicitation to buy or sell a security, or to engage in or refrain from engaging in any transaction. The general advice warning applies in any case that all investors, before making any investment decisions, they should consult their qualified, licensed investment or financial adviser in order to ascertain whether the investment decision (if any) is appropriate, having regard to their investment objectives, financial situation and particular needs. Euroz Hartleys believes that the information contained and discussed within the Euroz Hartleys "Finding the Front" Podcast is correct at the time of compilation, however we make no representation or warranty that it is accurate, complete, reliable or up to date, nor do we accept any obligation to correct or update the opinions in it. The opinions expressed are subject to change without notice. No member of Euroz Hartleys accepts any liability whatsoever for any direct, indirect, consequential or other loss arising from any use of this material. We cannot guarantee that the integrity of this communication has been maintained, is free from errors, virus interception or interference.
---
Never miss an update
Get the latest insights from me in your inbox when they're published.
---