Simon Conn's 3 favourite small caps for 2022 and beyond
---
Investors with a penchant for small caps may know of Simon Conn, the long-standing senior portfolio manager of Investors Mutual's small and mid-cap strategies, and a multi-award winning portfolio manager at that. 
Conn is direct but warm, enjoys burning the midnight oil (he admits he starts work early, but "definitely not at 3am"), and is most proud of his three daughters (two who are following his footsteps in finance). But when asked what drives him other than investing he's lost for words. When it comes down to it, Conn truly just lives and breathes stocks.  
Having run the Value shops' small-cap strategies for more than two decades, and having witnessed many a correction, crisis, and rotation during this time, Conn believes we are shifting towards a more "fundamentals-based market". 
"We've been investing in a market where we've had increasing free trade, globalisation, the rise of China, and an extra couple of billion people coming into the global workforce," he explained.
"This has made manufacturing cheaper, and the world has benefited because of that, driving inflation lower. That paradigm has now come to an end."
While Growth stocks soared higher (and higher) on the tailwinds of low-interest rates over the past decade, Conn has stuck to his guns. 
By only investing in quality companies at reasonable valuations (or those that have been out of favour with the market) the Australian Smaller Companies Fund has returned 13.4% per annum since its inception in June 1998. 
Now that the tables are turning for Value investors, and rates are on the rise, Conn is adamant that his portfolio of stocks are in for a good year ahead. While he admits he still worries, as we all do, he's not getting caught up by noise and is instead focusing on the fundamentals.

That said, Conn argues that "interest rates don't need to go up much, given the level of indebtedness in the world, before they'll have an impact on demand, and ultimately, economic growth."
"We're in for a period of relatively low interest rates. Maybe it's a cash rate of 2-5%, but it's not going to be zero," he said.
In this wire, Conn points to three stocks that he has recently been buying on the back of the recent market sell-off, a long-term holding that has lost its shine, as well as how he is reacting to events in Eastern Europe and China.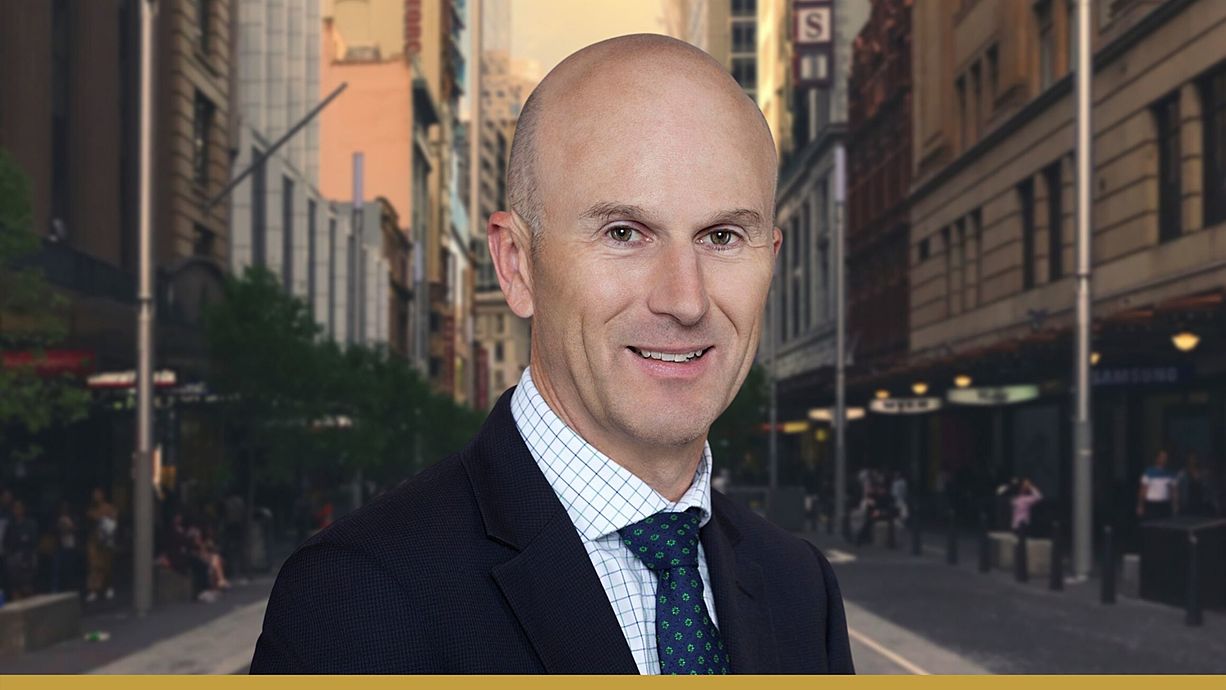 Escalating geopolitical tensions: And how they could impact Aussie companies
Albeit concerning from a humanitarian perspective, Conn notes that Russia's war in Ukraine has inadvertently elevated already strong commodity prices, benefiting the Australian economy. As both a soft and hard commodities-blessed country, Australia obviously gains from skyrocketing prices globally, he said. 
However, heightening tensions between China and Taiwan could present real headwinds going forward, Conn said, as Australia has benefited significantly from the industrialisation of China. 
"We are a small population sitting on this huge land mass. We've benefited from their demand for raw materials, whether it's iron ore, coal, gas, lithium, copper, agriculture products, wine, infant formula and even students - the university sector has done very well," he said. 
"So anything that impacts that is obviously going to have an impact on Australian economic growth."
Long before tensions began to resurface between China and Taiwan, the Chinese "growth machine" had slowed, Conn said. At the same time, over the past few years, China's government has introduced tariffs and sanctions on Australian exports, making it more and more difficult for Australian businesses to trade with the country's largest business partner. 
"We've outsourced a lot of manufacturing to them, which has really allowed China to industrialise and increase their wealth per capital very rapidly," he said. 
"Equally, we've also benefited from importing products, whether it's TVs, iPhones, or now car products that we are made in China. 
Alongside the slowing economic growth of the world's second-biggest country by GDP, many companies are now grappling with an accelerated shift towards "deglobalisation", with two years of supply chain disruptions prompting businesses to transition to local models. 
For some of the country's small companies, this is the silver lining, Conn said. 
"In the past decades, many companies were happy to outsource everything to Asia and rely on them entirely, creating extra pressure for domestic manufacturers," he explained.  
"Now we're seeing companies diversify their supply chains and have a domestic source closer to home - whether it's packaging or other products. And people are willing to pay a premium to have a local supplier, which I think is positive for some of the smaller companies that have manufacturing bases here." 
There's upside ahead (but only for Value stocks and commodities producers)
While Conn is shy to share his market outlook, he is, however, confident that his portfolio of small-cap stocks will trade higher over the year ahead. 
"The companies we own are reasonably priced, they've got good businesses, they've got solid franchises, they're displaying the ability to pass on higher prices in the current environment," he said. 
"They generate cash, they pay dividends, and I think those businesses are in good shape. So I think I can see them trading higher over the year because fundamentally, the Australian economy is in really good shape." 
Amid all the market noise, the fears over tensions in Eastern Europe and Asia, the new COVID variants, inflation shock and rising rates, Conn believes investors can feel confident in Australia's economic position. 
"Unemployment's low, interest rates - even with a couple of increases - are still relatively low," he said. 
"Our terms of trade are very high in that what we export to the world is trading at high levels, while imports remain relatively cheap. We're a highly educated, motivated workforce, and I think immigration's the thing that's been missing over the past two years." 

With borders reopening, there should be a "natural increase" in immigration over time - helping to boost economic growth further. 

"So the economic backdrop is actually quite good. It's just a lot of sectors in the market were very frothy and needed to adjust. We've seen a lot of that play-through, but I think there's more to come," Conn said. 
He points to Zip Co (ASX: Z1P) and PointsBet Holdings (ASX: PBH) - two companies that have seen their share prices plummet over the past six months, as examples. 
"Share prices are a man-made creation; they are driven by many factors. And in the short term, share prices can move well in excess of the fundamental valuation for that business. But in the longer term, it has to come back to fundamentals," Conn explained. 
"And so your Zips and your PointsBets can trade at very high valuations over the short term, but ultimately, it has to be about valuations and the cash flow that any business can generate. 
In a more fundamentals-based market, where people have alternative solutions for investing their cash (thanks to higher interest rates), investors will be more prudent about which companies they will invest in, Conn said. 
"In that environment, investors will want to own good quality businesses," he said. 
"Interest rates don't need to go up much, given the level of indebtedness in the world, before they'll have an impact on demand, and ultimately, economic growth. We're in for a period of relatively low interest rates. Maybe it's a cash rate of 2-5%, but it's not going to be zero."
And while Conn and his team don't have any significant positions or exposure to the resources sector - as small resources are "very risky - they're either one mine, one commodity, or explorers" - he agrees the upside for this sector looks attractive going forward.

"I think the outlook for commodity prices, given the tightness and underinvestment in resource bases, means that several commodity prices will stay high for a period of time," he said.
"Ultimately, however, high prices will destroy demand."
In an uncertain world, there is one thing Conn believes you should search for
After more than two decades of investing in small caps, Conn believes the key to long-term success through any cycle is backing quality management teams. 
"It's really important to understand the management of the business - what drives and motivates them," he said. 
"Small companies, where changes can be made more easily than larger companies, are particularly dependent on management. A strong management team can add a lot of value, either through well-priced acquisitions or investment. And they can destroy value with a bad acquisition or investment." 
Other factors to consider include a business's competitive advantage and its position within the market, and of course, its valuation.
"The valuation of a company is crucial. The easiest way to lose money is to buy a business that's overvalued," Conn said.
"As we've seen with some of the growth stocks that have fallen heavily - they were massively overvalued given their inability to generate cash." 
Three businesses Conn is buying right now
After a bit of poking and prodding, Conn revealed that there are three small caps that he has recently been adding to on the back of recent weakness in the sector; Pact Group, TPG Telecom and Bega Cheese. 
He believes these three stocks will perform nicely over the next three to five years, having been out of favour over the past few years with investors. 
A business "really positioning itself in the recycling economy"

Pact Group (ASX: PGH) is the largest manufacturer of rigid plastics in the country, Conn explained, and has positioned itself as a player within the recycling/circular economy under the management of Sanjay Dayal. 
"Packaging users, so the Nestles and Bega's of Australia, are looking for sustainable packaging, and their natural partner for this is Pact. They're well-placed to recycle resin, reprocess it, and turn it into new packaging for those customers," he said. 
Coke and Asahi are already joint venture partners with Pact, Conn said. And after some supply constraints, Pact is currently building new manufacturing facilities around the country. 
"They obviously have two other divisions - materials handling, which is a bit like the Brambles pallet business, and a third division, which is the contract manufacturing business, which makes house-brand products for Bunnings and supermarkets, which has been really disappointing," he said. 
"It was a poor acquisition. They have new management in there and they're seeking to improve the performance of that. That business was heavily impacted in the first half by increased commodity prices."
A cheap business that "generates a lot of cash"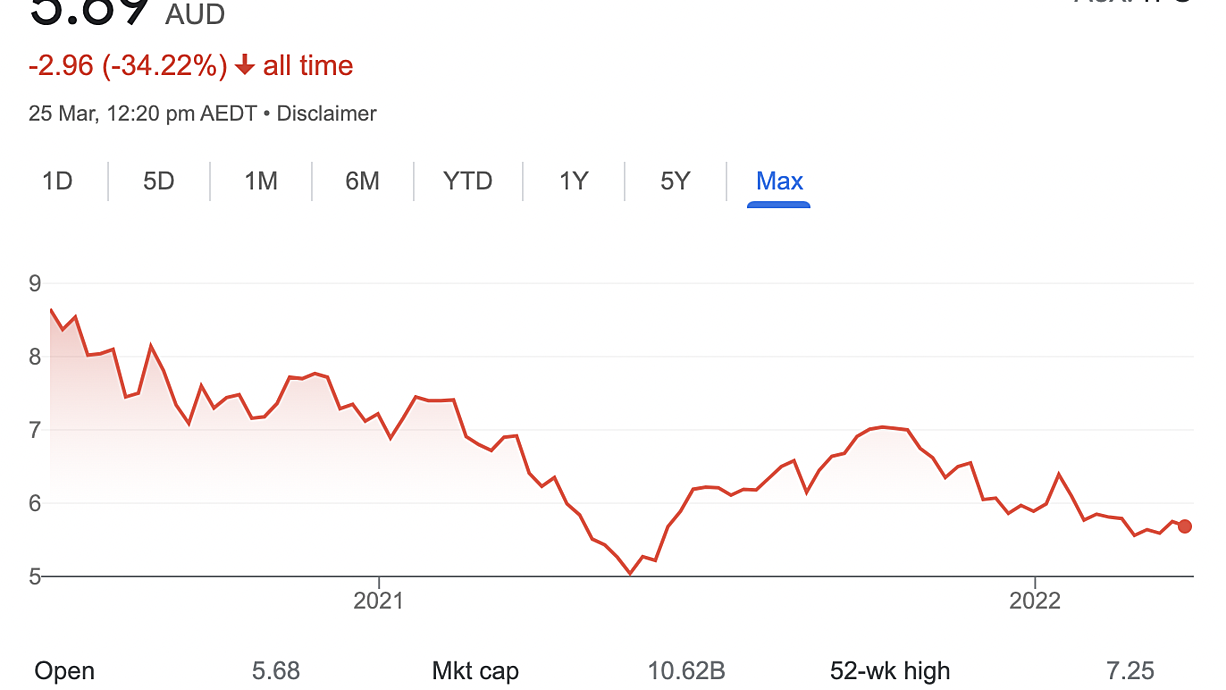 Another stock that Conn and his team have been adding to recently is TPG Telecom (ASX: TPG). 
"Again, it's a stock that's fallen more recently and that's provided us with the opportunity to buy it at a cheaper price. It's one of Australia's biggest telecommunications companies - they also own the Vodafone and iiNet brands," he said. 
After merging with Vodafone in 2020, TPG has become a "powerful force" in telecommunications, Conn said. And while its mobile business was impacted by COVID-19, the reopening will help boost consumer business revenues again. 5G is also likely to give consumers a reason to upgrade their handsets, he said, helping to drive growth for telecommunications companies. 
"TPG has an extensive fibre network which can deliver cost savings, and with the two businesses coming together, there have also been overhead cost reductions. That's another upside," he said. 
If that's not enough, Conn believes investors can get excited about TPG because: 
It generates a lot of cash. 
It has a great management team led by Iñaki Berroeta (previously ran Vodafone businesses globally). 
It paid out a dividend of 16.5 cents per share last year, which Conn believes will grow. 
It's cheap: TPG trades at around seven times EBITDA. 
As an added benefit, they also own a towers network, similar to the asset Telstra (ASX: TLS) sold to a consortium of investors in 2021 for $5.9 billion (this included the Future Fund, Commonwealth Superannuation Corp and Sunsuper). 
"Telstra sold that tower asset for 28 times EBITDA. We think the TPG has an opportunity to replicate that transaction," Conn said. 
"They also have an extensive fibre network and we're seeing Uniti (ASX: UWL) and some of these single fibre businesses trading at multiples of 20 times and higher, and this is on seven times. So it's very good value."
"A food champion unlike any other, one that the local listed market hasn't seen in years."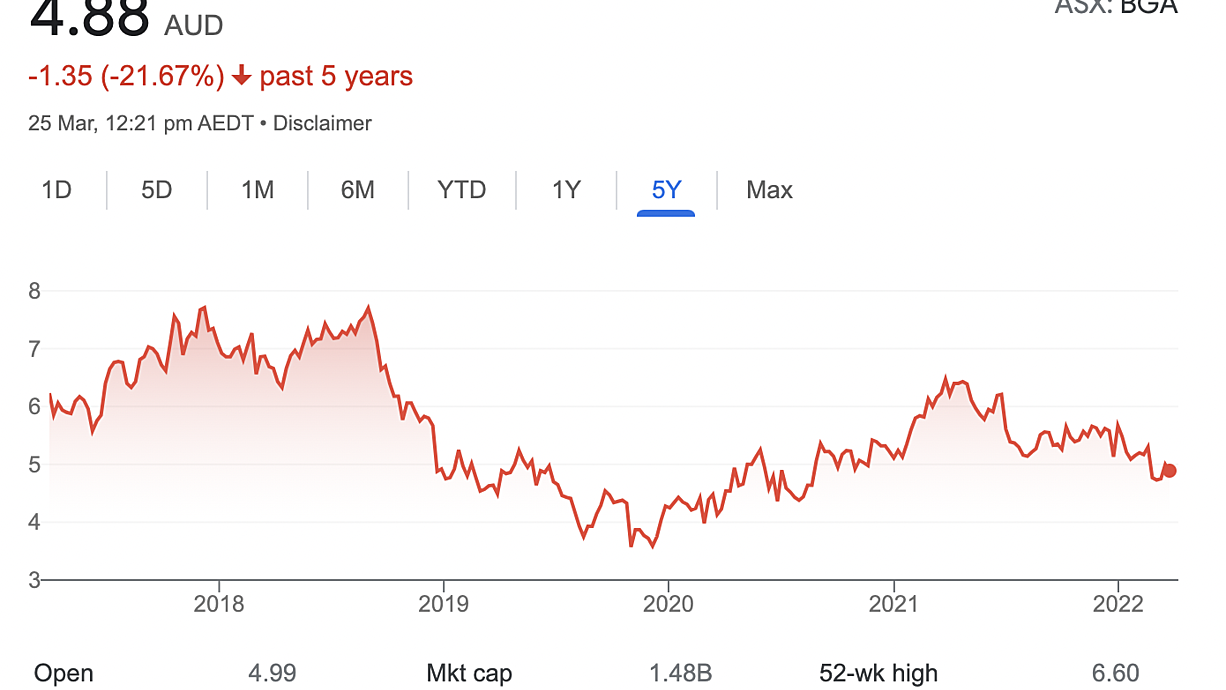 Last but certainly not least is Bega Cheese (ASX: BGA), a stock that Conn and his team have followed for years and owned when it was first listed back in 2011.  
"It has a high-quality management team led by Barry Irvin, who's the executive chairman," he said. 
"For what started as a small dairy business on the south coast of New South Wales, Bega is now a business with more than a billion-dollar market cap with a significant level of earnings - close to $200 million in EBITDA this year."
The key to this growth has been astute acquisitions, Conn said, the latest being the Lion Dairy & Drinks business. 
"We believe the combination of the old Bega with Lion Dairy & Drinks business creates a food champion unlike any other, one that the local listed market hasn't seen in years," he said. 
"And that acquisition has really given them a strong presence in the fast-moving consumer goods market." 
Alongside the Lion Dairy & Drinks business, Bega now owns the largest chilled distribution business in Australia. Now, they can service their route trade with chilled product, Conn said. 
"That market has been impacted by COVID, with the lockdowns over December and January, which led to the earnings disappointment around the half-year result," he said. 
"But the fundamentals of this business are strong, it trades on a FY23 multiple of about seven or eight times EBITDA, and on a PE of about 19 times." 
These multiples are more reflective of a commodity-based business rather than a consumer goods business, which Conn believes the market will wake up to over the coming years. 
"These businesses generally generate pretty healthy gross margins and strong cash flow - which is what investors are searching for in this environment," he said. 
And a long-term hold that Conn has cut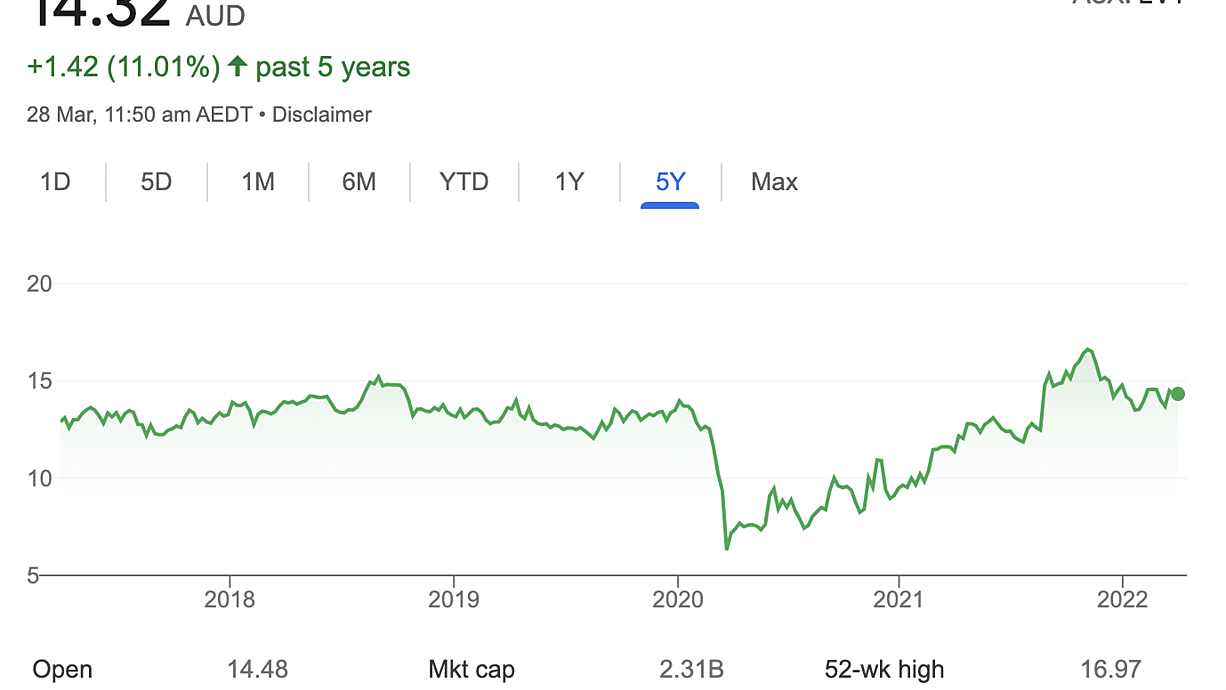 Conn and his team invested in Event Hospitality (ASX: EVT) on the first day of starting the Australian Smaller Companies Fund in 1998. With its share price surging since the lows of the COVID crash, Conn revealed he has now sold out of his position. 
"We've had a position in Event Hospitality in various weights for a long period of time. The stock has always looked quite cheap, given its really strong asset backing. It was also well managed, generated good cash and traded at a fairly healthy discount to what our valuation was," he said. 
"The reality is, COVID was obviously felt by Event, and its results were disappointing over 2020 and 2021." 
Nonetheless, Event - like other travel-related stocks - has rallied significantly since late 2020 as investors excitedly awaited vaccines and borders reopening. 
"The business rerated significantly on the back of that. And we've taken a view that it'll take longer for its earnings to recover," he said.  
"They had a very property-rich balance sheet, and they've started to sell those properties which has crystallised value and reduced their debt. But longer term, I think travel will take a while to come back, particularly business travel." 
At current levels, Conn believes any upside for the stock is already priced in.  
"The reality is, streaming platforms and the ability to access content over the internet has created extra competition for cinema. There's still a reason to go to the cinema, but the fight for content (and audiences) has changed," he said. 
"That said, the management team's fantastic, Jane Hastings and the team do a really good job. It's just in the price. But I think there will come a time to own it again, for sure." 
Final tip: Focus on quality businesses, not on noise
As a final word of advice, Conn recommends investors try not to "get caught up in all the macro" over the volatile months that likely lie ahead. 
"There's always going be noise. There's always concerns. And investors, I've found, are really focused on the short term," he said.  
"But if you focus on the long term and buy good quality businesses when they're cheap, that's where you make money." 
Trading is a zero-sum game, he said. As for every winner, there is always a loser, Conn said. 
"If you own good quality businesses that are creating wealth, ultimately share prices are going to reflect that," he quipped. 
---
Never miss an update

Enjoy this wire? Hit the 'like' button to let us know. Stay up to date with my content by hitting the 'follow' button below and you'll be notified every time I post a wire.

Not already a Livewire member? Sign up today to get free access to investment ideas and strategies from Australia's leading investors.
........
Livewire gives readers access to information and educational content provided by financial services professionals and companies ("Livewire Contributors"). Livewire does not operate under an Australian financial services licence and relies on the exemption available under section 911A(2)(eb) of the Corporations Act 2001 (Cth) in respect of any advice given. Any advice on this site is general in nature and does not take into consideration your objectives, financial situation or needs. Before making a decision please consider these and any relevant Product Disclosure Statement. Livewire has commercial relationships with some Livewire Contributors.
---
Content Editor
Livewire Markets
Ally Selby is a content editor at Livewire Markets, joining the team at the end of 2020. She loves all things investing, financial literacy and content creation, having previously worked for the likes of Financial Standard, Pedestrian Group, Your...
Expertise