SLOOS is saying something about US High Yield Credit
---
For those with a memory long enough to remember, it was about this time last year that almost everyone was talking about US high yield credit and the big blowout in credit spreads (which was largely caused by commodities). Since then the story has changed, as they say "if it's in the press it's in the price", in fact credit spreads have come in dramatically since then and are now trading around the bottom end of the range. The chart below shows this.
What the chart also shows, and part of what I talked about in the weekly report is that there is a strange disconnect between what banks are reporting and where High Yield Credit Spreads are. In the early 2000's and again just prior to the global financial crisis the Fed SLOOS (Senior Loan Officer Opinion Survey) data served as a leading indicator to the widening of credit spreads. So it leaves an important question - is this time different? The chart was featured in the latest Weekly Macro Themes: (VIEW LINK)
---

Never miss an update
Get the latest insights from me in your inbox when they're published.
---
---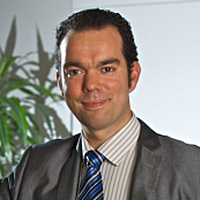 Head of Research
Topdown Charts
Callum is Head of Research at Topdown Charts. Topdown Charts is a chart-driven macro research house covering global Asset Allocation and Economics.
Expertise