SME lending in the spotlight
---
With the recommendations of the Royal Commission released, and legislation with the Federal Parliament in relation to the Australian Small Business Securitisation Fund, we thought it would be timely to provide a review of the SME lending market for 2018 and outline some of our focal points in the small business lending market for 2019.     
2018 in Review
2018 was a volatile year in investment markets, the S&P500 index was down the most since the GFC, and global credit spreads have pushed wider across the board. International events including the trade war between the US and its major trading partners including China, the EU, Canada and Mexico, tensions in Korea, a crisis in Italy, Brexit uncertainty and US rate movements, and concerns around the US high yield market have increased volatility at a macro level.  Domestically, instability within the Liberal Party, an eye-opening Royal Commission, recession concerns, an impending federal election and significant falls in real estate markets have added to moves within Australia's risk markets.
Our SME focused Fund had a strong performance for the year returning 10.71% net of fees and expenses to 31 December 2018. At the same time the Barclays Capital Government/Credit Bond Index was down 0.02%, the S&P 500 Composite Index returned 1.71% and the Dow Jones Industrial Average was up 2.03%. Funds participating in private debt markets were strong performers in 2018, through a volatile period.
The returns within the Aura High Yield SME Fund exemplified this:
The Australian SME Alternative Finance (AltFi) market grew strongly in 2018, as banks reduced loan exposures to Australian Small Businesses, and brokers looked to diversify revenue sources, adding commercial offerings to their product suites. The lenders we fund, and lenders we have been completing due diligence on have seen stronger borrowers applying for loans, and improved arrears performances year on year. The adjustments to the lending market, mixed with the proposal for government participation to drive down funding costs have created some tail winds for the market.       
In December 2017 we looked at three key themes in the SME Alternative Finance (AltFi) market that we expected to play out in 2018. These were Continued Growth, Consolidation of Lenders and Transparency via Listings. We discussed how these had played out in our half year report for 2018. For 2019 our three key focal points for the SME AltFi sector for the management of the Fund are, Continued Growth, Government Participation in the market and the Australian Macro outlook.
Themes for 2019
Accelerating Growth
The Australian SME AltFi industry continues to grow at a strong rate, 109% YOY according to the 3rd Asia Pacific Region Alternative Finance Industry Report, a collaboration between the University of Cambridge, Zhe Jiang University, ADB Institute, KPMG, Invesco and the CME Group Foundation. We expect this trend to continue in 2019. Some factors I believe will add to this growth are:
Reduced SME loan demand from the major banks
Following the Hayne Royal Commission, we have seen reduced appetite for business lending by the banks. RBA data showed a strong increase in Private Credit Growth, which we see being serviced by the non-bank sector.
Increased broker flow 
Government Participation in the Market
In November 2018 the Federal Government announced the $2 billion Australian Business Securitisation Fund. This is being set up to provide funding to the Australian SME Lending sector. On the 21st of December the government released an Exposure Draft of the Legislation, and Draft Explanatory Bill. The Draft Bill outlines a $250m release to the Australian Business Securitisation Fund on 1 July 2019. The consultation period ended on the 16th of January, and draft legislation was introduced to parliament on the 13th of February. The Senate Economics Legislation Committee is due to report on the 26th of March 2019.  We are anticipating the legislation will be passed, and the government will be active in the market by the middle of the year.
Australian Macro Outlook
2018 was a mixed year for the Australian economy. On a positive note, economic growth remains positive, unemployment remains low, and interest rates are stable. Offsetting this, wage growth is stagnant, house prices are falling and the ASX200 was off 6.85% in 2018 which may have a detrimental wealth effect on Australians. This could lead to reduced spending and an impact on economic growth. The Federal election could introduce more volatility and uncertainty for markets in 2019.
This is a market we have been focussed on, with a strong view that strong risk adjusted returns can be achieved with thorough assessment of loan originators, and ongoing monitoring. There are some tailwinds in the market, yet one must keep a close eye on the macro drivers and adjust the loan portfolio accordingly to ensure those returns continue.
Please contact Brett Craig, Portfolio Manager at brett.craig@aura.co if you would like any more information.
Disclaimer
This document is dated February 2019 and has been issued by Aura Funds Management Pty Ltd (ABN 96 607 158 814, Authorised Representative no. 1233893 of Aura Capital Pty Ltd ABN 48 143 700 887, AFSL no. 366230). This document is for information purposes only and does not constitute an offer or invitation for the subscription, purchase or transfer of units in Aura High Yield SME (Fund) and you should read the offer document before deciding to invest in any financial product. This document is only directed at persons who are wholesale within the meaning of the Corporations Act and may not be made available to any retail client. Neither this document nor anything contained herein nor any presentation in connection with this document shall form the basis of any contract or any obligation of any kind whatsoever. 
Neither Aura Funds Management Pty Ltd nor its affiliates, associates, directors, officers, agents, employees or advisers warrant the accuracy of the information provided in this document. Every care has been exercised in compiling the information contained in this presentation. Past performance is not an indicator of future returns. Information on taxation is for general information purposes only and cannot be construed as taxation advice.
---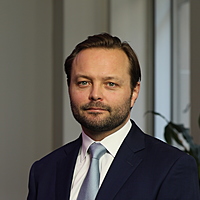 Head of Credit Funds
Aura Group
Brett is responsible for portfolio management and asset origination for the Aura High Yield SME Fund. He has over 15 years' experience in sales, origination and analysis of debt finance.
Expertise