SME lending weekly update
---
This week, we saw a new Premier for NSW, a maintained monetary policy, and NSW as the first state to reach the 70% double vaccinated milestone, positioning some NSW restrictions to be eased from Monday October 11th.

RBA October Statement on Monetary Policy(1)

The Reserve Bank of Australia Governor, Phillip Lowe, released his October statement on monetary policy on Tuesday 5 October. The RBA Board decided to:
Maintain the cash rate target at 10 basis points;

Maintain the target of 10 basis points for the April 2024 Australian Government bond; and

Continue to purchase government securities at the rate of $4 billion a week until at least mid-February 2022.
Lowe highlighted that underlying inflation is running at around 1.75% and wages are increasing at 1.7%. As has been consistent over the last year or so, Lowe made a point of stating that the Board will not consider increasing the cash rate until inflation is sustainably within the 2 to 3 percent target range and that this is not expected to occur before 2024, a view that is reflected by the maintained 10 basis point target of the April 2024 Australian Government bond.

Lowe nodded to the expected contraction of Gross Domestic Product in the September quarter, however, expressed his expectations of economic bounce-back post restrictions.

NSW State Premier(1)

Tuesday 5 October saw Dominic Perrottet sworn in as Premier of NSW. On the morning of Thursday 7 October, Perrottet announced lesser restrictions for NSW at the 70% and 80% double vaccinated milestones than what was previously advised under Gladys Berejiklian's leadership. We believe the primary change in restrictions for SMEs is that masks will no longer be required in office buildings from the 80% milestone, where it was previously scheduled for 1 December. This should see increased movement as workers leave their home desks and return to the office and bring forward the expected increase in discretionary spending many small businesses have been waiting for.

Lockdown Durations(2,3,4,5)

NSW, VIC and ACT remain on track to meet their respective lockdown end dates as outlined below. Lockdown across NSW ends next Monday, with the new Premier announcing amendments to the current roadmap, specifically allowing more people to gather in homes, mask mandates in the office being removed when 80% of the adult population is fully vaccinated and schools returning from October 25th. Despite some cases arising, QLD has avoided any form of hard lockdown at this stage.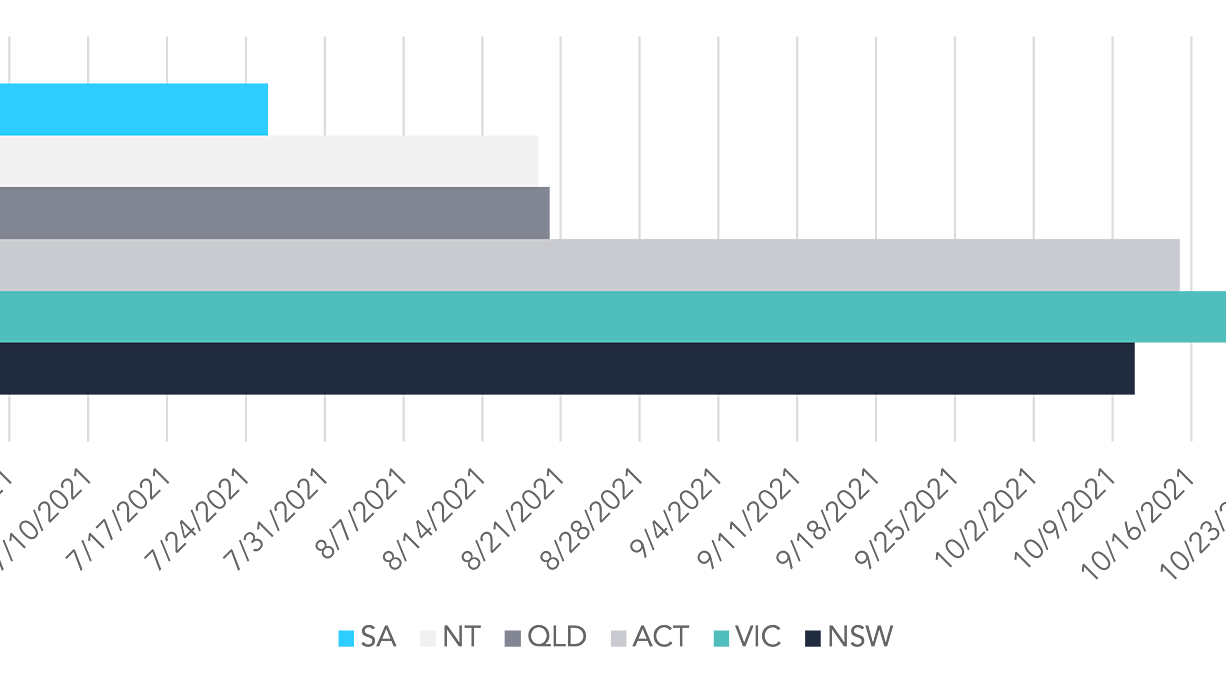 Vaccination Rates(2,3,4,5,6)

The vaccination targets continue to forge ahead with impressive daily increases across the nation. Australia currently stands at 77.85% of the population 16+ having had their first dose and 54.20% fully vaccinated. NSW is now less than 2 weeks away from what has been labeled as 'freedom day' with VIC expected to reach their 70% full vaccination target and end of lockdown on October 26.
First and Second Doses Administered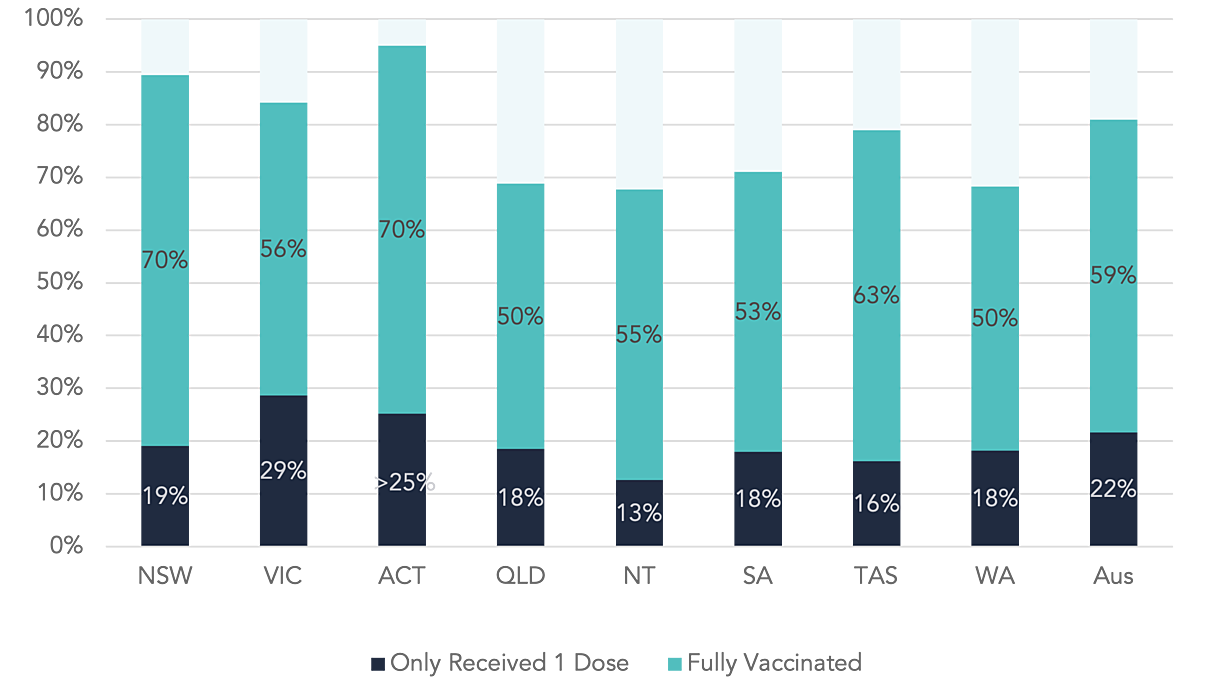 Portfolio Management Commentary

Next week, the NAB Business Survey for September will be released which should provide further clarity as to whether the light positive bounce back shown in the August survey is a trend and insight into how businesses are preparing for easing of restrictions. Alongside major indicators such as confidence and conditions, we will be closely looking at leading indicators such as forward orders, stock and capital expenditure, with particular focus on NSW as it blazes a trail for other states.

We anticipate a strong uptick in household consumption as consumers can shop offline allowing for a release of pent-up savings, which has been the primary swing factor in GDP growth over recent quarters. Once businesses across the country gain confidence that lockdowns and social restrictions are a thing of the past, we expect to see a strong uptick in business investment, as was the case in the March 2021 quarter 7, where Business Investment alone accounted for 23% of the overall 1.8% quarter on quarter growth in Gross Domestic Product.

The rapid growth in non-bank SME lending has been documented by the RBA in its September 2021 Bulletin article, "Small Business Finance and COVID-19 Outbreaks" 8 and the Scottish Pacific's SME Growth Index, which in 2019 9 showed for the first time since it commenced tracking Australian SME funding preferences in 2015, that SMEs showed a greater preference for non-bank lenders over the major ADI banks as growth financiers and in 2020 10 confirmed a continuance of the trend.

We are of the view that the SME non-bank lending sector is poised to grow considerably over the December 2021 quarter and calendar year 2022 as the economy re-opens, household consumption increases to above average levels as pent-up savings are released and gross domestic product runs at above normal levels over the short to medium run.

We are preparing the AHYSME Fund to take full advantage of the opportunities this provides to our investors.
Until next week,
Brett Craig
Portfolio Manager
........
This information is for accredited, qualified, institutional, wholesale or sophisticated investors only and is provided by Aura Funds Management Pty Ltd (ABN 96 607 158 814, Authorised Representative No. 1233893 of Aura Capital Pty Ltd AFSL No. 366 230, ABN 48 143 700 887). Aura Funds Management Pty Ltd is the Trustee of all the Funds mentioned and a subsidiary of Aura Group Pty Ltd. Any financial product advice given in this report is of a general nature only. The information has been provided without taking into account the investment objectives, financial situation or needs of any particular investor. Therefore, before acting on the information contained in this report you should seek professional advice and consider whether the information is appropriate in light of your objectives, financial situation and needs. Aura does not guarantee the performance of its funds, the repayment of any capital or any rate of return. Investing in any financial product is subject to investment risk including possible loss. Past performance is not a reliable indicator of future performance. Information in this report is based on the information provided to Aura by third parties that may not have been verified. Aura believes that the information is reliable but does not guarantee its accuracy or completeness. Aura is not able to give tax advice and accordingly, investors should obtain independent advice from an accountant and/or lawyer before making any decision based on the tax treatment of its investors. You must read the Fund Fact Sheet or Information Memorandum and seek professional advice before making a decision to invest in any of the funds.
---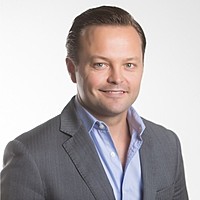 Head of Credit Funds
Aura Group
Brett is responsible for portfolio management and asset origination for the Aura High Yield SME Fund. He has over 15 years' experience in sales, origination and analysis of debt finance. More on the Fund https://bit.ly/AuraFunds
Expertise