Sunstone results show it's in hunt to be next SolGold
---
Junior Sunstone Metals unveiled results this week which were in line with Newcrest's legendary Cadia mine and that of the $1b SolGold. And MD Malcolm Norris should know given that he has found two huge porphyrys, including the SolGold monster. So why did the hot money run for the exits? Plus, Marenica buys straw hats in the uranium winter. 
Sunstone (ASX:STM) had a big day out on Tuesday when it updated the market on drilling progress at its multi-target Bramaderos project in southern Ecuador, well away from all the drama up north where 10,000 garimpeiros are said to have overrun a Gina Rinehart exploration property.
More than 30 million shares were traded and the stock fell from 4c to 3c on the progress report, with day-trader types, who had presumably taken up positions in the hope of a one hole-discovery, heading for the exit.
But they didn't do themselves any favours. While they were selling, the more astute types soaked up the wall stock on the basis that Tuesday's progress report was anything but disappointing. It's notable that Sunstone had recovered to 3.5c by Thursday.
What spooked the day traders was that assays result from the 267m hit at the Limon porphyry prospect were low grade. But the more astute types liked the results and were on board with Sunstone's view that the hole was drilled in close "proximity to the core of the porphyry system".
So it will be the next hole, to be drilled 300m to the east, that will let all of us know if Sunstone has a big porphyry system on its hands.
The day traders also found fault in the update on drilling at the Bramaderos Main porphyry target, 2.5km south west of Limon.
Assay results are pending for the hole (drilled 50m below a historical intersection of 248m grading 0.56g/t gold and 0.14% copper) and it looks to have extended mineralisation to a depth of about 600m down hole.
Managing director and porphyry expert, Malcolm Norris, said that visually at least, the geology appears to "correlate well" with the historical hole and that the company was seeing grades at Bramaderos Main that "are comparable to other porphyry deposits such as (Newcrest's) Cadia in NSW".
He added that Sunstone had decided to immediately follow up with another hole at Bramaderos Main, some 120m to the south of its first hole.
His reference to Cadia-type grades was there for all to see and was important in that when it comes to the drilling of porphyries, low grades ain't necessarily low grade. Cadia produced its gold in the March quarter from dirt grading 1.26g/t gold and 0.38% copper at a magical cost of $US147 an oz (after copper credits).
Norris was not referencing Cadia's March quarter – the life of mine grade is much lower – but the point is made that it is the mix of gold and copper, and the big tonnage of porphyries, that make them such attractive targets.
Again, Norris did not reference it, but he might as well have highlighted the 2 billion tonne indicated resource at the Cascabel discovery in southern Ecuador of the Australian-managed and London-listed SolGold (LSE:SOLG).
The resource grades 0.41% copper and 0.29g/t gold (0.6% copper equivalent for 12.2mt of copper equivalent), and it is deep.
But there is at least 2 billion tonnes of the stuff so the likes of Newcrest and BHP, which have taken up equity positions in the $US775m SolGold, can start thinking about it being a big copper/gold producer for them in the future.
Sunstone, which has a $42m market cap, is chasing the same sort of prize. And despite Tuesday's knee jerk reaction by day traders, it is still very much in the game.
Marenica Energy (ASX:MEY)
Psst…want to buy 48 million pounds of in-situ uranium for $2.7 million in cash and shares or less than 6c a pound as a classic buy "straw hats in winter" play.
Marenica Energy (MEY) has just done that, acquiring a portfolio of advanced Australian uranium properties which takes its total uranium portfolio to 110m/lbs – the fourth biggest on the ASX.
Its shares popped 2.5c or 27% higher to 11.5c for a market cap of $8.4m on the news, confirming that there is life in the uranium stocks yet, even with uranium (spot) at a smashed $US25/lb.
As might be expected, Marenica boss Murray Hill is pretty pleased. He even got away with using an exclamation mark in his ASX announcement, something the fun police would normally frown on.
"One of the largest uranium resource inventories on the ASX, diversified by location, with a revolutionary uranium beneficiation process; where else can you find that!
The beneficiation process Hill mentioned is Marenica's hush-hush "U-pgrade" process which given the interest shown in it by other uranium players, does have industry disruptive potential in the processing of calcrete-hosted uranium ores.
Equipment used in the process is standard stuff but is configured in a way that delivers major operating and capital cost benefits from the rejection of 95 per cent of the uranium ore's mass before the material enters a (smaller) leaching circuit.
Marenica is picking up the 48m/lb mineral resource – mainly spread across three well-known deposit names in the uranium space – for $250,000 and 27.5 Marenica shares.
The seller is the unlisted Optimal Mining which picked the assets up from big-name players in the industry which have been thinning their portfolios during uranium's prolonged downturn.
It was hoping to list the portfolio but the long-expected recovery in uranium to the incentive pricing level of more than $US60/lb needed if the world continues to want nuclear power in its weaponry against climate change did not arrive in time.
Optimal's backers nevertheless get to ride the uranium thematic through a 27% stake in the enlarged Marenica while current 16% shareholder, the troubled Chinese-controlled Hanlong Energy, fades away to 11.7%.
The key assets being picked up by Marenica are the Angela deposit in the Northern Territory (30.8m/lbs), the Thatcher Soak deposit in WA's Yilgarn (10.9m/lbs), and the Oobagooma deposit in WA's West Kimberley region.
There is no resource listed there for Oobagooma as historical estimates do not meet the reporting code, something that Marenica will work on to rectify as a priority.
Marenica did not say so, but it can be noted here that the previous owner of Oobagooma, Paladin Energy (ASX:PDN), said in its 2015 annual report that there was a historical resource of 21.8m/lbs identified in the early 1980s by previous owners.
Paladin said it had classified the estimate as an exploration target but after examining the data, it believed there was good potential to upgrade the exploration target to 40-50m/lbs.
So eventually and potentially at least, Marenica has actually put its foot on something much bigger than the combined 48m/lbs it reported.
It is a good time in the uranium space to be doing that under the straw hats in winter strategy.
President Trump is due to announce his Uranium Section 232 decision on July 13. The intent is to preference US made uranium – and that of its allies - over places like Kazakhstan.
But more important for the global industry is that the decision – it could be deferred for another 90 days – will lift the uncertainty that has caused US utilities and others to withdraw from the contract market.
The hope is that once the decision is made, whatever it is, the utilities will start writing long-term contracts again. By their very nature, contract prices are at a premium to the largely irrelevant spot market.
---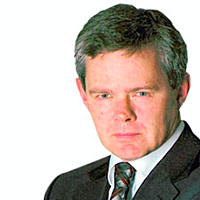 Principal
Independent Journalist
One of Australia's leading business journalists, Barry FitzGerald, highlights the issues, opportunities and challenges for small and mid-cap resources stocks, and most recently penned his column for The Australian newspaper.
Expertise