The Australian share market is in trouble.
---
Shares are fully valued and earnings growth is decelerating. The tailwind from lower interest rates is fading; longer-dated bond yields have probably bottomed. The resources sector is in a bear market, which will continue for years to come. Through time, commodity prices have tended to trade around cost support. While a number of commodities have already fallen back to these levels, as yet this has not played out in the share market, so in the medium term we would expect mining shares to move lower. The Australian banks still have to raise more capital and this is dilutive for earnings. One of the few growth sectors, healthcare – is struggling with downgrades from almost all the major names as fiscal tightening bites and emerging market growth slows. The re-rate of yield sectors in the market is also largely complete as interest rates are unlikely to fall much further. The outlook for the global economy appears bleak. It is becoming increasingly clear that the rapid growth seen over the past 50 years is unsustainable.
---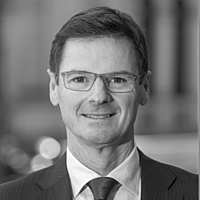 Chief Investment Officer
Watermark Funds Management
We are active, high conviction investors in Australian shares. As an absolute return manager, Watermark offers a proven alternative to traditional institutional funds.
Expertise