The big winners from structural growth
---
A lot of investors like to talk about macroeconomics. They talk about mean reversion, valuation dispersion, etc. I believe that it's a lot easier for investors, particularly private investors, to take a big step back. I would argue that mean reversion doesn't exist in the long run.
Equity markets have very few winners and lots of losers. 50% of the S&P disappears every 20 years. Less than 5% of stocks in the S&P make up the entirety of returns over the long run. So how do you find those great winners? It's always big structural changes that create them. During these times of macro uncertainty people try to connect the economy with equities. I understand why, but in the long run it doesn't matter.
Big structural trends are the key
Google is a great example of a winner from the digital advertising trend, but there are other examples too.
Aerospace is a great industry to invest in. 80% of the world has never stepped on an aeroplane, the other 20% travel quite regularly. Air travel grows at double GDP and GDP generally grows. Airbus and Boeing control a dominant oligopoly. When was the last time you got on a plane built by someone else? They have a long structural growth runway ahead, which means they are a good place to invest. It's a good example of how equities don't mean revert. They may experience cycles, but in the long run these companies are going to grow.
Moore's Law and exponential growth
Moore's Law is about exponential growth in computing power. In essence, it states that computing power will double approximately every two years – and that's been the case since Gordon Moore first stated the 'law' in 1965. Moore's Law is responsible for all the disruption we've seen, which is why nothing is mean reverting.
We think the healthcare industry is set to go through a major technical revolution. Genomics is one of the few areas that costs are falling at a rate faster than Moore's Law. Their ability to understand and cure disease is improving at an exponential rate. This is going to create lots of opportunities whether it's for testing companies, life science companies, medical equipment companies, robotic surgery companies, and even health insurance companies. Patients' ability to personalise their medicine and be healthier over time is going to improve at an exponential rate. That will create lots of opportunities, just like those created when Boeing invented long haul travel.
As growth managers, we look for opportunities like this where macro and interest rates won't make a big difference in the long run. What's going to matter is working out who are the big structural growth winners, and that's what we spend most of our time doing.
Want to learn more?
Of the 20,000 listed corporates in the world, many profess to be growing, but only a small portion actually grow independently of the broader economic cycle. We focus on the simple task of identifying and investing in these companies that have the potential to grow at a faster rate and on a more sustainable basis than the peer group. Click contact below to find our more. 

---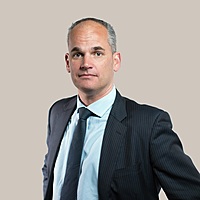 Chief Investment Officer
Munro Partners
Nick is a founding Partner and the Chief Investment Officer of Munro Partners. He is responsible for the investment management of Munro's key investment funds and the formulation and implementation of the proprietary investment process. Nick has...
Expertise