Tick-tock, next block. Since bitcoin was launched in 2009, the issuance cycle has been known.
The bitcoin issuance cycle is quite different to equities, where companies may call a stock-split, a reverse-split, announce buybacks or issue new shares, which all influence the share price. It is also very different to fiat currencies, where reserve banks can decide when and how much to print at any time, which ultimately affects the rate of inflation and the value of the currency, for better or worse. In fact, over the past two years, the US Federal Reserve has increased the nation's money supply by an astonishing 40 percent, leading to an annual inflation rate in the US at 7.9% in February of 2022, the highest since January of 1982.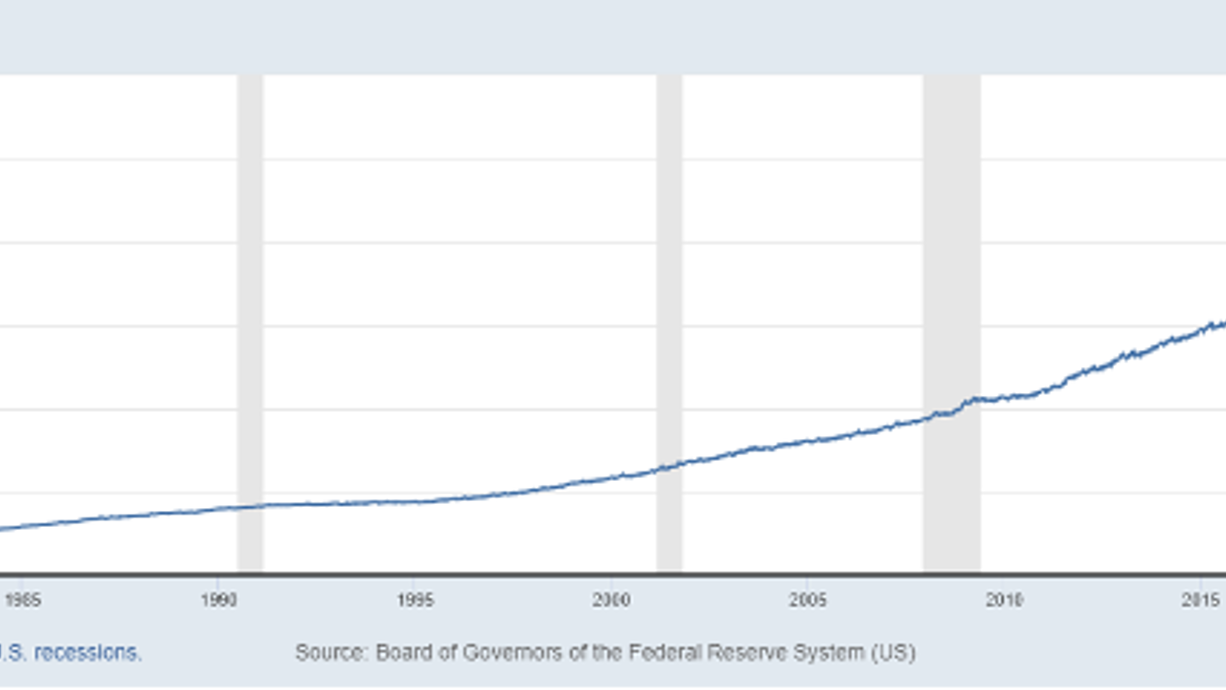 Source: 
(VIEW LINK)
Bitcoin, by contrast, is controlled by maths and code, it is open source, and anyone can see what is happening on the blockchain at any time. Apple co-founder, Steve Wozniak, said in an interview last week that Bitcoin is the only cryptocurrency that is "pure gold mathematics".

When Satoshi created bitcoin, instead of dumping all 21 million on the market at once and risking concentrated supply (as the only holders would have been the cypherpunks who were familiar with the technology and concept back then), the issuance is based on the number of blocks mined. In 2009, 50 bitcoin (BTC) was the reward for mining a block, which takes place approximately every 10 minutes (the time between blocks may be more or less, depending on how busy the network is, but over the long-term will average to about 10 minutes).
After every 210,000 blocks, which takes approximately four years, the reward for mining a block is cut in half, hence the term the 'halving'. In 2012, the amount of bitcoin per block rewarded to miners halved to 25 BTC, then to 12.5 BTC in 2016 and to 6.25 BTC in 2020, where it currently is, until the next halving in 2024. This is significant because the amount of new bitcoin continues to reduce every four years, until there are none left to mine some time in 2140, making bitcoin a truly scarce asset.
How has the halving affected the bitcoin market?
The halving recurs every four years, and historically, the bitcoin market has experienced both bull and bear markets before increasing significantly after the next halving. Every four years could be considered 'one cycle' for bitcoin.
Although gains can be made in the short term, with steep increases to the bitcoin price happening in short periods of time, getting in at the wrong time has also meant suffering through -50% to as much as -90% drawdowns.
As per the charts below, you will notice that each cycle has produced higher highs, indicating that, historically, investors who bought local tops, but subsequently held for at least four years, would be in a positive gain position. This illustrates the potential benefits of being a long-term HODL'er and why dollar cost averaging can be an effective entry strategy to accumulate bitcoin.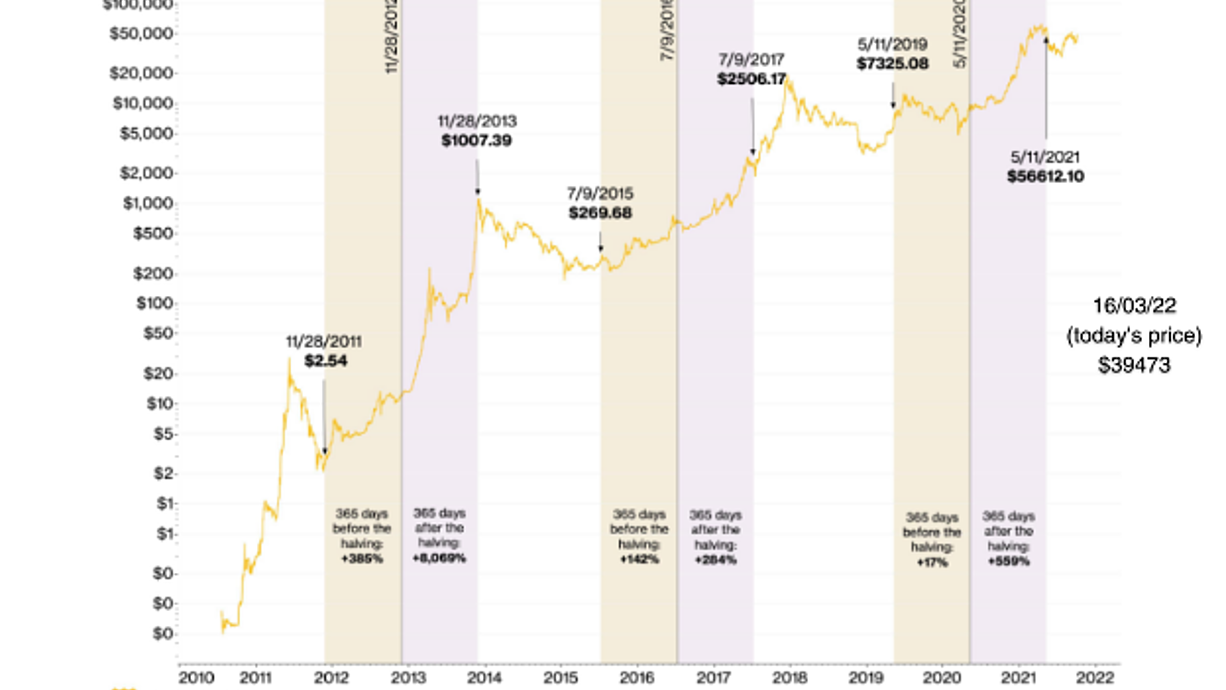 Past performance obviously does not predict future returns, and just because the bitcoin price has reacted similarly in cycles so far, it does not mean that future cycles will be the same. In the current cycle there has been talk among experts about lengthening cycles, especially as adoption increases and more institutional money pours into bitcoin.
What is reassuring for the long-term investor is that issuance is declining. Assuming adoption (demand) increases at a higher rate than the rate of increase in the number of bitcoin (supply), there should be upwards pressure on the price of bitcoin (assuming other factors are kept constant), which typically leads to more holding of the asset than selling, which leads to even less supply on the market, which leads back to upwards pricing pressure. Of course, bitcoin prices are highly volatile and may not deliver positive returns over any time period.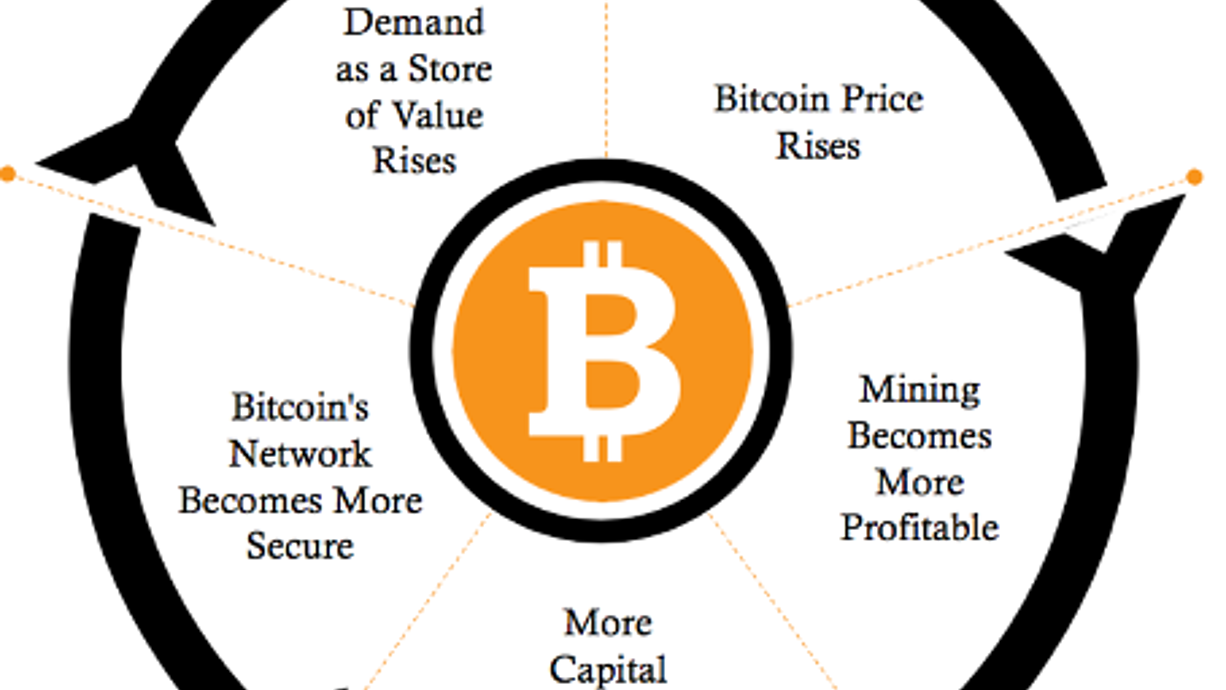 Could future halving already be priced in? It's a possibility. On the other hand, there are many investors whose belief in the future of bitcoin means they aren't willing to sell (HODL'ers). Their holdings are considered 'illiquid supply', as the coins have not moved in years (as evident in on-chain analytics). HODL'ers hold, supply decreases, adoption increases putting upward pressure on prices, leading to more HODL'ers holding – providing a positive feedback loop.
ETF
BetaShares Crypto Innovators ETF
Global Shares
Learn more
BetaShares offers the broadest range of technology-focused ETFs in Australia providing access to global tech giants, cybersecurity, Australian technology and more. To stay up to date with my latest insights into the digital assets market click FOLLOW below, find out more about investing in crypto with BetaShares here.

........
This information is general only and is not a recommendation to invest in cryptocurrencies or adopt any particular investment strategy. Cryptocurrencies are highly volatile and should only be considered by investors who fully understand them, have a very high tolerance for risk and have the capacity to absorb a rapid loss of some or all of their investment. Cryptocurrencies should only be considered as a very small component of an investor's overall portfolio. Livewire gives readers access to information and educational content provided by financial services professionals and companies ("Livewire Contributors"). Livewire does not operate under an Australian financial services licence and relies on the exemption available under section 911A(2)(eb) of the Corporations Act 2001 (Cth) in respect of any advice given. Any advice on this site is general in nature and does not take into consideration your objectives, financial situation or needs. Before making a decision please consider these and any relevant Product Disclosure Statement. Livewire has commercial relationships with some Livewire Contributors.