The emergence of digital infrastructure as an asset class
---
As with most industries, real estate is evolving. Retail real estate has historically been the dominant real estate asset class, but due to the competitive impact of eCommerce it has lost its premium rating. Retail rental growth is waning, and in some cases turning negative. To compete with eCommerce, retail landlords will need to reorient their offering. This will be a difficult, lengthy and costly process. We have written extensively about these powerful headwinds; retail real estate should be avoided.
digital real estate
The direct beneficiaries of ecommerce and the growth of the digital economy are data centres and physical digital infrastructure assets such as fibre and towers.
An example of this asset class becoming more mainstream is the current float of "360 Capital Digital Infrastructure Fund".
Australian real estate company, 360 Capital is finalising a capital raising of $115 million to build a portfolio of digital infrastructure assets. Their rationale for investment in the Fund is:
"the digital revolution is creating an opportunity to invest in technology infrastructure assets to support the rapid growth of cloud, Internet of Things and the hyper connected world"
The Fund is targeting a 10% internal rate of return for investors.  To provide an example of the type of asset within the portfolio, the Fund will contain a Perth based data centre, leased to an operator for six years, generating a yield of 6.5%.
We expect the 360 Digital Infrastructure Fund will be provide a solid vehicle for investors to gain access to digital infrastructure assets and the growth of the digital economy.
Data Centres
The investment trend into data centres is gaining traction globally. Major global telecommunication companies have begun to sell their data centres and technology infrastructure into Funds. For example, Australian analysts and investors are assessing whether Telstra (TLS) should sell their infrastructure assets into a Fund (assets such as data centres, fibre and cables).
In this note we focus on one of the largest digital real estate assets classes – data centres.
Please see the attachment to read our full report on digital infrastructure as an asset class
---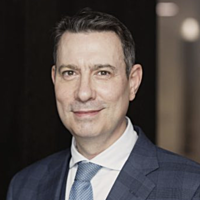 Managing Director
Conrad Capital Group
Tim has 25 years' experience in the investment and securities markets. Tim was a partner of Goldman Sachs and during his 16-year tenure at the firm had senior experience across all areas of equities investing.
Expertise