The Fed shakes up global markets
---
It has been a huge week for central banks around the world and almost all of them are leaning towards lower interest rates.

On Tuesday, markets were very surprised by ECB president Draghi's declaration that additional stimulus will be required unless there is improvement in risks such as geopolitical factors, the rising threat of protectionism and vulnerabilities in emerging markets. Not only did Draghi mention cutting interest rates but he even suggested restarting the bond purchase program financed by money creation which was halted last December.


This was particularly surprising coming less than 2 weeks after the ECB meeting which was not overly dovish. The Federal Reserve's dovish turn this week however should have been expected. A pledge to be "patient" on interest rates was replaced with a commitment to watch "incoming information" and "act as appropriate to sustain the expansion".


The FOMC statement said that "uncertainties" had increased, which Fed Chair Powell later indicated especially meant trade tensions. Bear in mind that the previous FOMC meeting concluded just 4 days before US-China trade tensions reignited when President Trump tweeted that tariffs would increase on Chinese imports. This adds an even closer focus on the Trump-Xi meeting on the sidelines of the G20 summit in Japan on June 28th and 29th.


US yields tumbled on the Fed meeting, pricing a startling 65 basis point fall in the benchmark fed funds rate by end-2019 and sending the 10 year Treasury bond yield below 2% for the first time since November 2016. Equity markets rallied in anticipation of US rate cuts, the US S&P 500 closing at a record high and the ASX 200 reaching highs since the Global Financial Crisis.


The US dollar was hit hard by the Fed meeting, falling against all G10 and Asian currencies. Dollar weakness helped boost the price of commodities denominated in dollars such as gold, which has risen about 7% so far this month. This translates to the Aussie dollar gold price reaching $2000 per ounce for the first time. 


Iron ore prices also continue to rise, the spot price reaching USD$117 per tonne, but base metals prices are still sharply lower over the past couple of months as trade tensions weigh.


So the Aussie dollar has faced mixed news this week. It was soft on Tuesday as the RBA minutes reinforced that a follow-up rate cut to 1.0% is a done deal, though the timing remains open to debate, with either July or August plausible dates.


In his speech on Thursday, Governor Lowe repeated that monetary policy could not be the only instrument to help push the unemployment rate down to 4.5% or lower. He called for stimulus from fiscal policy and also structural reforms. But Lowe also described the sort of quantitative easing policy Mario Draghi discussed resuming as being unlikely in Australia. Money markets price 2 more RBA rate cuts, to 0.75%, by December, very close to Westpac's call for 2 cuts by November.


The calendar in the week ahead is not especially crowded. The global focus should be on the G20 summit in Japan at the end of the week, especially the Trump-Xi meeting. We will also hear speeches from many Fed officials and will keep an eye on Middle East tensions, after Iran shot down a US drone this week, which boosted oil prices. 
---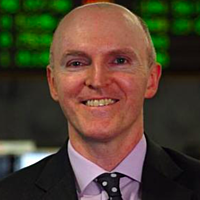 Senior Currency Strategist
Westpac Bank
Sean Callow is Westpac Bank's Senior Currency Strategist, based in Sydney. Sean focuses on the Australian dollar and other G10 and Asian currencies. He has worked in strategy and economics roles in New York, London, Singapore and Melbourne.
Expertise