The great PE fleecing of Aussie tech investors
---
Don't buy from private equity (PE) is a rule that should rarely be broken. All initial public offerings are dressed up to look their best. Private equity floats are prom nights for the society girl who has spent five years in finishing school.
You can be certain that, on the day the company lists on the stock exchange, she will be looking her absolute best. Profit margins and revenue are peaking and every single cent of available cash has been extracted from the business.
But it's the PE buying you need to worry about today. Cashed-up private equity firms are on the hunt for potential debutants. And the ASX's beaten-up tech sector is providing plenty of appealing prospects.
Nitro Software (ASX: NTO), which we own in the Forager Australian Shares Fund, at least has some competitive tension underway. Two private equity firms are slugging it out for control of this PDF and document signing company. Other company's shareholders have been less fortunate. Nearmap's (ASX: NEA) board recently caved to a Thoma Bravo offer at $2.10 per share. The board of Elmo Software (ASX: ELO), too, agreed to a deal last week. And, just this morning, the AFR is reporting a Pacific Equity partners deal for ReadyTech (ASX: RDY) might be close. In all of them, management is in on the deal (they are keeping equity rather than taking cash for their shares).
The smartest guys in the room
Don't take my criticism of PE floats as any sort of disrespect. These guys are smart (yes they are, mostly, guys). That's exactly why I don't like buying things off them. And I can promise you they aren't in the game of making 5% to 10% per annum.
Potentia, one of the two bidders for Nitro, has its coffers flush with cash from the sale of mining software company Micromine in July of this year. The $900m sale price was apparently as much as 10 times the 2018 purchase price. Presumably they made a few further acquisitions along the way but, whichever way you cut it, they are targeting multiples of their purchase price, not percents.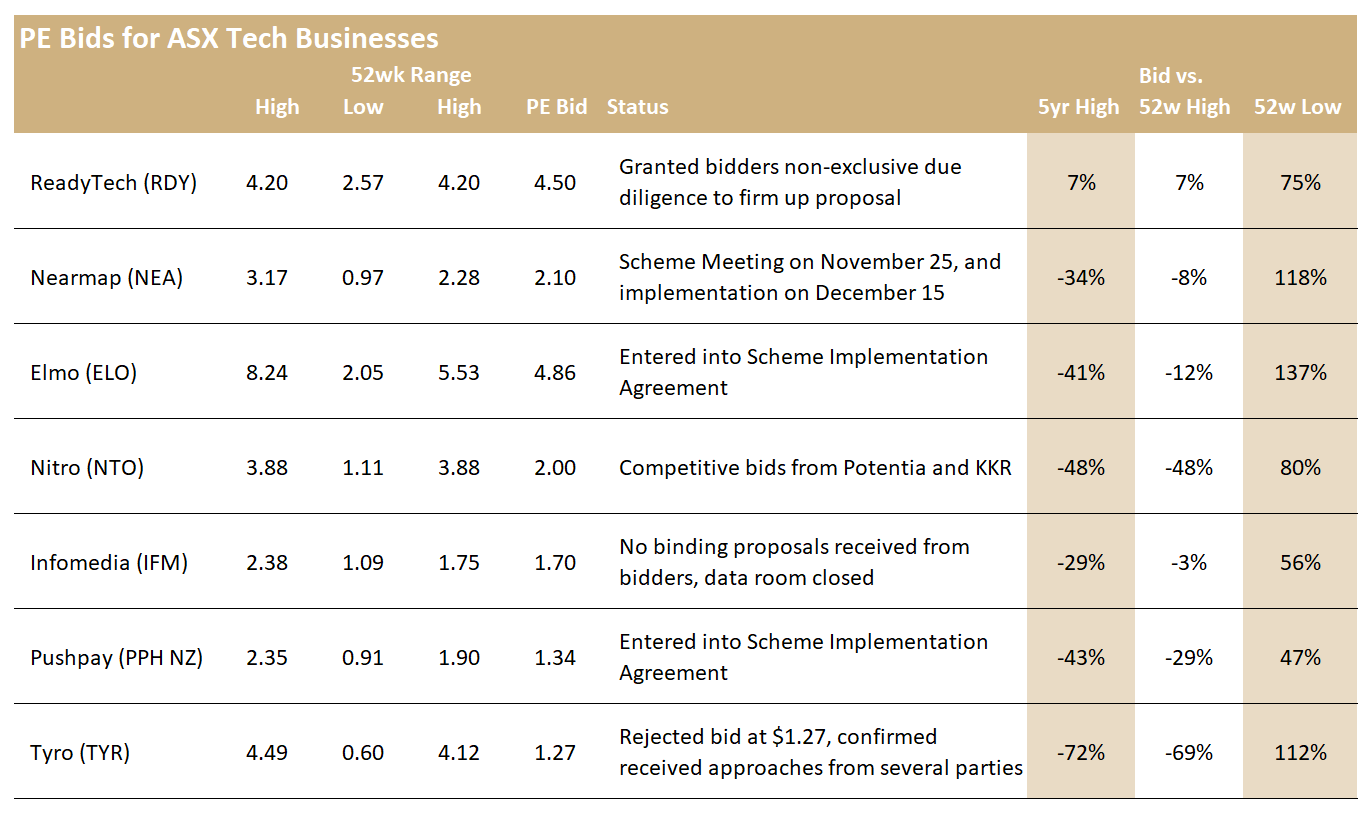 And that will be the game with the ASX-listed tech stocks. Take these sub $100m revenue companies private. Fund an additional 3-5 years of growth. Cobble a few extra acquisitions together. Then rip the costs out in year four and bring it back to the ASX as the next Technology One - a highly profitable, highly valued tech company.
Nitro's public shareholders participated in a rights issue at $3.43 not even a year ago. Potentia was able to buy 20% of the company for $1.58 a share in September and could have bought the whole company for not much more had a second bidder not turned up. I'm confident they will be selling it back to us in 2026 or 2027 for more than three times the price.
Granted, very rarely is it the same institutional shareholders at each stage of the cycle. But, collectively, we deserve what we get. You really can't draw any other conclusion. The short-termism of public market investors plays straight into private equity's hands. They use the public markets as an ATM, selling at the top and buying at the bottom, and we keep dishing the cash out.
*The Forager Australian Shares Fund owns shares in Nitro and ReadyTech.
If you are interested in receiving similar content from Forager Funds, please visit our website.
........
Forager Funds Management Pty Ltd (ABN 78 138 351 345). Australian Financial Services Licence (AFSL) No. 459312. PO Box R1848, Royal Exchange, NSW 1225. Ph: (02) 8320 0555 General advice only Forager Funds Management provides general information to help you understand our investment approach. Any financial advice we provide has not considered your personal circumstances and may not be suitable for you. Product Disclosure Statement: The Trust Company (RE Services) Limited (ABN 45 003 278 831 and AFSL No. 235150) is the Responsible Entity and the issuer of the Forager Australian Shares Fund (ARSN No. 139 641 491). Fundhost Limited (ABN 69 092 517 087 and AFSL No. 233045) is the Responsible Entity and the issuer of the Forager International Shares Fund (ARSN No. 161 843 778). Before deciding whether to acquire or continue to hold the product, you should read the relevant Product Disclosure Statement, any ASX notices, and seek advice from investment and taxation professionals to determine if the product is appropriate for your needs. The PDS for the Funds are available at Forager Funds. The Target Market Determination(TMD) is available for the Forager International Shares Fund from Fundhost's website. The TMD for Forager Australian Shares Fund will be available from Forager Funds when required by law. Performance: Past performance is not a reliable indicator of future performance. The Trust Company (RE Services) Limited, Fundhost Limited and Forager does not guarantee investment performance or distributions, and the value of your investment may rise or fall. Disclaimer: To the extent permitted by law, The Trust Company (RE Services) Limited, Fundhost Limited and Forager, their officers, employees, consultants, advisers and authorised representatives, are not liable for any loss or damage arising as a result of any reliance placed on this document. Information has been obtained from sources believed to be reliable, but we do not represent it is accurate or complete, and it should not be relied upon as such. The Responsible Entity of Forager Australian Shares Fund has determined that it will rely on ASIC CO 13/655 as from 20 April 2022. Forward Looking Statements: Forward-looking statements are those which reflect the expectations of Forager about the future prospects of companies held within the portfolios of the funds. Whilst Forager considers its expectations to be based on reasonable grounds, there is no guarantee that those expectations will be met. Actual performance of the portfolio companies will be impacted by a variety of factors, including circumstances that cannot be foreseen or are beyond Forager's control, and could differ significantly. Forager assumes no obligation to update any forward-looking statements.