The lesser known stock we interact with every week (ASX:IGL)
---
Despite being relatively unheard of the IVE Group's (ASX: IGL) activities touch virtually every household in Australia, every week of the year. This printing company has transformed itself into an integrated marketing, print and communications service provider to a large and diverse range of blue chip Australian and global companies including ANZ, Westpac, Coles, Woolworths, Tabcorp, Vodaphone and LÓreal.
IVE Group (ASX: IGL) is a printing, integrated marketing and communications provider.
IVE Group provides services to a number of large Australian and global companies.
The company offers a wide breadth of essential ongoing services.
IVE Group has recently undertaken two successful acquisitions and integrations.
IVE Group has unrivalled production in Australia. 
Despite this impressive list of leading customers, its overall revenue base remains highly fragmented, both across individual customers and by industry exposure.
Given its origins as a print company, it is easy to consider its business as participating in a sunset industry, however that would underestimate the breadth of essential ongoing services and capabilities – in print, online, in store, and including the necessary supporting logistics behind its service portfolio.
IVE Group has led industry consolidation, which is improving the operating environment, with now fewer market participants (of which IVE Group is the dominant player) reducing previous excess capacity in the industry. Substantial new contract wins have underpinned investment in what is now an unrivalled production capability in Australia. 
The company has recently undertaken two successful acquisition and integration projects including the relocation and merger of Victorian Blue Star Display with Franklin Web's retail display business and the acquisition of direct communications business SEMA and Sydney based Dominion Print Groups. Both integrations are predicted to expand capacity and grow revenue.
We think the business is well run, and with the shares trading on a FY19 PE of c7.5x and offering a fully franked FY19 dividend yield of 9% - believe it is a solid investment opportunity for the yield investor.
We have chosen to invest in this stock for the following main reasons:
Breadth of services: Despite initially seeming like a print business IVE Group offers a wide range of essential and growing services.
Market leader: IVE Group is the dominant player in a market where competition is shrinking.
Productivity: New contract wins have provided IVE Group with unrivalled production capabilities in Australia.
Recent acquisitions: Two recent successful acquisitions have set IVE Group up for future growth and increased revenue.
Want to learn more?
For further insights from Pengana Capital Group, please visit our website.
---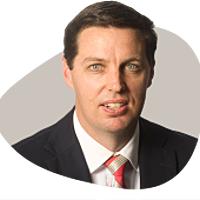 Pengana Australian Equities Income Fund, Co-Fund Manager
Pengana Capital Group
Mark is a Fund Manager for the Australian Equities Income Fund, and Analyst for the Australian Equities Fund, having joined Pengana in 2013. Prior to that, he was a research analyst at Morgan Stanley (UK & Australia), & chartered accountant with PwC.