The Longest 'Long' of All-Time
---
The broad market indices are providing ever increasing concentration and valuation risk. While the music keeps playing and, in fact, appears to be getting louder, people will keep dancing. But that doesn't mean that the danger is not increasing. As of 10th January 2020, before the coronavirus was seriously troubling western markets, the FAAMG group (Facebook, Apple, Amazon, Microsoft, Google) made up 17.4% of the total market capitalisation of the S&P 500 index (1). This level of market concentration was already equivalent to the market concentration just prior to the dotcom crash in 2000. Since then, the market fortunes of the mega five have improved further, so that they now make up 21.7% of the S&P 500 (2). Their market share has increased by 25% in the first six months of this year. While this is striking in itself, consider that the market share of these giants, as at 31st March, 2017, was 13%. (3) The market share of the big 5 has increased by 67% in just over three years.
While this has caused us no end of consternation over the past 3 years, as we haven't owned them, it fills us with excitement for the next 5 years, because we don't own them. For the past 25 years, Bank of America has surveyed fund managers about how they are positioning portfolios. The latest survey found that nearly three-quarters of fund managers agreed that holding big U.S. tech stocks was the "most crowded" trade in the market, the survey's strongest ever consensus. 
Buying tech stocks is now the "longest 'long' of all-time". 
 Many passive index investors (or investors in benchmark focused funds) do not fully realise how much their fortunes rest on the fortunes of these five companies.

There is no question that these are admirable companies with strong growth prospects, but they are not undiscovered, and they do not come without risks, including valuation. The big 5 have seen their market capitalisation increase by 50%, on average, over the past ~12 months (5) while their consensus expected earnings for fiscal 2021 have fallen, on average, by 2% over the same period.

These companies have done a remarkable job of lifting the index over the past five years, indeed, over the past ten years since the GFC, but it strikes us as optimistic to think they can do the same job over the next five years from their current lofty perch. For these companies to increase in value by 10% per annum for the next five years they would have to add an incremental US$4 trillion to their combined market capitalisation by 2025 (6). This is the equivalent of adding the entire current market capitalisation of the next thirteen companies in the S&P 500 today. In other words, adding another Berkshire Hathaway, Visa, Johnson & Johnson, Wal-Mart, Proctor & Gamble, Mastercard, JP Morgan, United Health, Home Depot, Nvidia, Intel, Netflix and Verizon. Alternatively, you could add the bottom 288 companies in the S&P 500 to make up the same US$4 trillion. Not impossible, but also not a slam dunk. We prefer to look elsewhere for opportunities and, in doing so, provide valuable diversification for our investors, including ourselves. 

Learn more
Avenir Capital is an Australian based investment manager, specialising in value-oriented global equity investments. Get our latest insights by hitting the follow button below.
Footnotes
(1) (VIEW LINK)
(2) (VIEW LINK)
(3) (VIEW LINK)
(4) (VIEW LINK)
(5) 30 June 2019 to 4 August 2020.
(6) Avenir analysis.

---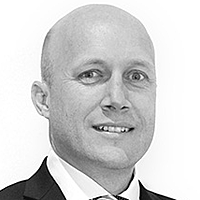 Chief Investment Officer
Avenir Capital
Adrian Warner is the Managing Director and Chief Investment Officer of Avenir Capital and is responsible for the portfolio management of the Avenir Global Fund. Prior to founding Avenir Capital, Adrian worked in private equity investment in...
Expertise