The Match Out: A lacklustre day, ASX down a touch, Energy bounces, IT continues its slide
---
It was one of those days today where the market had little direction – chopped around par with further weakness in technology stocks offset by buying in the Energy sector, hard to get excited one way or another and best we let the market determine where it tracks from here. As we suggested this AM, MM is technically bullish on a close above 7480 and bearish below 7300. Ultimately the market will tell us where it wants to head next, however bullish the seasonal factors may be.
The ASX 200 finished down -11pts/-0.15% today at 7399.
Energy the standout today up +1.22%, IT stocks weighed off by -0.56%, the investment platforms were hit hard, HUB 24 (ASX: HUB) and Netwealth (ASX: NWL) both down around 5%.
Technology One (ASX: TNE) -8.61% universally downgraded today following a solid but uninspiring FY21 result out yesterday. The crux being the stock is too expensive for the growth being delivered in a market where interest rates are on the up – one for the Market Matters HITLIST into further weakness under $11.
Pinnacle Investments (ASX: PNI) -5.6% back online after a capital raise, the stock was hit very hard early trading below $15 before closing at $16.52, the $105m equity raise was done at $16.70 per share – Harry covers more on this below.
Austal (ASX: ASB) +1.35% wins a maintenance contract, incremental positive after a tough period.
Whispir (ASX: WSP) +14.83% provided a guidance update at its AGM today, Jules Cooper saying. Key highlights include: 1) FY22 revenue upgraded 12-13% and 2) FY22 operating EBITDA upgraded 14-15%. This is positive, particularly in the context of WSP's recent trading performance and valuation. WSP is a top pick and hopefully why now becomes a little clearer to all. Reiterate BUY.
The Weekly Market Matters Video Update will be out tomorrow – a day late.
Gold was up marginally in Asia, +$US6 to trade $US1794 at our close.
January Iron Ore Futures added +3% today in Asia.
Coal has also bounced, the Jan Futures contract on ICE +6% and is now at US172/tonne versus recent low of $US140/tonne.
Asian markets were mixed, Nikkei -1.80%, Hong Kong +0.13% while China was flat at the time of writing.
US Futures are marginally lower, nothing significant.
ASX 200 Chart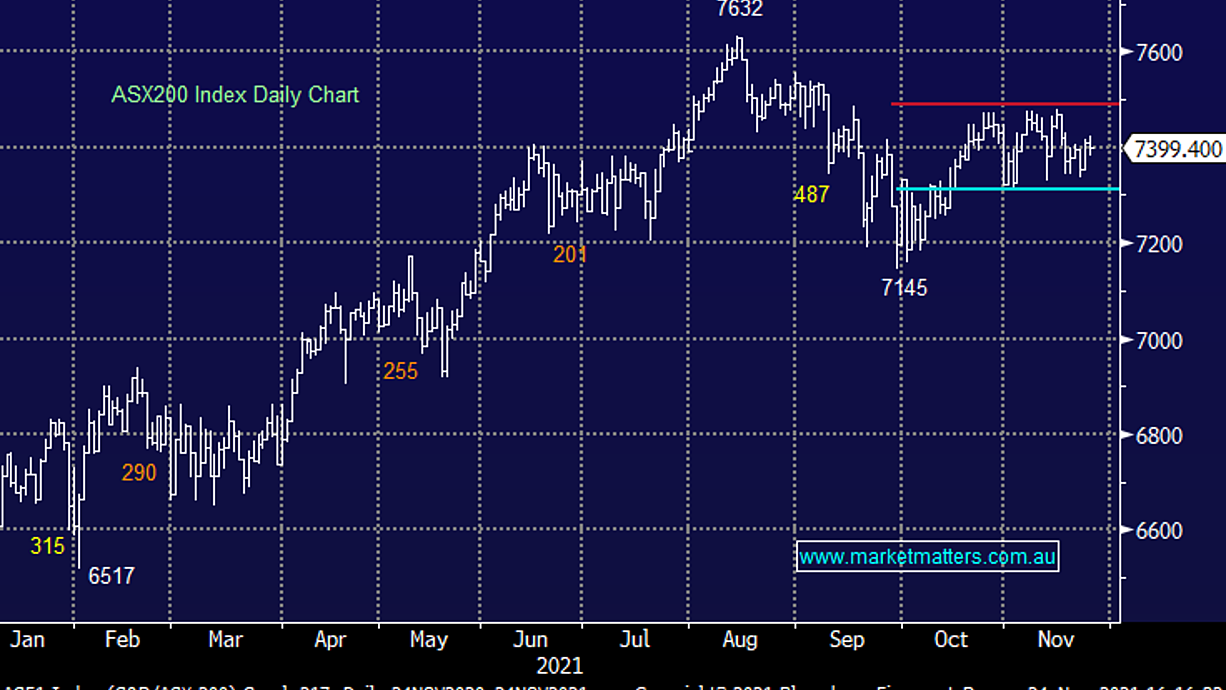 Pinnacle Investments (ASX: PNI) $16.52
PNI -5.6%: back trading today after raising $105m to take a stake in a Private Equity fund manager. The raise was done at $16.70/sh, what was a 4.6% discount to the previous close however the market made light work of that price this morning, selling the stock down to sub-$15 before staging a recovery. The raise will go towards a $75m stake in Five V which targets small to midsized growth companies. The investment is new money for Five V, with no shareholder sell down, however the same cannot be said for the PNI raise. Executive Director Adrian Whittingham has taken $14.6m off the table in the placement. Adrian signalled intentions to reduce his role at the company last year before having a change of heart, perhaps he's going back on his word again. The selldown certainly spooked the market today.
MM is neutral on PNI here.
Pinnacle Investments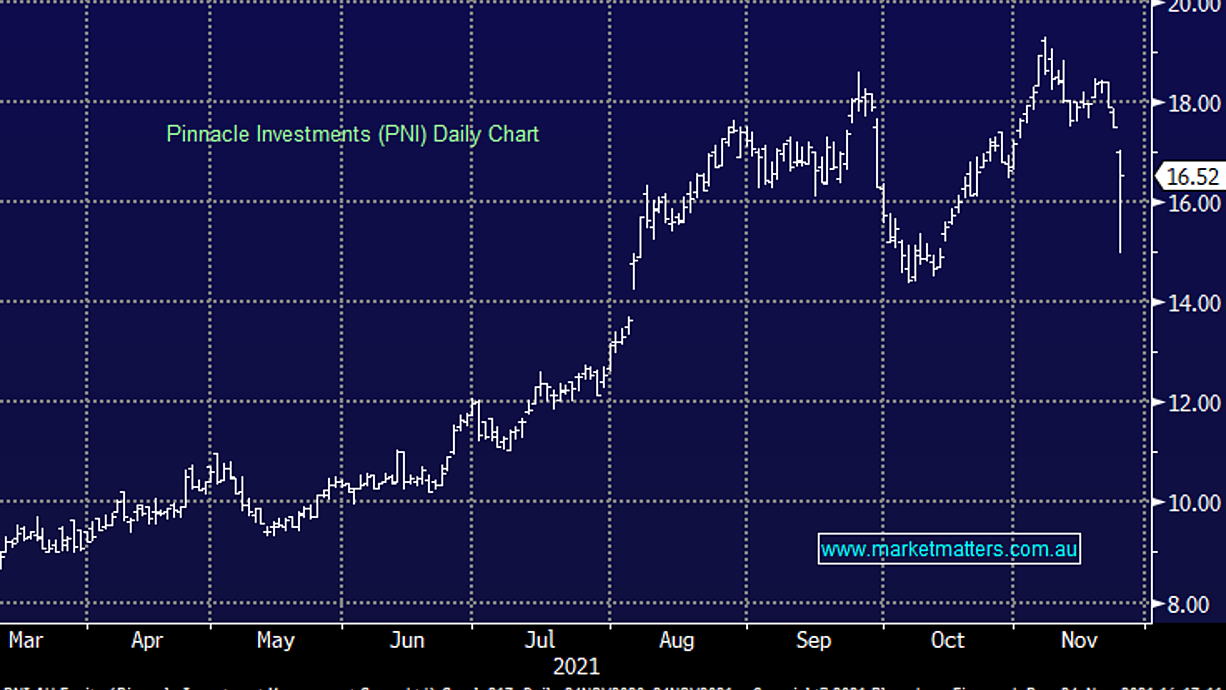 Broker Moves
Technology One Cut to Underperform at Macquarie; PT A$11
Bapcor Cut to Hold at Ord Minnett; PT A$7.20
Alumina Rated New Neutral 1 at Barrenjoey; PT A$2
Technology One Cut to Underperform at Jefferies; PT A$11
APA Group Raised to Add at Morgans Financial Limited; PT A$9.98
BHP Group PLC Cut to Underperform at Oddo BHF
Major Movers Today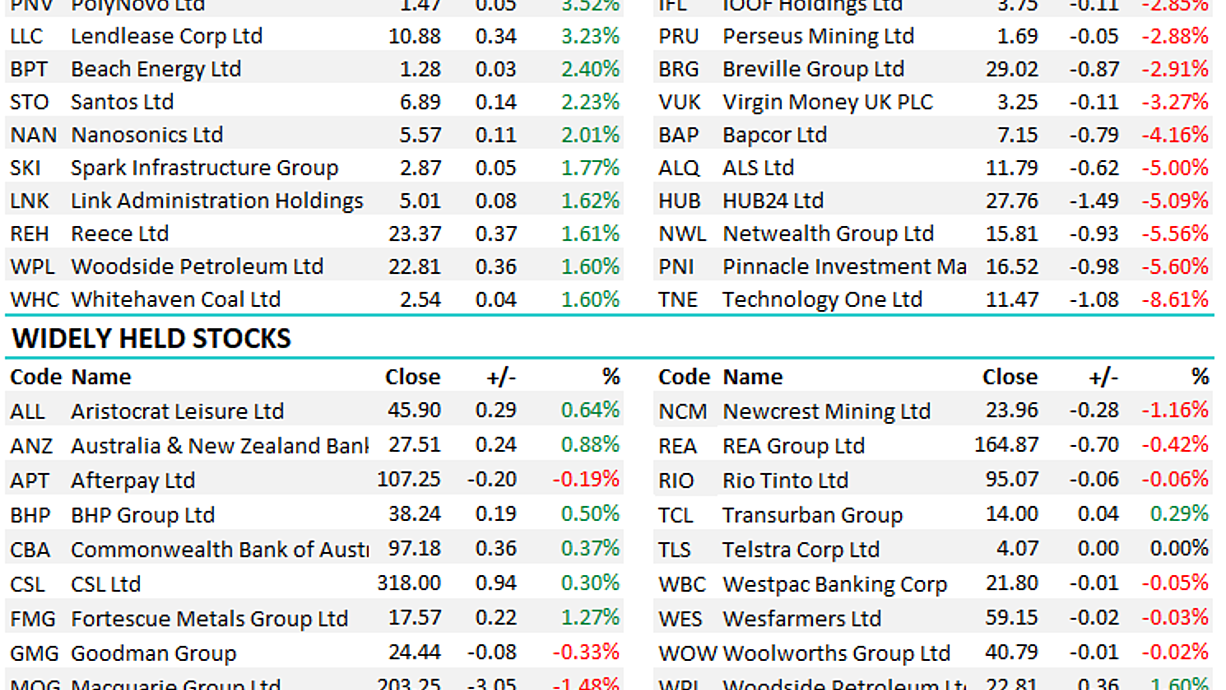 Have a great night

James, Harry and the Market Matters Team.
Make informed investment decisions
At Market Matters, we write a straight-talking, concise, twice daily note about our experiences, the stocks we like, the stocks we don't, the themes that you should be across and the risks as we see them. Click here for your free trial.
The Match Out will be available each day after the market close. Follow my profile to be notified when the latest report is live.