The Match Out: ASX down but not out, drops 0.50%, Resources higher as Iron Ore rallies
---
There was a degree of anticipation this morning given the weekend news flow, however as currency markets opened and were fairly subdued it quickly became apparent that the market reaction towards the Omicron variant would not be as severe as futures had implied. As is customary on a day like this, the worst of it was seen early as stop losses dinged the market sharply lower on open (-100pts) before buyers quickly emerged pushing the market up +90pts to a 1pm high - before a few sellers emerged into the close. The Materials sector faired best supported by the IT stocks while the Real-Estate and Energy Sector vied for last place, down  around 1.4% a piece.
The ASX 200 finished down -39pts/-0.54% today at 7239 – a good effort really.
Material stocks were strong thanks to ~5% gain by Iron Ore today, the sector +0.74% while Real-Estate and Energy were weak.
The ASX 200 peaked in the middle of August at 7632 and has now chopped around with a downside bias to be off 450pts / 5.9% since (to todays low).
A combination of rising rates and now a new strain of the virus conspiring against equities, however just like today's session, the resilience has been a clear takeaway.
HUB 24 (ASX: HUB) topped the 200 today putting on +4.75%, not bad on a soft session and technically the stock now looks very bullish – we own.
The travel stocks were very volatile as you'd expect, they have the most to lose if the reopening timetable pushes out, however the 'buy the dip' mentality certainly played out to varying degrees – while one day doesn't make a summer, you certainly looked stupid selling those on open this AM! Flight Centre (ASX: FLT) had a $15.21 low and closed around $17.
Commodity stocks did well today as both Iron Ore (+5%) and Oil (+4%) were higher during Asian trade.
Lynas (ASX: LYC) +0.59% held their AGM sighting more positive trends in the rare-earths market – we hold in our Emerging Companies portfolio.
Gold was down marginally in Asia, -$US7 to trade $US1795 at our close.
January Iron Ore Futures up +4.69% today in Asia.
Asian markets were lower, Nikkei -1.95%, Hong Kong -1.24% while China was down -0.44%.
US Futures are higher, Nasdaq futures the standout, up 1.03%, Dow Futures were up +250pts at the best, trading around +170pts at our close.
ASX 200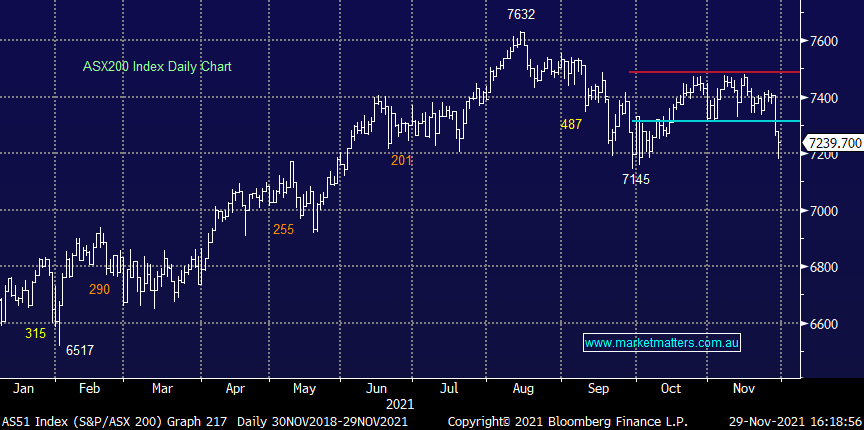 Ive Group (ASX: IGL) $1.72
IGL -2.27%: The integrated marketing business held their AGM last week and provided a trading update for the first 4 months of FY22. Overall, the update was strong relative to a weak trading period this time last year however the key takeaways are as follows:
- EBITDA up +32% on same time last year with NPAT up +75% although it was off a low base
- Revenues have increased 9% against expectations of a flat top line.
- Net debt of ~$90m is higher than at the end of FY21 however capital management still in play we think.
- IGL is trading on a sub 10x P/E with an expected yield ~8% fully franked i.e. it's cheap.
MM remains long & bullish on IGL.
Ive Group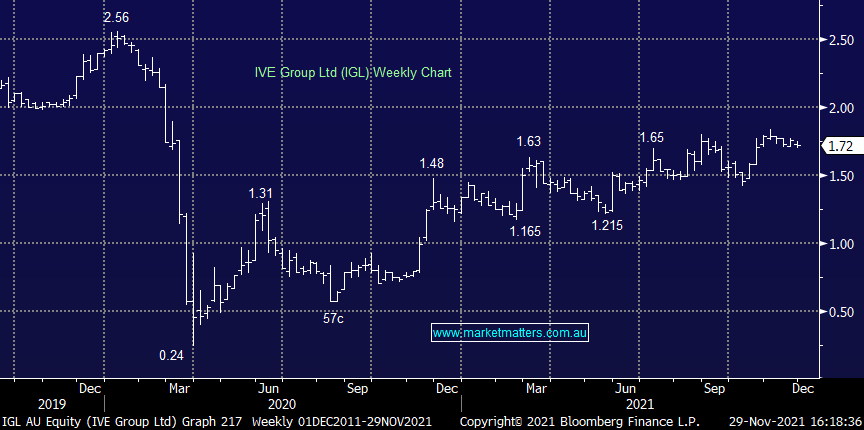 Lynas (ASX: LYC) $8.50
LYC +0.59%: the company hosted their AGM today which came with continued positive commentary around the rare earths market. Lynas said they now expect the demand for NpDr to grow 10% per year through to 2030, up from 7.5% as the growth in electric vehicles (EV) accelerates. Their products are also needed in a range of clean energy options - including wind power – with demand obviously on the up there as well. LYC is in the middle on building a processing plant in Kalgoorlie, WA, with today's update showing it is on budget and remains on track for first production in mid-2023.
MM remains bullish and long on LYC. 
Lynas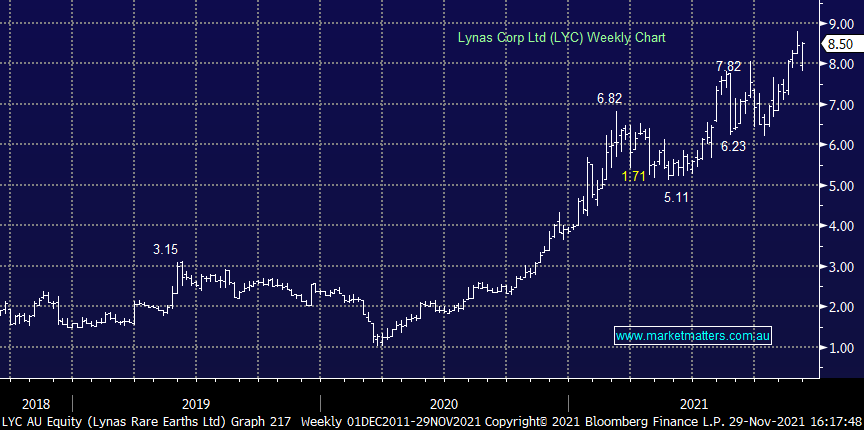 Broker Moves
Damstra Holdings Cut to Underweight at Wilsons
Adairs Raised to Accumulate at Ord Minnett; PT A$4.10
Bendigo & Adelaide Raised to Buy at Jefferies; PT A$10
Major Movers Today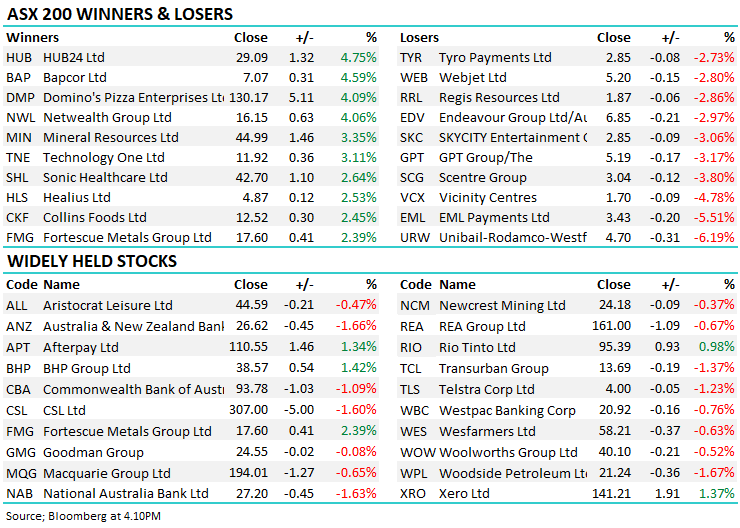 Have a great night
James, Harry and the Money Matters Team. 
Make informed investment decisions
At Market Matters, we write a straight-talking, concise, twice daily note about our experiences, the stocks we like, the stocks we don't, the themes that you should be across and the risks as we see them. Click here for your free trial.
The Match Out will be available each day after the market close. Follow my profile to be notified when the latest report is live.