The Match Out: ASX down with any tech being too much tech today!
---
Technology stocks were smashed today, the IT sector down 8.7% with 10+% falls common-place at the large end, and 15%+ at the small end as big and consistent sell-orders rocked through the market. 
Slightly hotter than expected inflation data in the US overnight was the main catalyst it seems, but whatever the case, it was just one of those risk-off sessions that saw the index slide all day while the selling in some stocks was extreme. A terrible day for the market even though two of the big four banks finished the session up!

The ASX 200 finished down -123pts/ -1.75% at 6941
The utilities sector was best on ground (-0.58%) while financials (-0.75%) were also relative performers, however, all sectors closed the day in the red.
IT (-8.70%) and Energy (-2.27%) were the weakest links.
92.5% of stocks on the ASX 200 closed the session lower!
Orica (ORI) +4.66% rallied on a solid 1H result
Commonwealth Bank (CBA) +0.63% had a positive trading update, particularly around costs.
CBA CEO Matt Comyn actually made some interesting comments around interest rates and inflation, saying he thinks rates will top out a lot lower than the market is currently pricing + that inflation has peaked.
Xero (XRO) -11.58% whacked on FY22 result that showed a continued focus on growth above profitability, however, the whole sector was hit so not sure how much was actually the XRO result – more on that below.
Altium (ALU) -16.69% closed today at $25.20, a long way from the muted $40 that AutoDesk was offering. No news on ALU today, just a large seller from mid-afternoon onwards.
Bitcoin ETFs arrived in Australia - there are some complexities around trading these including margin, higher costs, and the like, not a simple process, and many brokers shying away from it.
CSR -9.62% was hit today after reporting yesterday and rallying. Pretty much all brokers tweaked their numbers lower following yesterday's update, but not by much. The move today was extraordinary for the quantum of earnings changes that we saw filter through.
Iron Ore was down 1% in Asia today
Gold was flat trading $US1850 at our close.
Asian stocks were down, Hong Kong -1.89%, Japan -1.90% while China was flat.
US Futures are all lower, they tapered off throughout our session with the Nasdaq down -0.7% at our close.   
ASX 200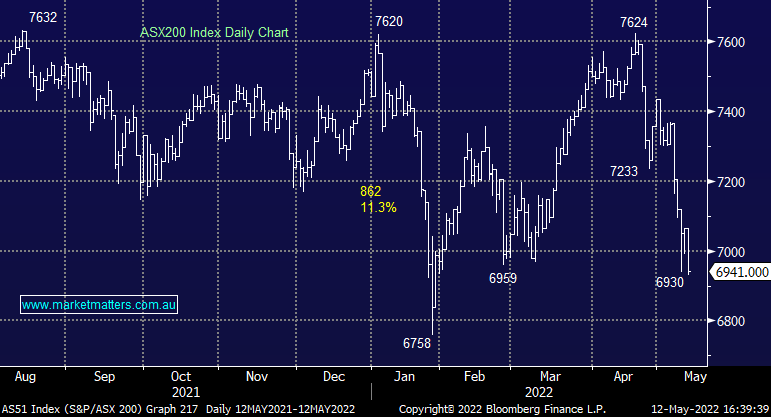 Xero (XRO) $76.90
XRO -11.58% was hit hard today following their FY22 results (March year-end) with a few swings and roundabouts in the update. The headline numbers were solid, and XRO is delivering on its long-term aspirations, however, as we know in this market, growth is being shunned and any semblance of weakness in the composition of results is being dealt with harshly. 
The key takeaways as follows: 
Revenue of $1.1bn was a slight beat while EBITDA was a slight miss. 
They reported a loss after tax of $9m which was slightly more than expected but not the main issue. 
They ended the period with 3.3m subscribers which were very slightly behind some expectations – not by much though, about 60k subs light with growth in the 2H to blame.
The real issue from a market's point of view is a lack of operational leverage becoming obvious – the concept of profits increasing at a quicker rate than revenue once scale is achieved. Based on stated cost guidance, XRO is not there yet, instead, they're still investing very heavily in the platform and that focus on growth over profitability is at odds with the market.
Xero (XRO)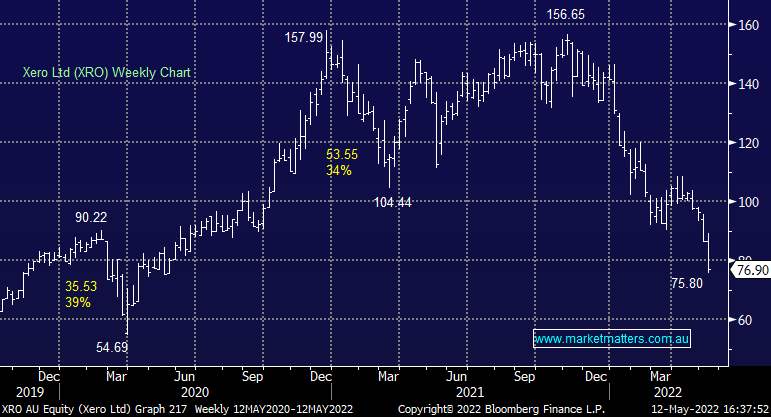 Commonwealth Bank (CBA) $102.15
CBA +0.63%: Australia's biggest bank was out with their third quarter update today which was largely as expected, but did enough to support the stock on a weak day for the broader market. NPAT was flat vs the quarterly average in the 1H at $2.4 billion while income fell 1% as volume growth failed to offset margin pressure. 
Credit quality remains strong with the bank seeing $48 million in reserve releases to help support profits. Expenses were also well managed, down 1% excluding remediation. With 9 months now in the books, CBA looks well placed to at least meet consensus expectations for the full year.
Commonwealth Bank (CBA)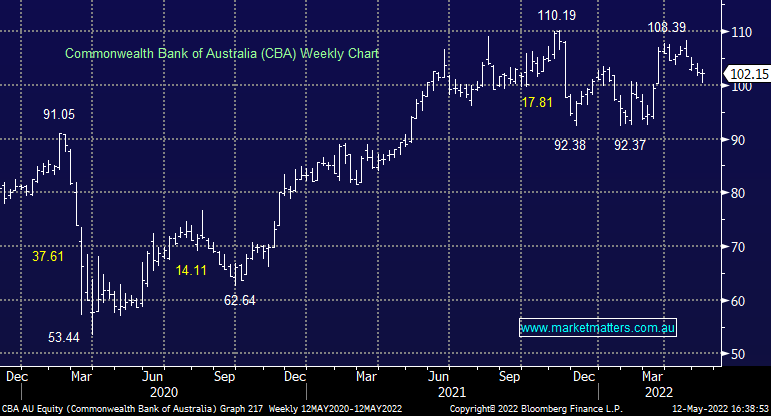 Broker Moves
CSR Cut to Neutral at Macquarie; PT A$6.05
Judo Capital Raised to Outperform at Macquarie; PT A$2.15
GrainCorp Cut to Equal-Weight at Morgan Stanley; PT A$10.70
Microba Life Sciences Rated New Speculative Hold at Bell Potter
Judo Capital Raised to Buy at Goldman; PT A$2.05
CSR Cut to Hold at Jefferies; PT A$5.90
APA Group Reinstated Sector Perform at RBC; PT A$12
Major Movers Today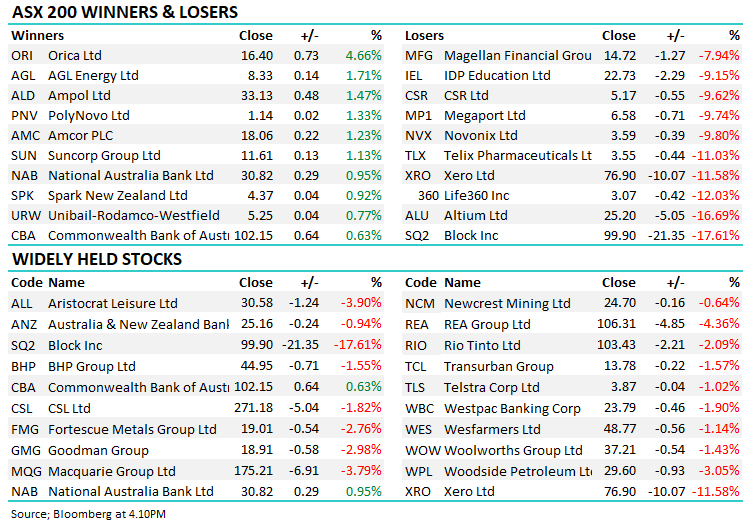 Make informed investment decisions
At Market Matters, we write a straight-talking, concise, twice daily note about our experiences, the stocks we like, the stocks we don't, the themes that you should be across and the risks as we see them. Click here for your free trial.
The Match Out will be available each day after the market close. Follow my profile to be notified when the latest report is live.