The Match Out: ASX drifts lower, Energy stocks weigh, Magellan (MFG) knocked for 6!
---
It was a tough session for pockets of the ASX, however overall it was a fairly resilient day with a bounce-back in the Healthcare and Consumer Staples stocks (i.e. the defensives) while components of the material sector also did well, namely Gold and Iron Ore as the Energy stocks provided the biggest drag, down over 3%.
The ASX 200 finished down -11points / 0.16% at 7294 – not a bad session considering what was playing out in US Futures + Asian markets during our time zone.
Chinese banks lowered borrowing costs for the first time in 20 months to support their economy. The one-year loan prime rate was set at 3.8% versus 3.85% in November, the first reduction since April 2020.
Easing of Chinese policy is clearly good for our China-facing stocks hence the bump in Iron Ore names, Fortescue Metals (ASX: FMG) +2.53% to $19.46.
US Futures came under pressure from around 11 am our time today amid concerns about more omicron-induced curbs and after a setback for President Joe Biden's economic agenda prompted Goldman's to cut forecasts for U.S. growth. Essentially, Biden's infrastructure bill may not get up which is a surprise for both sides we would have thought.
Oil Futures also fell which put pressure on local energy stocks while the same reason supported the Gold market.
A few big moves in large-cap stocks today, with Magellan (ASX: MFG) finishing down -33% on a big mandate loss that will hit revenue by ~12%.
Contractor Cimic Group (ASX: CIM) was also whacked 13% as around 100 employees from their recently sold Middle East operation claimed underpayments, CIM responded saying the funds are available via the sale agreement, however that division is the gift that keeps on giving (unforeseen surprises)!
Gold miners were interesting today, they were sold off early only to recover strongly late in the day to finish higher. We have been patiently long on gold for some time, and once again it is looking good for a sustained move higher, although we have typed that before!
Iron Ore edged higher in Asia today, up 0.73%.
Asian markets were lower, The Nikkei off -2.24%, Hong Kong -1.11% & China -0.55%.
US Futures are all lower, the Nasdaq the worst of them off -1.08% while Dow Futures are -291pts.
ASX 200 Chart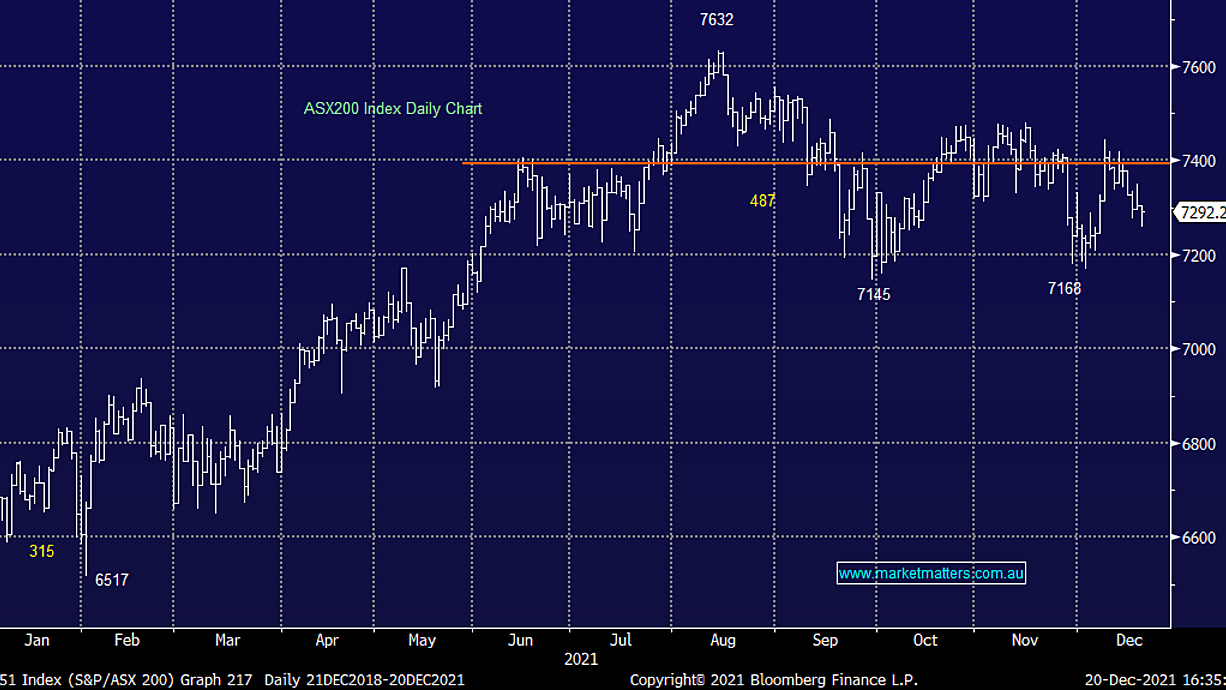 Broker Moves
Western Areas Raised to Hold at Bell Potter; PT A$3.36
Bluescope Raised to Buy at Jefferies; PT A$24.60
Cimic Cut to Neutral at Credit Suisse; PT A$17.16
Zip Co. Cut to Hold at Jefferies; PT A$4.48
Major Movers Today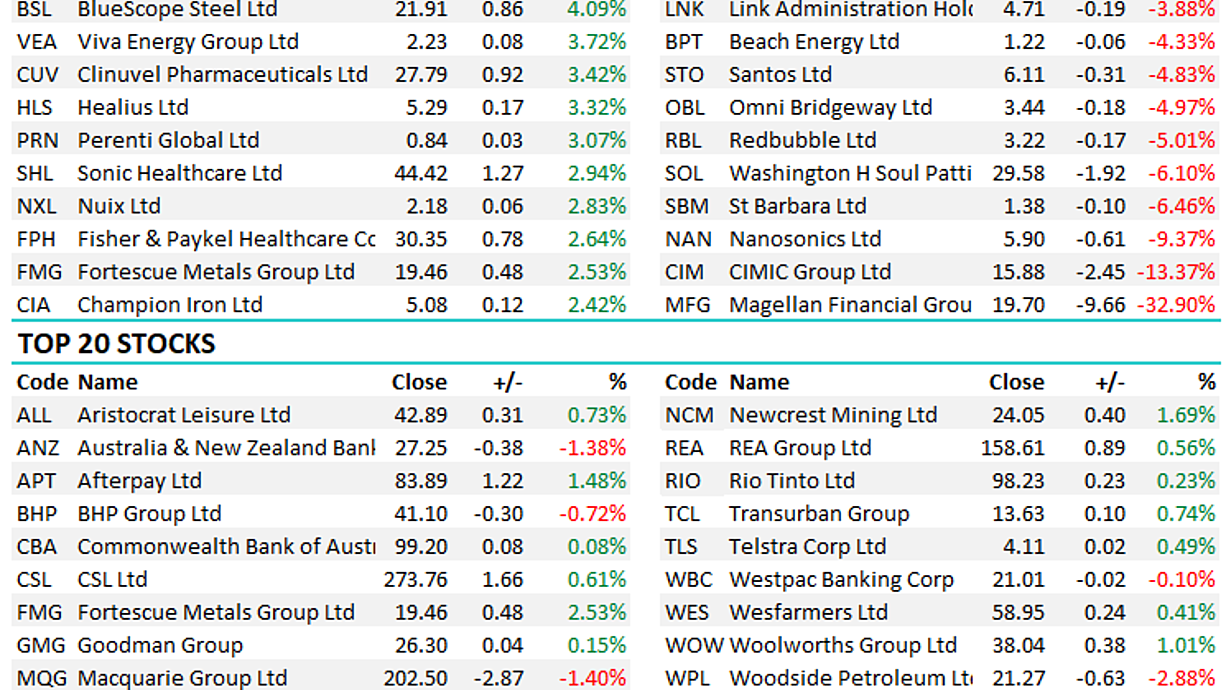 Enjoy your night
The Market Matters Team.
Make informed investment decisions
At Market Matters, we write a straight-talking, concise, twice daily note about our experiences, the stocks we like, the stocks we don't, the themes that you should be across and the risks as we see them. Click here for your free trial.
The Match Out will be available each day after the market close. Follow my profile to be notified when the latest report is live.