The Match Out: ASX hit 2%, Resources feel the heat from China lockdowns, EML Payments downgrades earnings forecast
---
It was a tough day for the ASX with the market coming back online after a long weekend losing over 2%. Commodity stocks were in the firing line as Chinese lockdowns are starting to create nervousness towards global growth expectations at a time when central banks are raising rates – not a good combo!
The ASX 200 finished down around 155pts/ -2.08% at 7318.
All sectors were lower as you'd expect, however, the Industrials (-0.67%) & REITs (-0.69%) were relative performers.
Materials (-5.10%) and Energy (-3.98%) the weakest links.
BHP -5.84% has now fallen from ~$54 to ~$45 in 5 trading sessions – now back into an attractive area.
Woodside (WPL) -4.58% on Oil price weakness while they released their March quarterly today.
EML Payments (EML) -38.56% taken out the back and shot, then shot again & run over following a profit downgrade.
Halo Technologies (HAL) -8.33% had a tough day to start trading following their IPO.
Temple & Webster (TPW) +3.04% saw a broker upgrade plus Pinnacle went substantial.
Mineral Resources (MIN) -9.93% whacked as both Iron Ore & Lithium came under pressure.
Airtasker (ART) +14.58% had a solid session following a trading update, although they have a long way to recover closing today at 55c down from ~$1.40 less than a year ago
Iron Ore was ~1.5% lower in Asia today back below US$150/t
Gold failed to attract a safety bid trading flat at ~US$1901 having been hit at the back end of last week.
Asian stocks were mixed, Hong Kong +0.57%, Japan +0.41% while China was off -1.26%
US Futures are flat  
ASX 200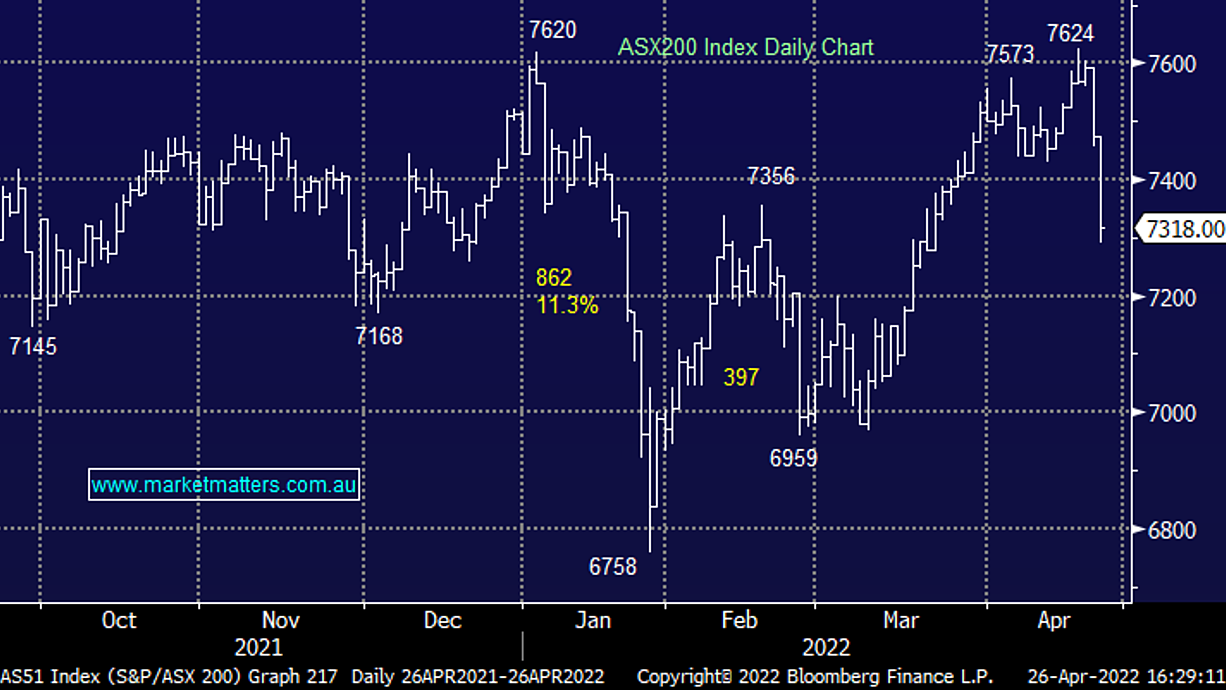 Woodside (ASX: WPL) $30.60
WPL -4.58%: A strong oil price underpinned a decent March quarter for Woodside with sales of $3.3 billion - more than double the same period last year (but down on the December quarter due to lower trading activity). The average realised price of $US93 a barrel of oil equivalent was very strong and the strength in cash generation is likely to hang around for at least another quarter. CEO Meg O'Neill said that "We expect in the second quarter to see the continued benefit of stronger pricing, reflecting the oil price lag in many of our LNG contracts." Woodside tracked back to our target price of around $30 today.
WOODSIDE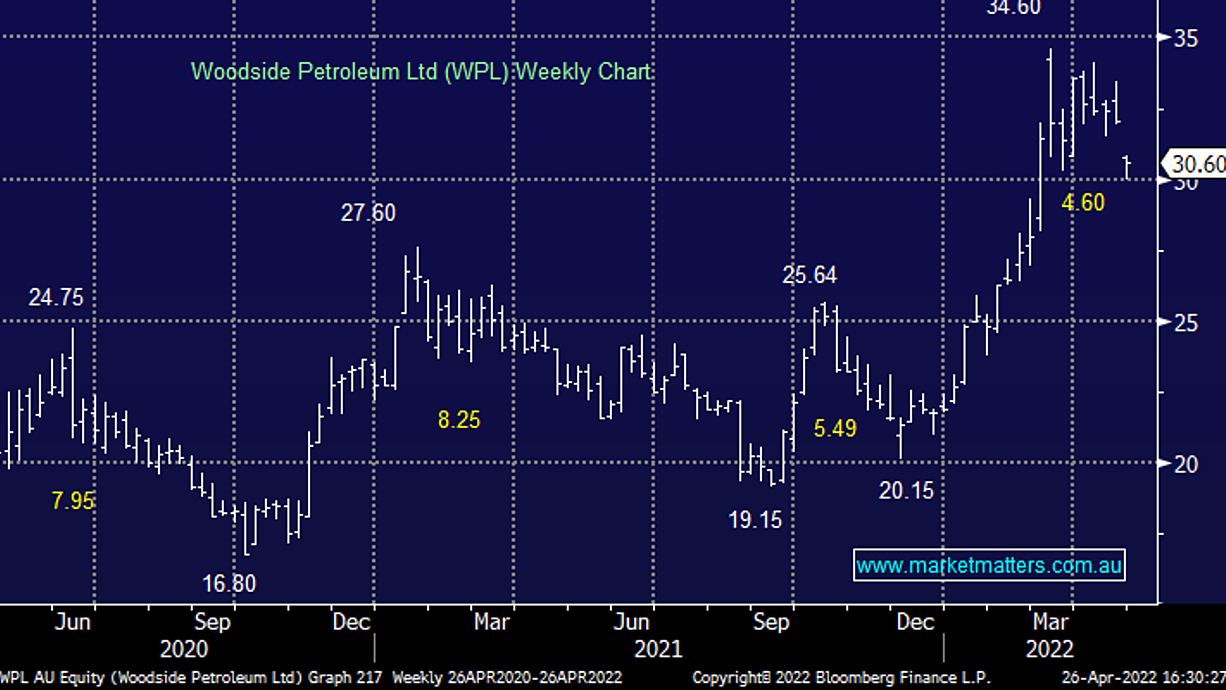 EML Payments (EML) $1.67
EML -38.56%: shares in the card payment business were dumped today after the company downgraded guidance for FY22. Revenue guidance was lowered to $225-235m, from $230-250m while EBITDA guidance was cut by 8% to $52-55m. 
While they said Australia and America were doing well, Europe has struggled with poor execution and regulatory concerns weighing on performance. It expected to see a pickup in establishment revenue after growth restrictions placed on them by the Central Bank of Ireland were lifted. However, that revenue stream is now expected to come in $4m below 2H21. Foreign exchange rates (~$1.5m) and low rates/delays to bond investments ($1-2m) have also weighed on expectations. 
It's concerning that the company stood by guidance just 2 months ago at the half-year result before the Chairman was happy to offload a $600k parcel of shares a fortnight ago. That stinks!
EML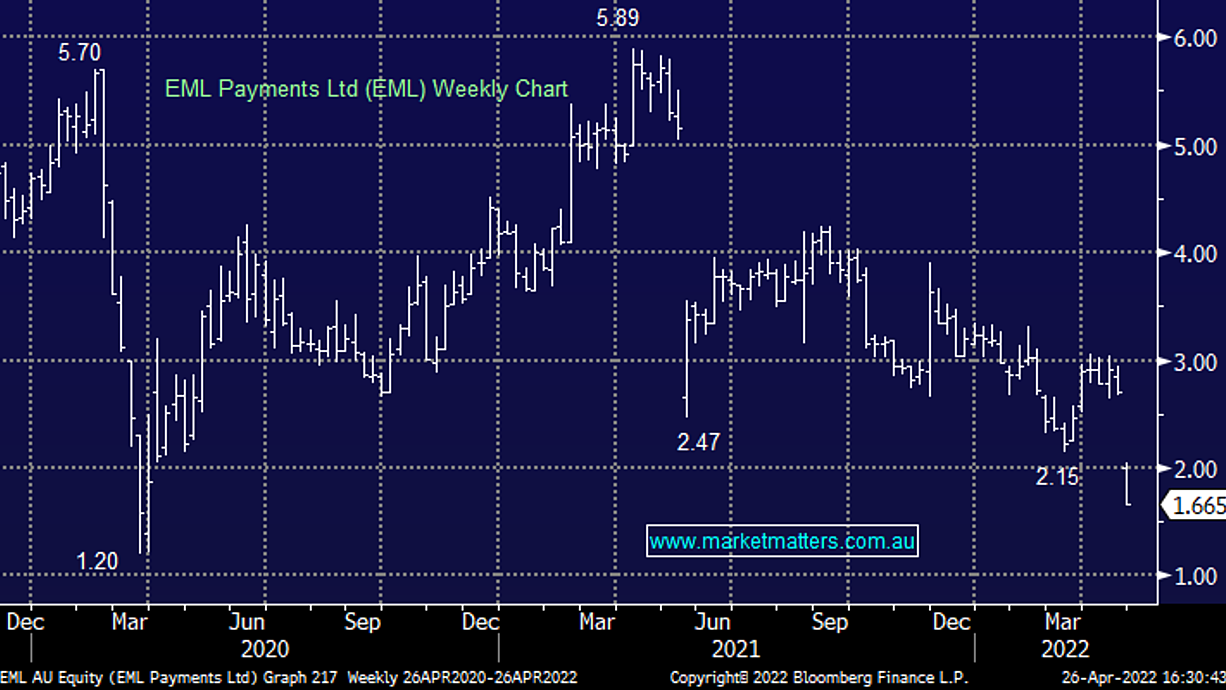 Broker moves
Link Administration Raised to Overweight at JPMorgan; PT A$5.40
Aristocrat Rated New Hold at Jefferies; PT A$34.72
Temple & Webster Rated New Buy at New Street Research; PT A$10
OZ Minerals Raised to Buy at Jefferies; PT A$28.50
Today's market movers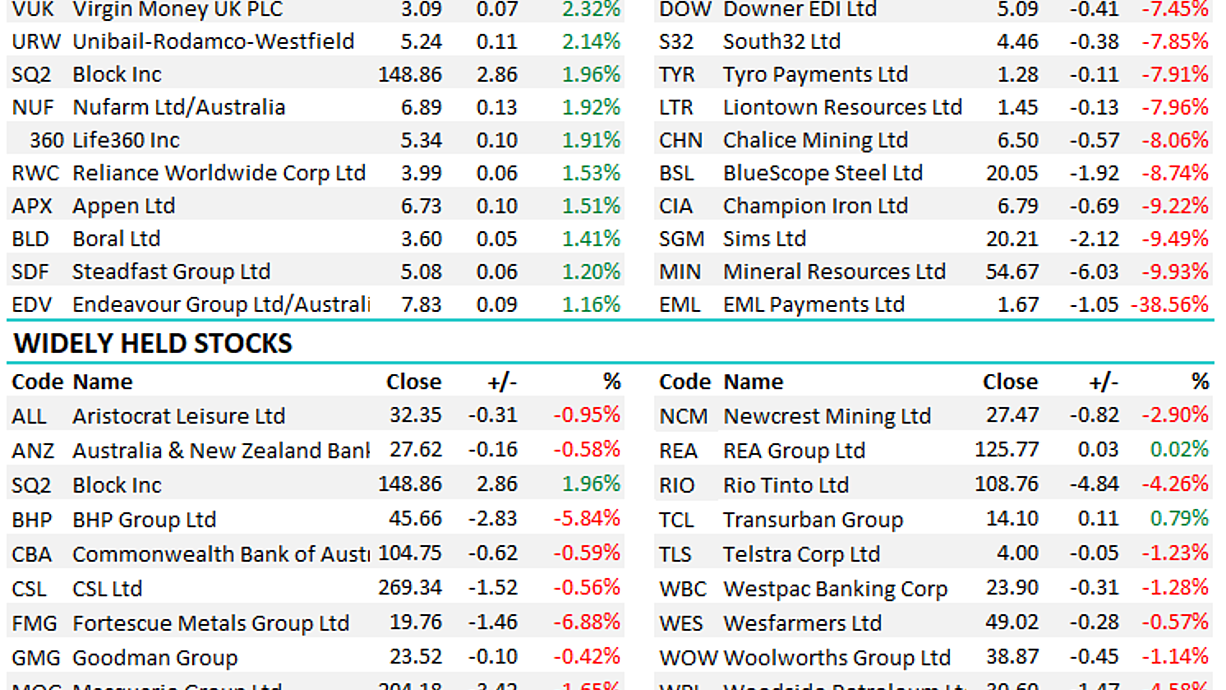 Make informed investment decisions
At Market Matters, we write a straight-talking, concise, twice daily note about our experiences, the stocks we like, the stocks we don't, the themes that you should be across and the risks as we see them. Click here for your free trial.
The Match Out will be available each day after the market close. Follow my profile to be notified when the latest report is live.