The Match Out: ASX hits 2-month high, BHP delivers 2nd best result ever
---
A strong open to trade this morning with the market buoyed by a very positive update from BHP, however, the best of it was seen early before a few sellers crept out of the shadows mid-morning. Stepping back for a moment, the ASX 200 peaked at 7624 on the 20TH April, coincidentally on my 40th birthday, before falling 1217 points / 16% to 6407 on the 20th of June - hopefully not a broader omen on life! From that low, the market has rallied 724pts / 11% to this morning's high of 7131 – clearly a strong move however we now see a growing prospect for the market to pause at least, and we've increased cash as a result of our more neutral stance.
The ASX 200 finished up +40pts/ +0.58% at 7105.
The Materials sector was best on ground (+1.66%) while Consumer Staples (+1.00%) & Healthcare (0.99%) were also strong.
Property (-1.14%) and Energy (-1.04%) the weakest link.
Reporting now is dominating the news flow and overall it was a solid day – BHP the standout and it did account for +24 index points.
BHP +4.09% reported a very good FY22 result, a beat at the EBITDA & dividend lines (profit messy given divestments).
Seek (ASX: SEK) -5.13% had a good FY22 with earnings up +84% however FY23 guidance was about 10% light on.
Goodman Group (ASX: GMG) -0.48% met FY22 expectations, talked favourably about their pipeline and seemed to guide conservatively for EPS growth of 11% (the market was at 14%).
Challenger (ASX: CGF) -10.11% delivered a typically messy update – the headlines looked fine but the composition was soft – such a complex business!
Temple & Webster (ASX: TPW) +29.77% rallied after showing better margins at their FY22 result today and guided for further expansion.
Adore Beauty (ASX: ABY) +30.95% also benefitted from the read-through here – some interest coming into the e-commerce names as recently highlighted.
Elders (ASX: ELD) -4.04% fell on reports that China had put a (temporary) ban on Australian and NZ beef imports. From what we understand, there may have been a 12-hour ban on customs clearing of Australian beef, dairy and grain before it was overridden by a "higher power".
Iron Ore was largely flat in Asia today.
Ditto for Gold trading ~US$1781.
Asian stocks were mixed, Hong Kong down -0.53% while China was up +0.11%
US Futures are little changed.   
ASX200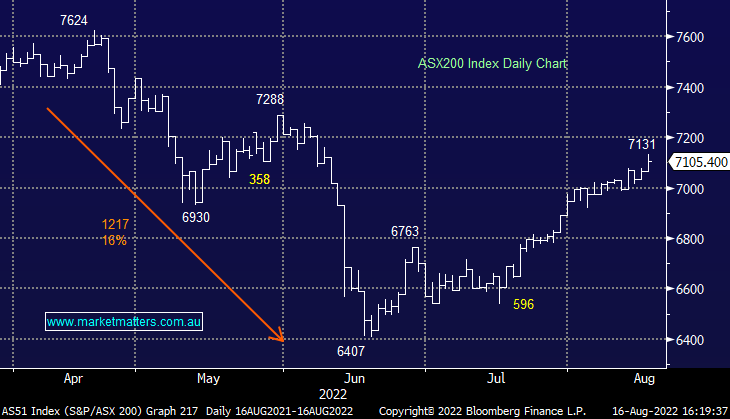 BHP Group (ASX: BHP) $40.51
BHP +4.09%: A strong result today from BHP for FY22, in fact, it was the 2nd best ever with a beat on earnings and dividend. Their operational performance was first class, particularly around cost control given they didn't have the same commodity price tailwind as they did in FY21 with Copper & Iron Ore both lower. 
While the numbers were fairly complex given the spin-out of their petroleum division, we can get rid of some of the noise by focussing on Earnings Before Interest Tax Depreciation & Amortization (EBITDA) and to that end, they delivered US$40.634bn vs consensus $40.277bn a beat by ~1% with the standout division coal ahead by ~2%. 
Net Profit After Tax (NPAT) did miss however that was clouded by tax issues and asset sales relating to the petroleum demerger and coal asset sale. That said FY22 NPAT was the 2nd highest ever, behind FY11's $23bn. Excluding the recent petroleum dividend, the FY22 ordinary divided was US325c ahead of consensus of US312c and a record ahead of FY21's 310c – even with the payout ratio of 77% vs 89% in FY21. Don't bank on this level of dividend continuing though, we expect higher capex moving forward plus of course, M&A should temper the payout in the years to come. BHP's min dividend payout policy is 50% although the average since 2015 has been ~70-75%.
BHP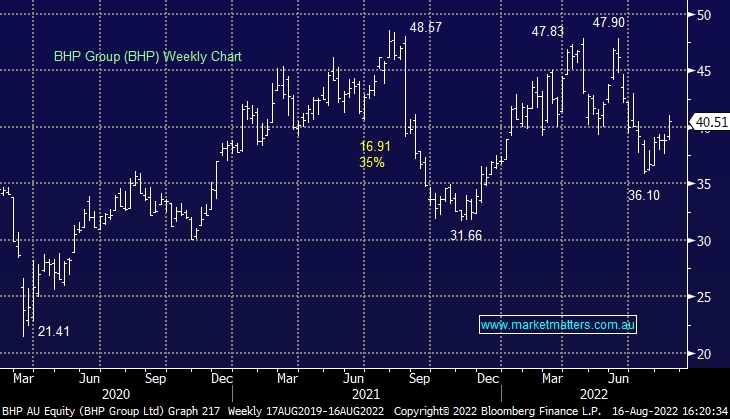 Seek (ASX: SEK) $23.12
SEK –5.13%: Job ads remain at all-time highs and that set a good backdrop for SEK's FY22 results today, with particular strength obvious in the 2H across ANZ & Asia. FY22 underlying net profit after tax (NPAT) came in a $259.6m, ahead of the $246.5m expected along with a dividend of 21cps. That was a rise of 84% on FY21, however guidance for FY23 missed the mark, SEK saying that underlying NPAT would likely be $250-$270m versus current consensus of $286.4m, about a 10% miss. 
SEEK
Goodman Group (ASX: GMG) $20.55
GMG -0.48%: The integrated property company reported FY22 earnings per share (EPS) of 81.3c, in line with the 81.4c expected by the market while the dividend of 30cps for the FY was also as we throught. Earnings were up 24% on FY21 which is clearly a strong result while they talked to a strong development pipeline for the year ahead. They have guided to 11% growth at the EPS line which is slightly below where the market was positioned for FY23, about ~3% light on however they do have a habit of under-promising, and over-delivering. 
Goodman Group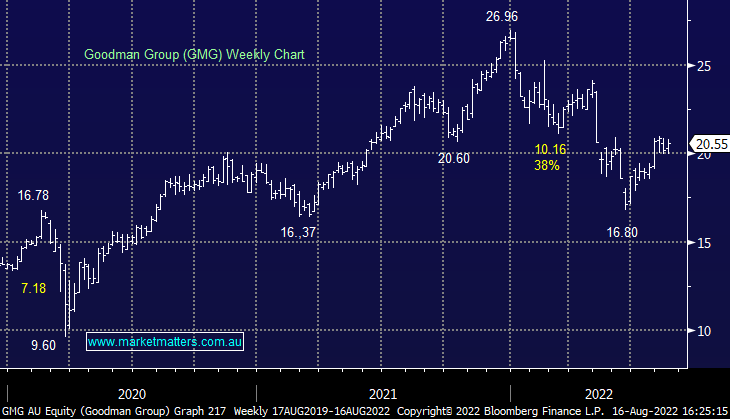 Challenger Limited (ASX: CGF) $6.40
CGF –10.11%: Hit today despite their Net Profit Before Tax (NPBT) coming broadly in line with expectations, however, the composition of the result was soft which is very typical of CGF. Weaker earnings in business units were offset by lower corporate costs however, the main negative surprise came from bank losses as higher than expected regulatory and integration costs weighed. They said that bank losses would persist in FY23E and it is now under strategic review. Overall, low-quality result and the outlook was soft. 
Challenger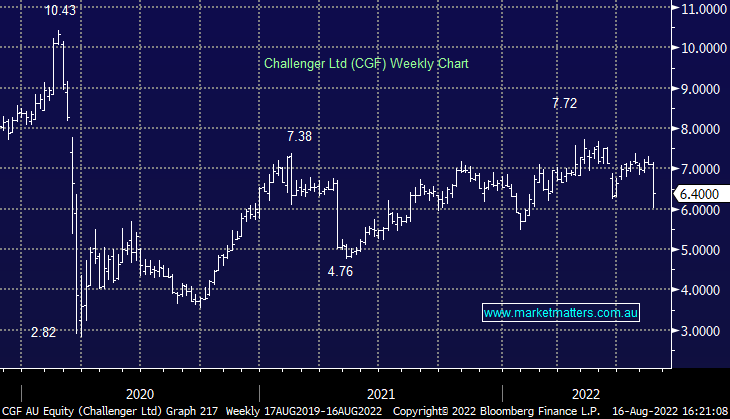 Temple & Webster (ASX: TPW) $5.71
TPW +29.77%: FY22 results this morning showed mixed numbers for FY22 and FY23. Revenue grew more than 30% to $426m which was slightly behind expectations. EBTIDA was better though with margins coming in at 3.8% for the year, at the high end of guidance. This also included a $1.7m spend on The Home, Temple & Webster's new home improvement site which has started positively. FY23 has started slowly, though they are cycling on lockdown boosted sales from last year. FY23 sales were down 17% for the period to August 14th, though management said this was as expected and growth to return to double-digit levels "once we finish lapping COVID lockdowns." EBITDA margin guidance for the year was also upgraded to 3-5%, and that is the key to the result. 
Temple & Webster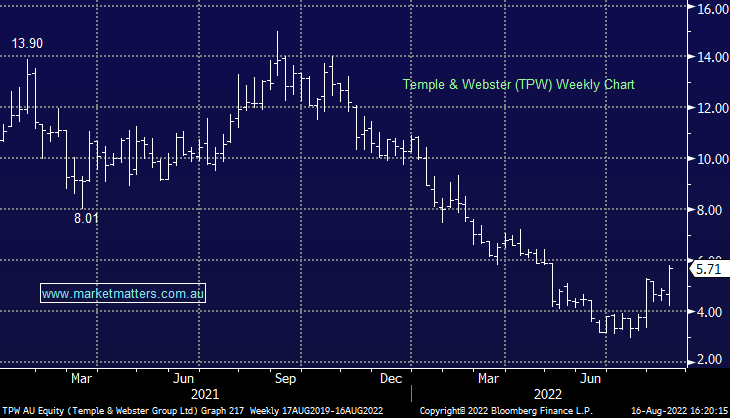 Broker Moves
ANZ Bank Cut to Underperform at Jefferies; PT A$19.40
CQE AU Rated New Buy at Barclay Pearce Capital; PT A$4.82
Carsales.com Cut to Neutral at Macquarie; PT A$24.40
Bluescope Cut to Neutral at Macquarie; PT A$18.25
Beach Energy Cut to Underperform at Macquarie; PT A$1.55
ResMed GDRs Raised to Overweight at Wilsons; PT A$38.75
Avita Medical Inc GDRs Raised to Market-Weight at Wilsons
Beach Energy Rated New Buy at Barclay Pearce Capital; PT A$3.08
Imdex Raised to Buy at Canaccord; PT A$2.53
Leo Lithium Rated New Speculative Buy at Canaccord; PT A$1
Beach Energy Cut to Neutral at Citi; PT A$1.85
Bendigo & Adelaide Cut to Underweight at JPMorgan; PT A$8.70
Bendigo & Adelaide Cut to Underperform at Jefferies; PT A$7.70
Bendigo & Adelaide Cut to Neutral at Goldman; PT A$10.60
Westpac Cut to Underperform at Jefferies; PT A$17.95
JB Hi-Fi Cut to Underperform at Jefferies; PT A$38.50
Appen Cut to Hold at Jefferies; PT A$5.35
Major Movers Today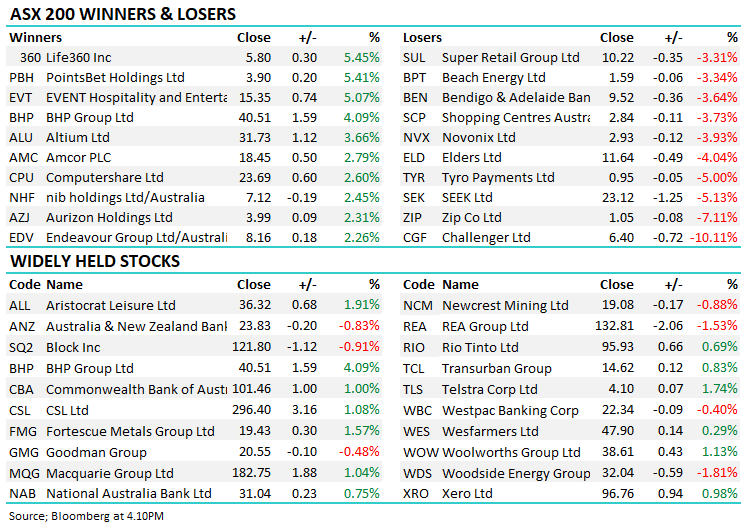 Make informed investment decisions

At Market Matters, we write a straight-talking, concise, twice-daily note about our experiences, the stocks we like, the stocks we don't, the themes that you should be across and the risks as we see them. Click here for your free trial.
The Match Out will be available each day after the market close. Follow my profile to be notified when the latest report is live.