The Match Out: ASX storms home, Resources rebound to support the index, Pinnacle bounces with a performance fee win
---
Commodities bounced back today, finding some support after a few weaker sessions, helping the local market rally today. It was a choppy start, giving up its initial 30pt rally by 11.30am, but buyers returned in the afternoon and the index pushed higher into the close. Three of the Big 4 banks were also all in the green adding to the market's strength today. A number of tech names were hit hard today but the overall sector only gave up a small portion of yesterday's rally while the industrials fared the worst today.
The ASX 200 finished up +53pts/ +0.81% at 6648
The Materials sector was best on ground (+2.46%) while Consumer Discretionary (+1.31%) & Financials (+0.89%) were also strong.
Industrials (-0.82%) and IT (-0.46%) the weakest links.
Commodity markets earned back some of their recent falls, led by iron ore bouncing 4% in China trade today. Copper (+2%) and oil (+0.6%) also supported the move.
Bond yields rallied today weighing on the growth end of the market which had found some relief in recent sessions on the back of lower yields.
EML Payments (EML), -9.86%, gave back yesterday's strength with RBS downgrading the pre-paid card business to the equivalent of a hold. UBS noted the contract win in Spain was expected to take up most of the growth capital limit imposed by the Irish Central bank.
Pinnacle Investment (PNI), +7.63%, shot to a 4-week high after announcing they are expecting $10m in performance fees in the 2H – more on that below.
Link Administration (LNK), +6.27%, saw a revised offer from Dye & Duhram of $4.70/sh, still well below the initial bid at $5.50/sh but improved on the offer rejected by Link earlier in the week. The ACCC still has concerns around the deal though both parties are open to amending the agreement to get the regulator onside.
Chalice Mining (CHN), +6.67%, was a standout of the top 200 today after strong drilling results from new zones were announced. The nickel/copper junior has been encouraged by early results with just 13 of 70 target sites tested.
Iron Ore was ~4% higher in Asia today supporting Fortescue (FMG) +4.67% & RIO +4.62%
Gold was up $US6.90/+0.4% to ~US$1,745 in Asia today.
Asian stocks were mixed today as China fell -0.44%, Hang Seng currently trades marginally lower (-0.08%) but the Nikkei rallying +1.5%.
US Futures are all up, around +0.30%
ASX 200 Chart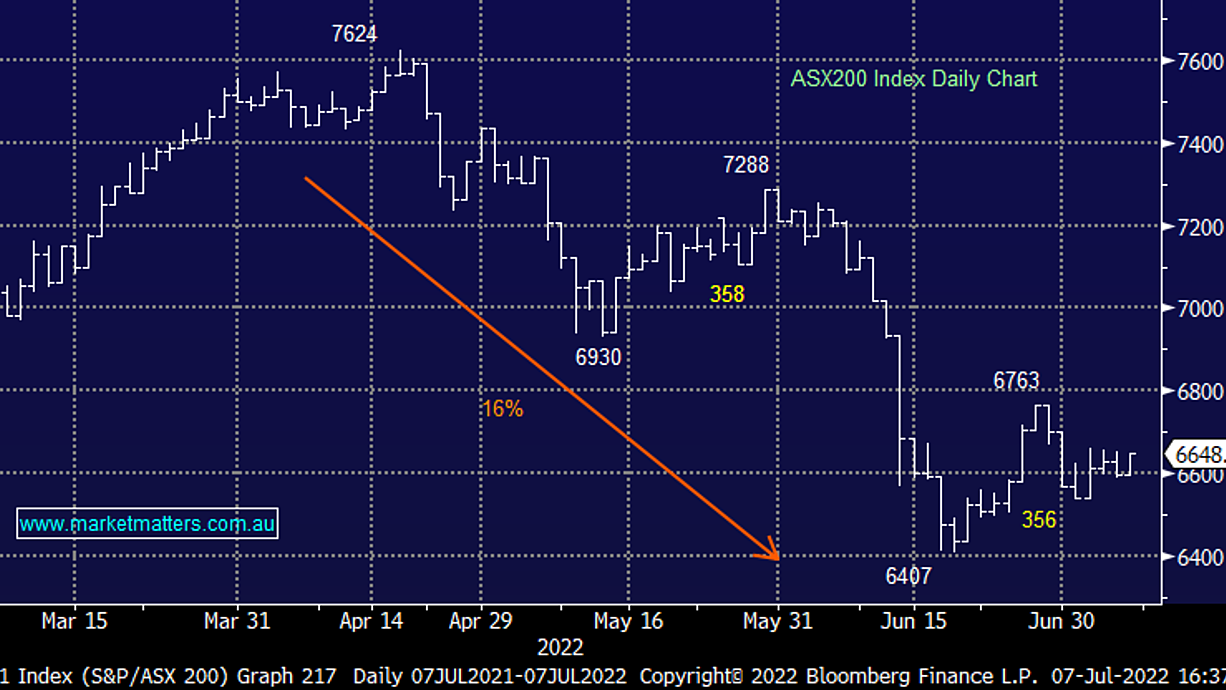 Zip Co (ZIP) 54.5c
ZIP -5.22%: UBS cut their price target for the BNPL stock in half yesterday which put pressure on the stock today. The analyst talked to higher bad debts and the strategies put in place to limit the issue potentially doing the opposite. While bad debts in the retail arms of banks are decreasing, BNPL has been experiencing the opposite. In an economic downturn, this is likely to accelerate further at the same time capital dries up causing added problems for the smaller lenders.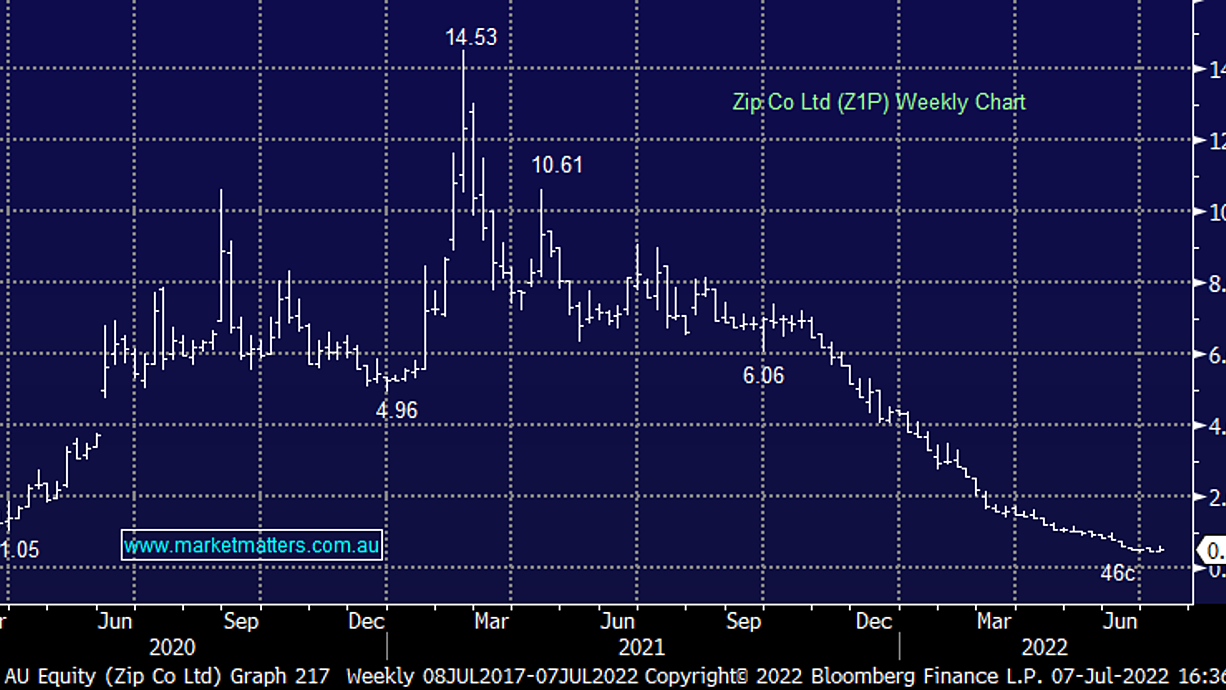 Pinnacle Investment (PNI) $8.18
PNI +7.63%: a very strong day for the investment manager, announcing they expect $10m in performance fees to come their way from the 2nd half. Performance fees for FY22 across their suite of affiliate funds is expected to hit $57m for the previous financial year, a very strong result given the weakness across most asset classes. The market had all but written off the chance of any performance fees in the second half given the broad weakness in financial markets so today's announcement came as a surprise. A small positive investment performance figure of $100k from their investments is also expected to be booked come FY22 report in early August.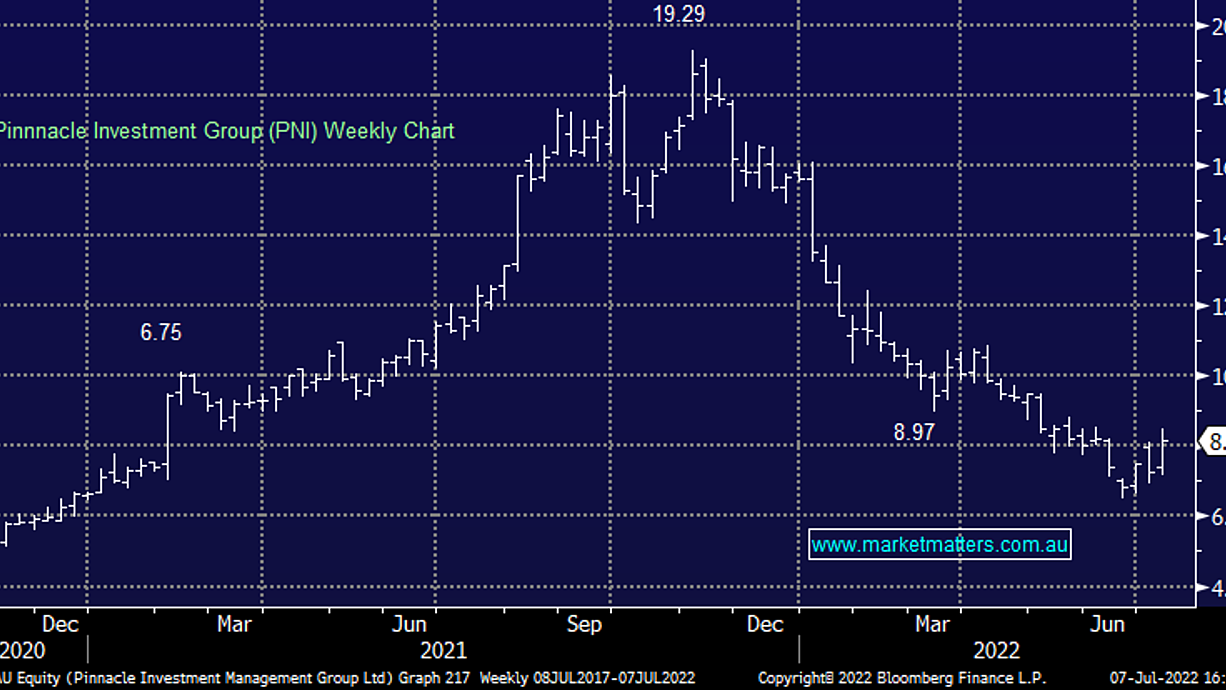 Broker moves
Coles Group Cut to Neutral at Jarden Securities; PT A$18.50
Harvey Norman Raised to Neutral at Jarden Securities; PT A$4.30
Atomos Rated New Hold at Barclay Pearce Capital
Woodside Energy Raised to Buy at UBS; PT A$34.25(Earlier)
EML Payments Cut to Sector Perform at RBC; PT A$1.80
Lottery Corp. Rated New Overweight at JPMorgan; PT A$5.15
SmartGroup Raised to Outperform at Macquarie; PT A$6.62
McMillan Shakespeare Raised to Outperform at Macquarie
Major movers today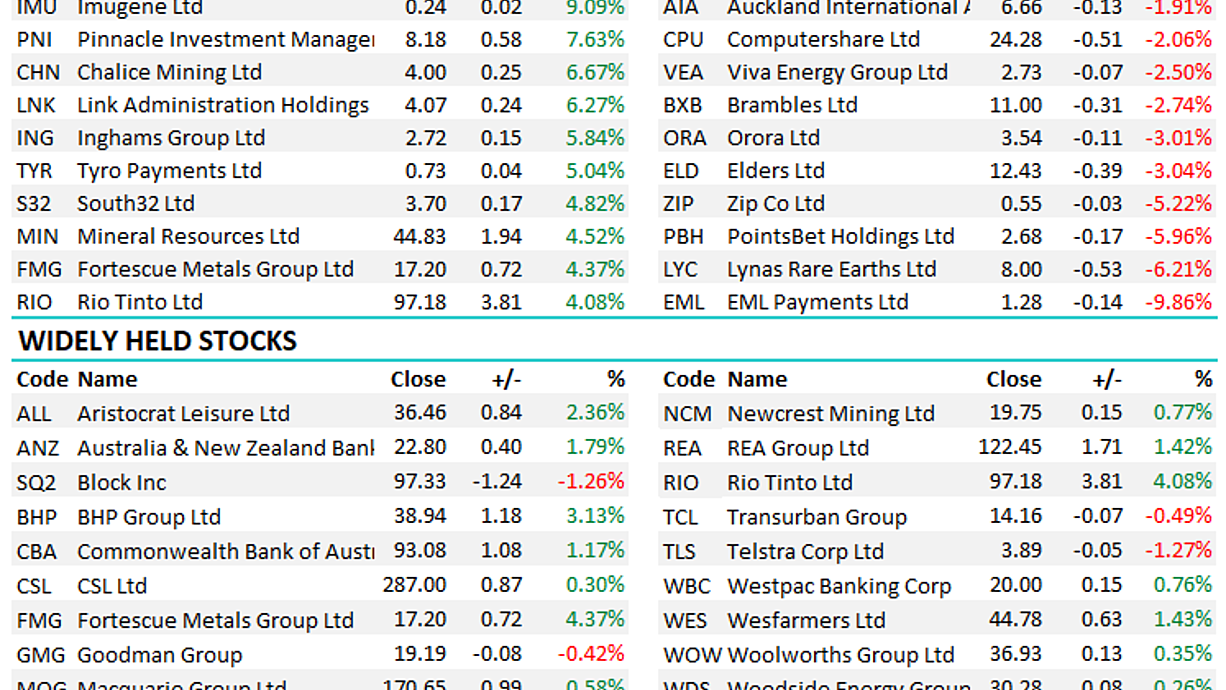 Have a great night,
The Market Matters team.
Make informed investment decisions

At Market Matters, we write a straight-talking, concise, twice-daily note about our experiences, the stocks we like, the stocks we don't, the themes that you should be across, and the risks as we see them. Click here for your free trial.
The Match Out will be available each day after the market close. Follow my profile to be notified when the latest report is live.