The Match Out: ASX tracks lower into the end of the month, insurers smashed
---
A disappointing day overall as the local market gave back much of yesterday's strong rally. Things don't move in straight lines, and today was certainly proof of that with ~75% of yesterday's gains on the broader market handed back. 
Tech was hit by rising bond yields and the Australian 10yr yield rallied 10bps after tracking lower over recent weeks. Hefty selling on the futures market weighed as well as it seemed a little lost with the US market closed overnight. All sectors closed in the red today with the influential financials sector being the hardest hit.
The ASX 200 finished down -75pts/ -1.03% at 7211
The utilities sector closed marginally lower to be the best performer on a weak day.
Financials (-1.99%) and Tech (-1.94%) were the weakest links.
Plenty of data hitting the screens today. Locally Building Permits disappointed falling by 2.4% against expectations of a +2% gain. Private Sector credit was positive, up +0.8% MoM vs +0.5% expected. The Current account balance was a $7.5b surplus, far below the $13.2b surplus expected, though the previous print was revised higher.
Chinese PMI was also out, manufacturing PMI at 49.6 was slightly better than feared, though still contractionary.
Insurance stocks were significant underperformers. Morgan Stanley downgraded Suncorp and IAG on fears around significant claims events on climate change risks. Suncorp (SUN) fell more than 6% in the session
Wagners (WGN) +11.76%, was a shining light on a difficult day after winning a significant Western Sydney Airport contract.
Synlait (SM1) -2.21%, downgraded base milk price expectations for 2021/22 season by around 3% to $9.30/kgMS and expects 2022/23 season to start at $9/kgMS.
Iron Ore was ~3% higher in Asia today supporting Fortescue (FMG) +1.31% & RIO +0.57%
Gold was flat today at ~US$1856 at our close.
Asian stocks were mixed today. Japan fell -0.33% but Hong Kong rallied by +0.97%
US Futures were mixed. S&P futures were flat at our close while Nasdaq futures were up 0.34%
ASX 200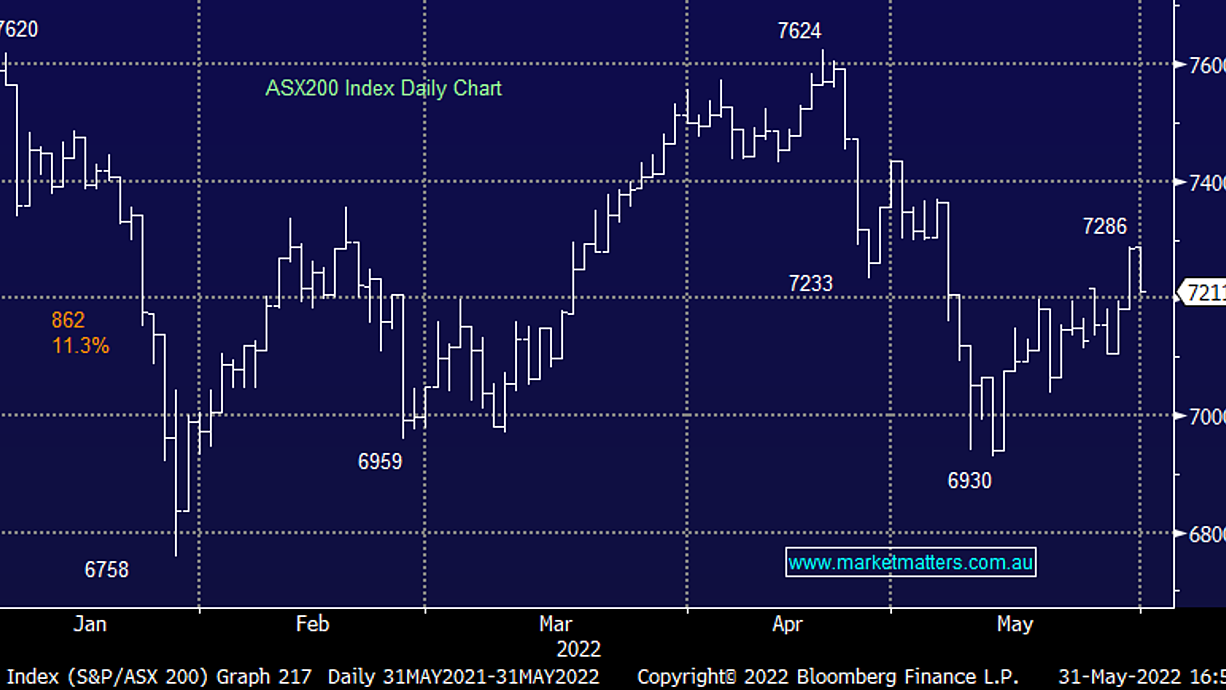 Wagners (WGN) $1.33
WGN +11.76%: Building materials company Wagners rallied today after announcing they had won the contract to supply cement tunnel segments for the Western Sydney airport development. 
67,000 segments will be required to build around 10km of tunnels for the metro lines being developed as part of the new airport with Wagners expecting to reap around $140m over the life of the delivery. It's a good win for the Queensland focussed company, moving out of their main state to win a big contract. It also covers a good portion of FY23 & FY24 revenue growth expectations in the market.
Wagners (WGN)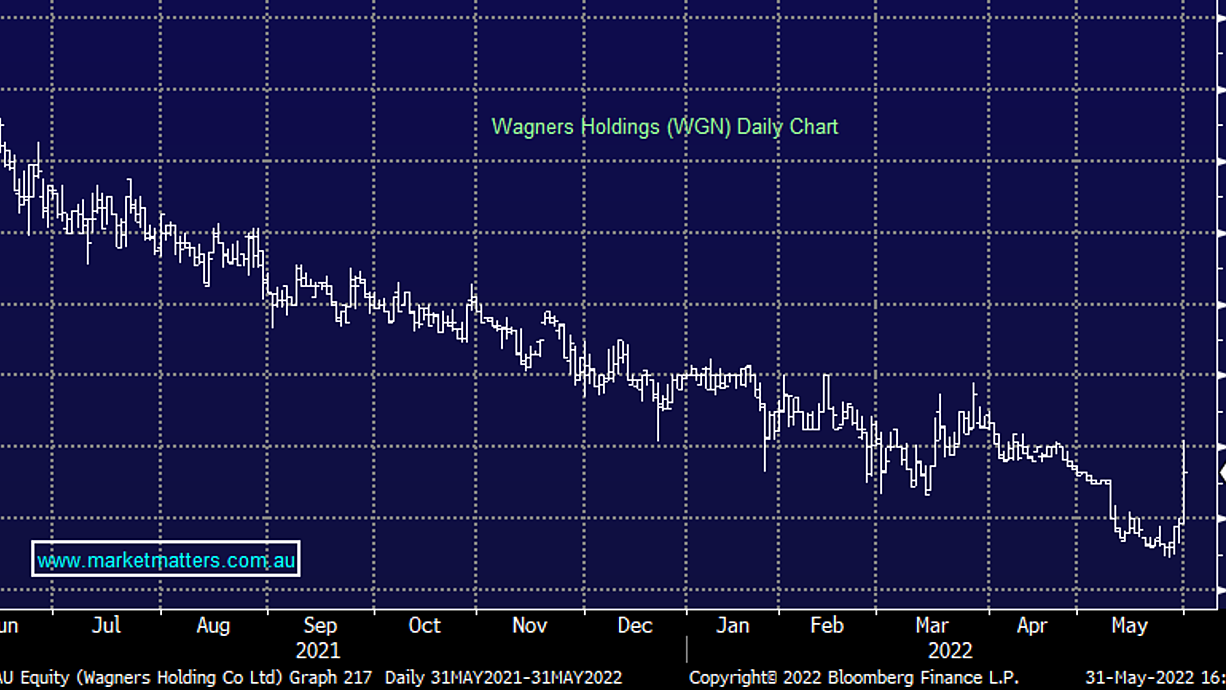 May Performance
The index fell -3.01%/224pts in total for May, though this masks a significant rebound from lows set on the 12th of the month. 
 The index recovered more than half its losses from the point, rallying 4.05%/281pts off the lows in an extremely volatile month. Materials were the only sector to close higher, through just marginally so. Utilities (-0.19%) and Industrials (-0.50%) also outpaced the market though still tracked backward. Real Estate (-8.91%) and Tech (-8.71%) were the hardest hit.
Monthly Sector Performance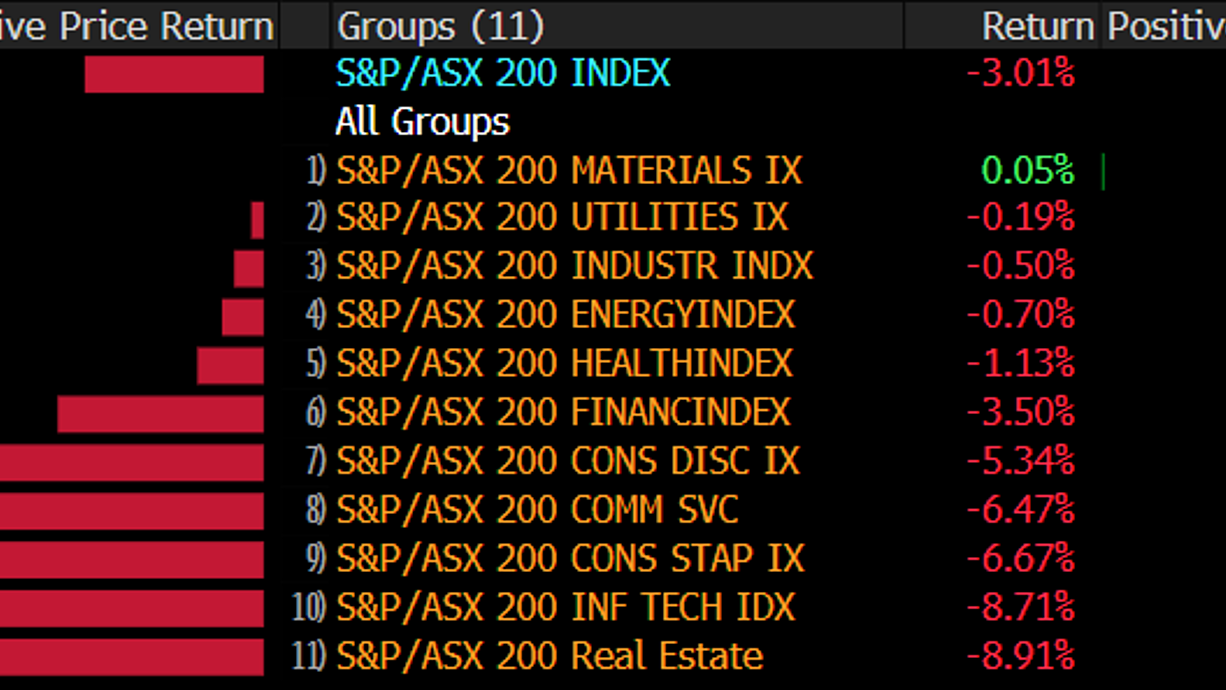 Broker Moves
Seek Cut to Underperform at Macquarie; PT A$19
Carsales.com Raised to Outperform at Macquarie; PT A$20
Southern Cross Media Cut to Neutral at Macquarie; PT A$1.50
Seven West Cut to Neutral at Macquarie; PT 66 Australian cents
REA Group Cut to Underperform at Macquarie; PT A$90
HT&E Cut to Neutral at Macquarie; PT A$1.70
Ansarada Group Rated New Buy at Canaccord; PT A$3
Suncorp Cut to Underweight at Morgan Stanley; PT A$10.25
Estia Health Rated New Outperform at RBC; PT A$2.70
Regis Healthcare Rated New Sector Perform at RBC; PT A$2.50
BHP Rated New Hold at Deutsche Bank; PT A$39.56
Lottery Corp. Rated New Neutral at Evans & Partners Pty Ltd
Today's Market Movers