The Match Out: ASX up early, hit late on virus news, down ~1% in November as Financials weigh
---
The ASX attempted to rally on the final day of the month and was doing well early to be +92pts up at the lunchtime high, however late selling kicked in after the Moderna CEO predicted in an FT report that vaccines will struggle against the Omicron variant. US Futures rolled over, Asian equities erased earlier gains and risk of Omicron swept back across the market knocking the ASX 200 ~76pts, almost half of which happened in The Match Out (i.e. between 4 and 4.10pm). More on the news below…

The ASX 200 finished up +16pts/+0.22% at 7256, although just as the market felt strong yesterday when it finished lower the opposite played out today to end the month.
For November, the ASX 200 fell by 0.92% although there were some big variances across the sectors: Materials were +6% while Energy was -8.4%, the biggest drag at the index level were the financials which fell by 8%.
The beaten up Iron Ore plays had a good month (Fortescue +22%) while the payments stocks (Tyro -28%) were in the naughty corner – all up, best described as a pretty crappy month TBH.
Collins Food (ASX: CKF) +12.62%, the owner of KFC had a good day today on solid 1H22 result, particularly from Europe.
Credit Corp (ASX: CCP) +8.57% upgraded guidance and announced an acquisition.
AMP Limited (ASX: AMP) +2.99% gave an update on their restructuring + future growth plans.
The first AGM as a listed company for Nuix (ASX: NXL) saw its shares hit -11.72%, the data company putting out fires on numerous fronts, hopefully a new management team will do the trick (maybe).
Gold was up today, although more so as the market came under pressure late to be $US1793 at our close, up $US9.
January Iron Ore Futures up +2% today in Asia.
Asian markets were mostly lower, Nikkei -0.57%, Hong Kong -1.81% while China was flat, again, the selling was late.
US Futures are lower, S&P now off -0.94% after being up for most of our day.
ASX 200 Chart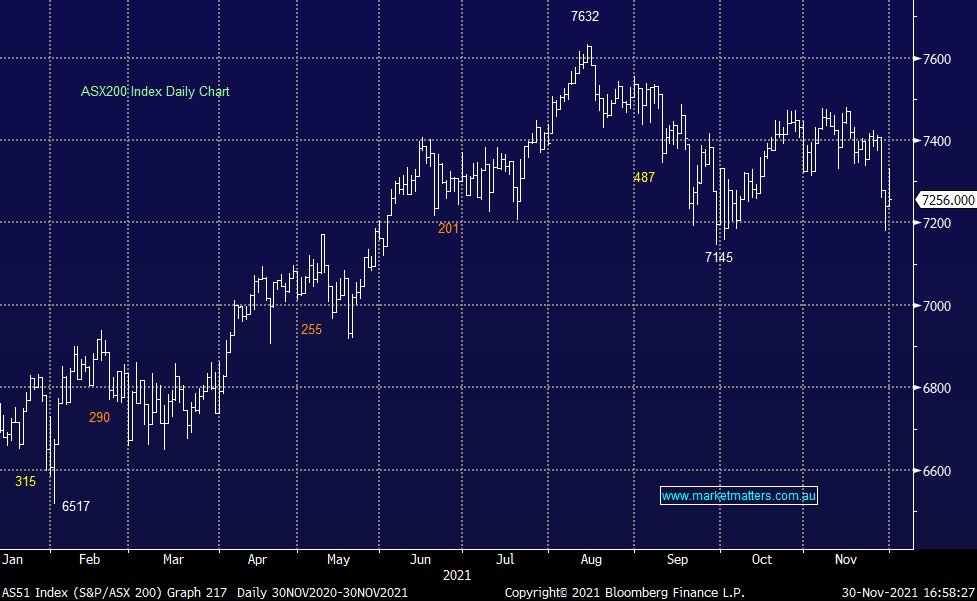 Update on news flow
Late in our trade day (about 20 mins before the close) an article broke in the FT sighting the Moderna Chief Executive Stephane Bancel, saying existing vaccines will be less effective at tackling Omicron than earlier strains of COVID-19 and it may take months before pharmaceutical companies can manufacture new variant-specific jabs at scale. The report saying the high number of Omicron mutations on the spike protein, which the virus uses to infect human cells, and the rapid spread of the variant in South Africa, suggested the current crop of vaccines may need to be modified next year. "There is no world, I think, where is the same level... we had with Delta," he told the Financial Times in an interview at the company's headquarters. The market hated that!

US S&P Futures Today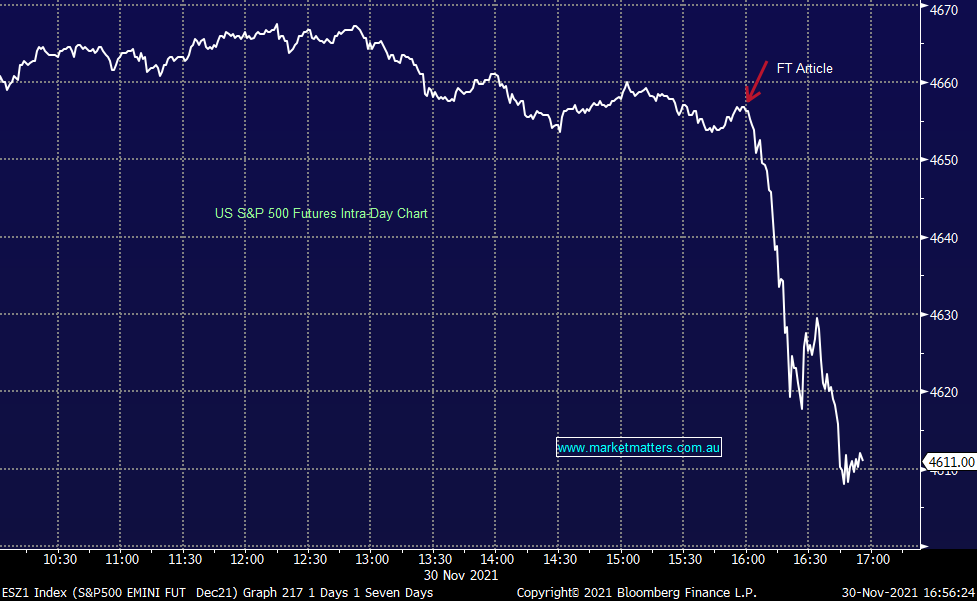 Sectors this month (Source: Bloomberg)

Stocks this month (Source: Bloomberg)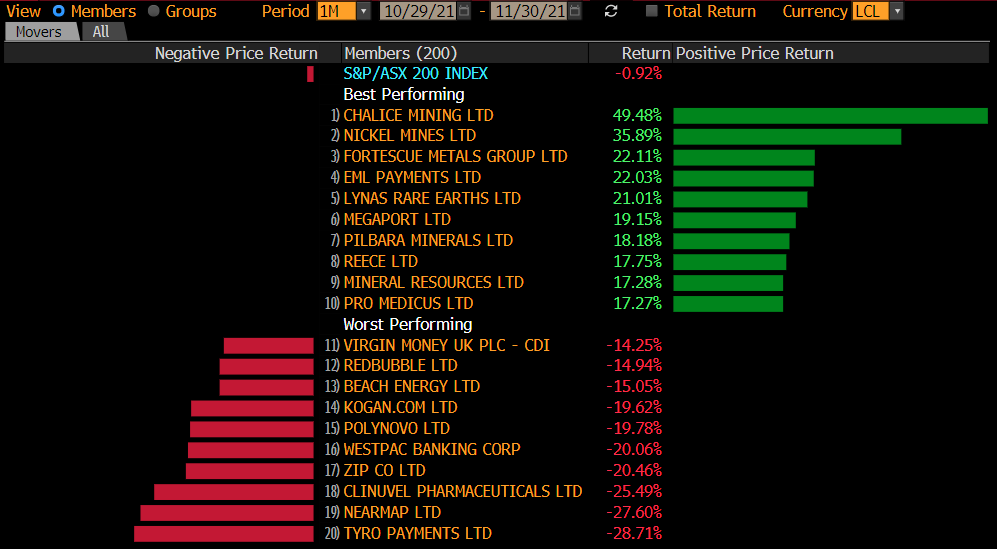 Credit Corp (ASX: CCP) $32.80
CCP +8.57%: The debt collector upgraded guidance today expecting FY profit of $92-97m which is up from $85-95m thanks to better acquisition of debts. The market was already at the high end of the guidance range ($94.5m) which is understandable given that CCP generally gets there. Using that as a guide today's announcement was only a ~2% bump however they also announced a deal to buy the assets of the Radio Rentals appliance leasing business for around $60m which the market clearly liked.

MM is neutral on CCP around $33.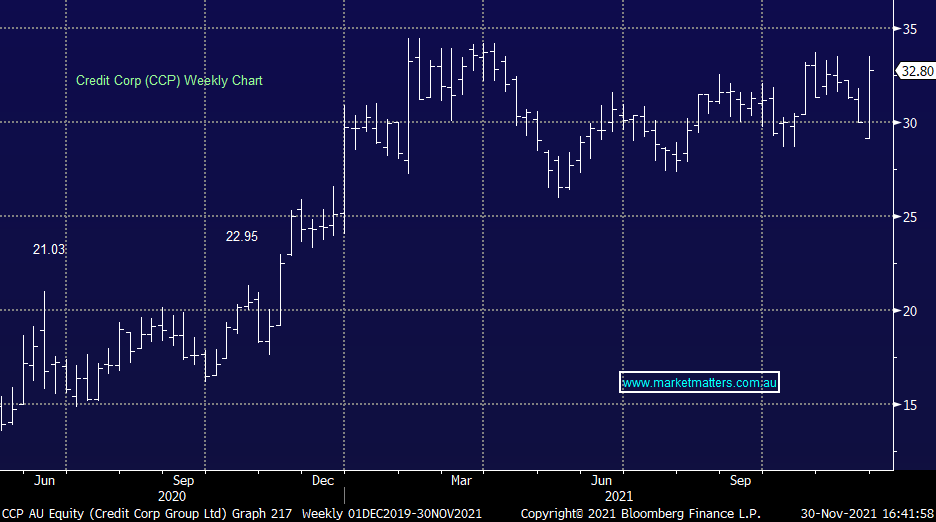 Collins Food Group (ASX: CKF) $14.10
CKF +12.62%: The fast food operator was strong today following their half yearly results underpinned by strong demand for the dirty bird (KFC) in Europe. Collectively, revenue was +8.5% higher at $534.2m and that saw EBITDA rise by 13% to $94.9m. KFC in Australia was solid with sales of $534m however it was Europe that saw most growth albeit coming off a low base, with sales up more than 30% to ~$85m.
MM is neutral on CKF around $14.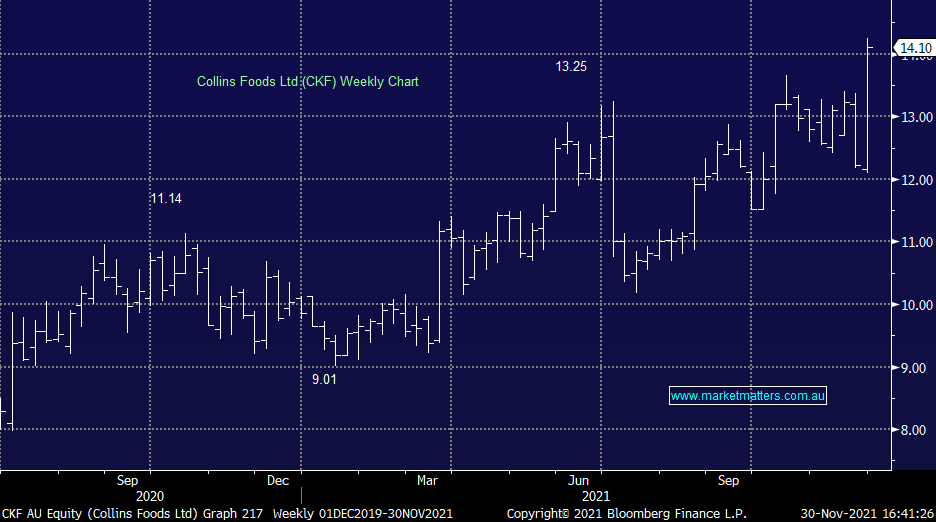 Nuix (ASX: NXL) $2.26
NXL -11.72%: shares in the investigative analytics company struggled on the day of their AGM after a disappointing trading update for the start of FY22. Nuix has seen revenue for the first four months up 10% but EBITDA fall 27% as wage costs bite. More concerningly, Annualized Contract Value (ACV) is currently flat on FY21 suggesting we shouldn't expect revenue growth for the year, though management flagged December and June as key months for contract wins. The company is also under investigation from ASIC with a report on potential misleading statements in their prospectus due in the coming weeks.

MM is neutral in NXL here, watching an opportunity to 'buy the facts'.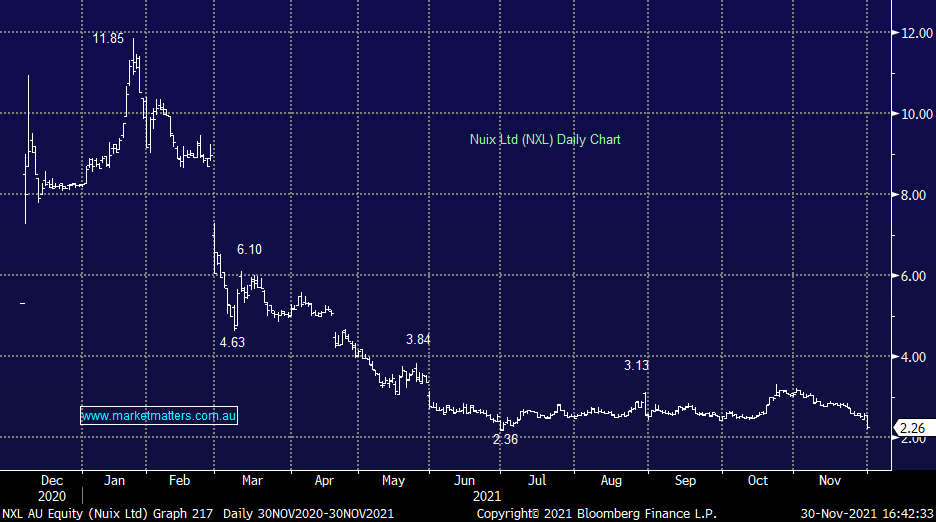 Broker Moves
Service Stream Rated New Overweight at Barrenjoey; PT A$1
Pact Group Cut to Neutral at Macquarie; PT A$2.85
Trajan Group Raised to Accumulate at Ord Minnett; PT A$2.70
Aussie Broadband Ltd Reinstated Overweight at JPMorgan
Lynas Rated New Overweight at Barrenjoey; PT A$10.50
Major Moves Today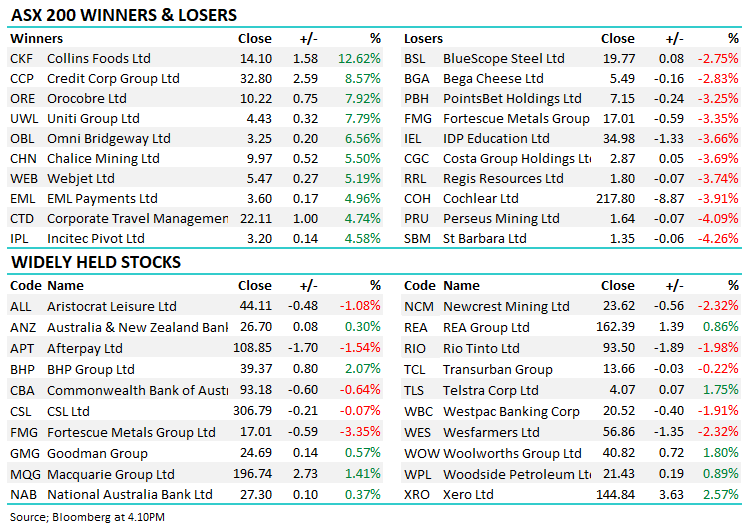 Have a great night
James, Harry and the Market Matters Team. 
Make informed investment decisions
At Market Matters, we write a straight-talking, concise, twice daily note about our experiences, the stocks we like, the stocks we don't, the themes that you should be across and the risks as we see them. Click here for your free trial.
The Match Out will be available each day after the market close. Follow my profile to be notified when the latest report is live.