The Match Out: Aussie market rallies into the weekend, Dubber disappoints, BNPL rally comes to an end
---
Falling bond yields have helped the risk on sentiment continue for equities with the local market once again hitting a 6-week high, as it closes in on the 7000 level. All sectors bar Healthcare joined in on the rally, though Real estate found the most support today. Local equities piggy-backed on the strength in the US market overnight thanks to weaker GDP numbers and a more dovish tone from the Fed earlier in the week. Bond yields fell significantly today with Aussie 2-year yields down around 6% to 2.42%.
The ASX 200 finished down -2pts/ -0.04% at 6791
The Real Estate sector was the standout today, rising 2.96%. Utilities (+2.53%) and Tech (+1.30%) were also strong

Healthcare (-0.06%) was the only sector closing lower today. Energy (+0.32%) and Consumer Discretionary (+0.36%) also lagged the gains
The index rallied a further 153pts/+2.26% this week, adding to last week's strength. The ASX200 closed 377pts/+5.74% higher for the month in a strong start to FY23.
Sezzle (SZL) -19.61%, posted a reasonably weak 2nd quarter where they saw just 1.9% TTV growth vs 2Q21. The company talked to operating at breakeven levels by the end of the year though as they try to avoid another cap raise. The sector has been hot this week, shares in SZL were still up 173.3% over the 5 days despite today's decline. Similar falls were seen in Zip (ZIP) -25.33% today.
PointsBet (PBH) -10.92%, announced their 4th quarter numbers today as well which were slightly below expectations. Active clients were up 7% in the US, and just 3% in Australia QoQ, though their Total Net Win was up 48% in the year.
Dubber (DUB) -25.27%, snuck through their quarterly update last night. ARR growth was solid but the numbers aren't dropping down to revenues. Costs were also higher than expected with the company blaming one offs.
Iron Ore was ~1.4% higher in Asia today, though BHP was the only iron ore stock to see any meaningful benefit, closing +0.94% higher.
Gold was flat today to US$1717. A mixed day for gold stocks, Northern Star (NST) rallied more than 2% but Newcrest (NCM) fell
Asian stocks were weaker today, Japan's Nikkei holding up the best, though still falling -0.15%, Hong Kong down -2.23%
US Futures are all higher again, S&P500 +0.63% and the Nasdaq futures 1.36%
ASX 200 Chart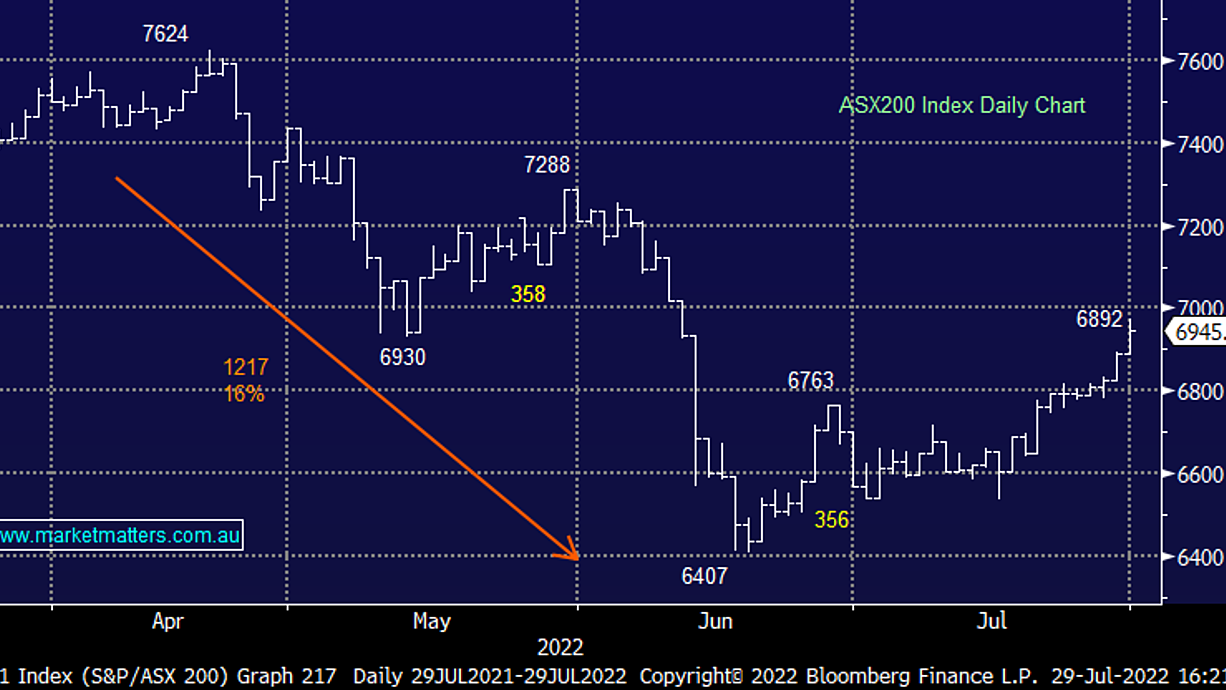 Dubber (DUB) 69.5c
DUB -25.27%: the call recording and software company struggled today after a weaker 4th quarter. ARR grew $4m, to $59m but revenues for the quarter were just $10.3m and they burnt through $12.7m in cash in the period. We spoke to both the MD & COO this morning who said revenues were being pushed out with some delays to launches on service providers. They also talked to a number of one off costs in the quarter weighing on the cash number, particularly around spending on travel as they look to expand their footprint and get in front of more potential customers. The growth is still there, but we have seen revenue ushered further out which is a concern.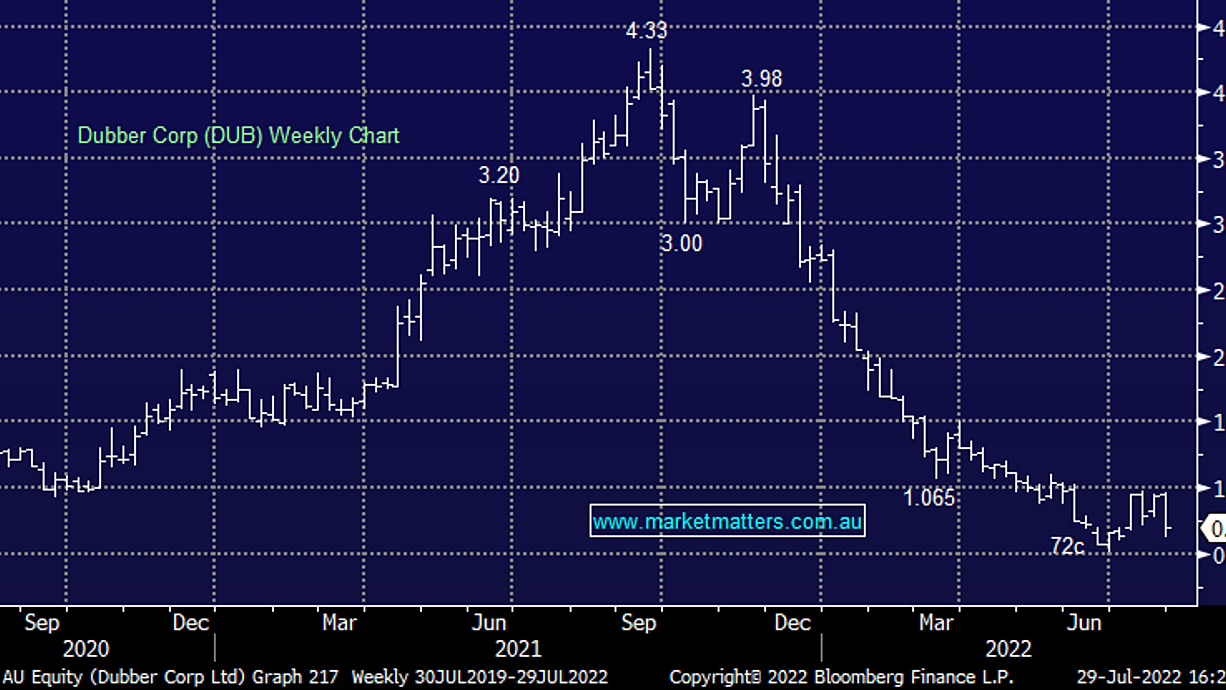 Sectors this week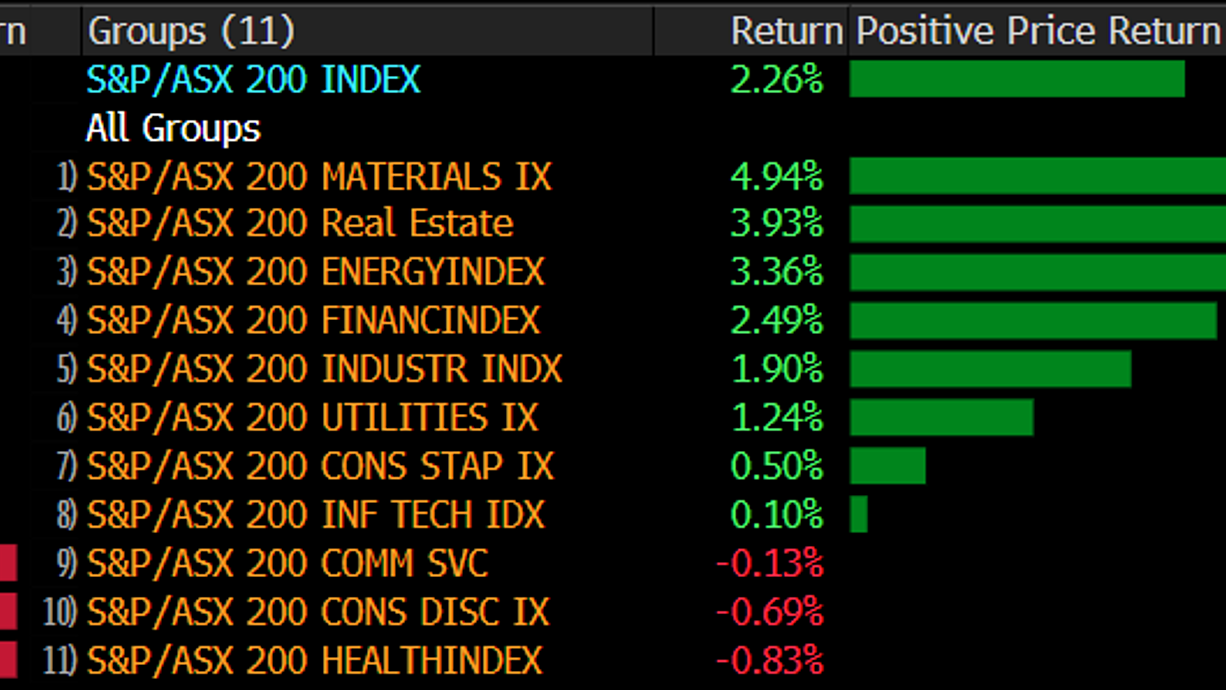 Stocks this week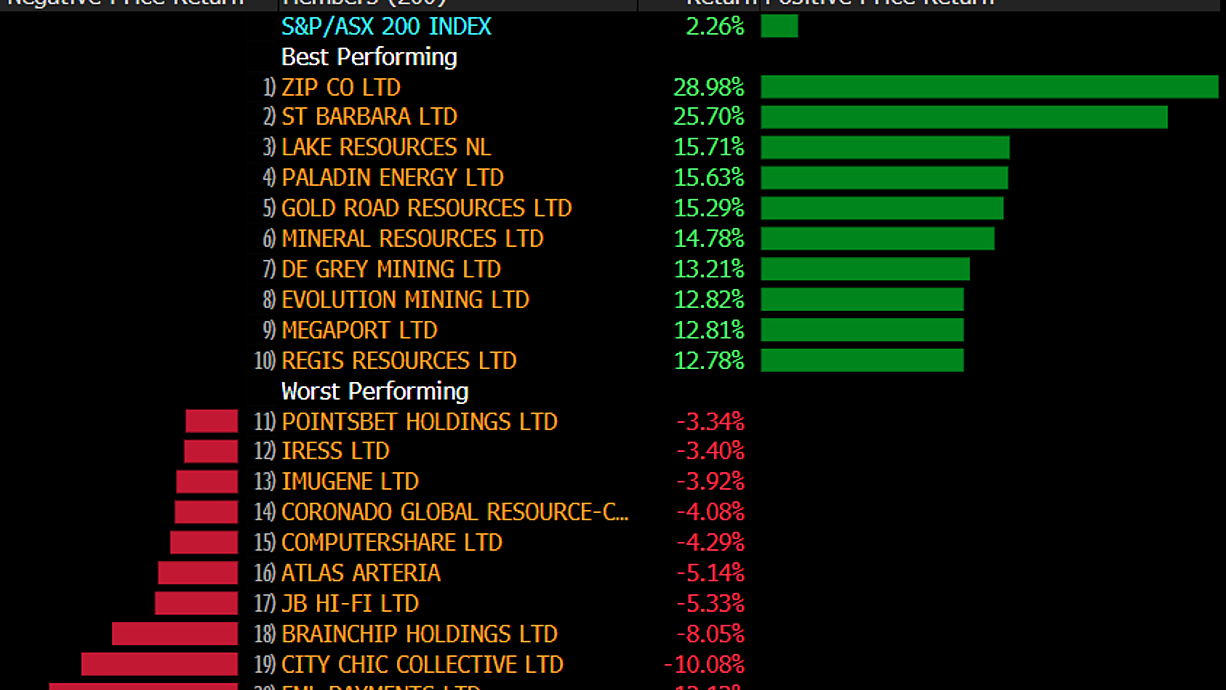 Broker Moves
EML Payments Cut to Market-Weight at Wilsons
Janus Henderson GDRs Cut to Sell at Citi; PT A$31.60
Ramelius Cut to Hold at Ord Minnett; PT A$1.10
Karoon Energy Raised to Neutral at Jarden Securities; PT A$1.95
Helloworld Raised to Overweight at Jarden Securities; PT A$2.98
Fortescue Cut to Negative at Evans & Partners Pty Ltd
Fortescue Cut to Underperform at Macquarie; PT A$16
Keypath Education GDRs Cut to Neutral at Macquarie; PT A$1.20
Australian Clinical Labs Cut to Sell at Citi; PT A$4.50
MACA Cut to Hold at Moelis & Company; PT A$1.03
Cochlear Cut to Neutral at Credit Suisse; PT A$232
Major Movers Today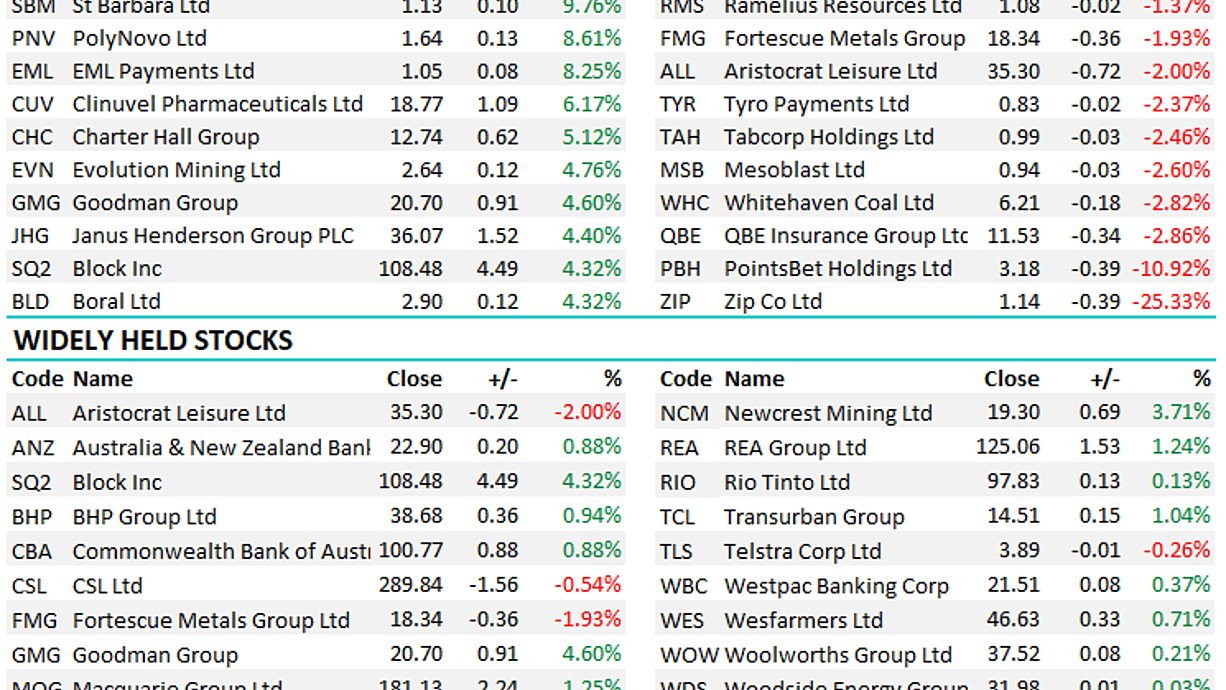 Have a great night
The Market Matters Team
Make informed investment decisions
At Market Matters, we write a straight-talking, concise, twice-daily note about our experiences, the stocks we like, the stocks we don't, the themes that you should be across and the risks as we see them. Click here for your free trial.
The Match Out will be available each day after the market close. Follow my profile to be notified when the latest report is live.
---
Follow James Gerrish's wires
---