The Match Out: Back-to-back strength for the ASX, Market now up ~5% from lows
---
Back-to-back strength for the Australian market with the ASX now up 350pts / 5.5% from the recent low ~6400. Energy the standout today as Oil rallied, reports of a price cap for Russian exports the catalyst while the headline in the AFR this afternoon that suggest investors are fleeing the share market for the 'safety' of property seems another bullish short-term indicator for equity markets!
The ASX 200 finished up +57pts/ +0.86% at 6763, however the futures rallied another 30pts post our 4.10pm close.
The Energy sector was best on ground (+3.62%) while Utilities (+3.16%) & Materials (+3.00%) were also strong.
Consumer Discretionary (-1.34%) and IT (-0.58%) followed their overseas counterparts lower.
The Small Ords lagged the large caps today – given such a tough year at the smaller end of town we suspect some tax-loss selling to remain here before EOFY, after that we'd expect some performance catchup if markets hold together.
There is really no love for the retailers at the moment which is understandable, however with everything, elastic bands do strength too far, particularly when the market has already priced in such aggressive rate hikes.
JP Morgan took a knife to the sector this morning, downgrading WES, WOW, JBH, & COL
UBS now thinks the index will end the year at 7000, down from their previously flagged target of 7700 – a timely move!!!
Collins Foods (CKF) +11% topped the board today after reporting FY22 results that topped estimates.
Oz Minerals (OZL) +1.08% was upgraded to a BUY today from Peter O'Connor at Shaw – the stock looks to have found a low – MM is also bullish.
Resources across the board have found some support in the last 2 days – we've up weighted our exposure in the Growth Portfolio into recent weakness.
Sigma Healthcare (SIG) +7.14% after HMC Capital launched its Private Equity style fund declaring an 11% stake.
Iron Ore was ~4.5% higher in Asia today supporting Fortescue (FMG) +3.8% & RIO +3% while big index weight BHP was the standout +4.32%
Gold remaining largely flat around US$1830/oz, the Gold miners saw some recovery after a tough session yesterday, Newcrest (NCM) +2.9% although Evolution (EVN) -2.27% down again after yesterday's ~20% plunge
Asian stocks were okay Hong Kong down -0.39%%, Japan +1.17% while China was up +0.21%
US Futures are all up, around +0.50%
ASX 200 Chart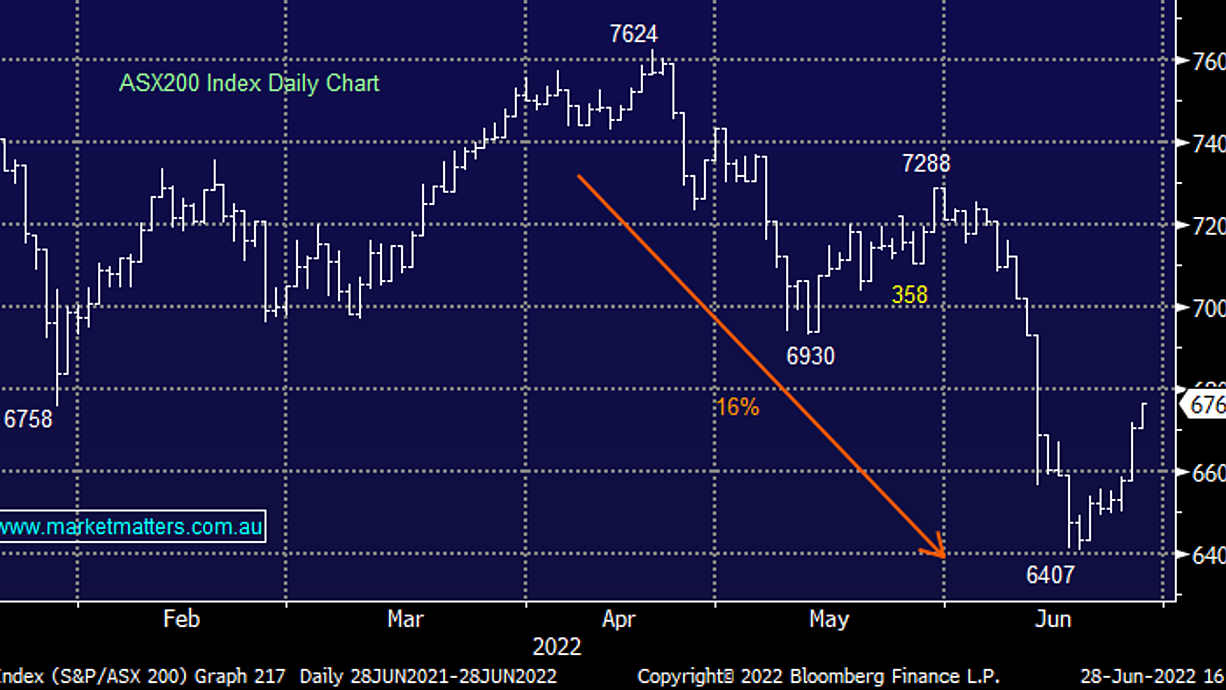 Collins Foods (CKF) $9.97
CKF +11.52%: Full-year results out for the KFC franchise owner today were impressive despite what was largely expected to be a soft period. Revenue was a slight beat at $1.18b, but NPAT was around 5% ahead of expectations and up 68% in the year. Same-store sales growth was strong across the board for KFC Australia (+1.4%) and Europe (~17%), though the junior Taco Bell segment saw negative comps. Margins were solid despite cost pressures as they put through price hikes to offset food and wage cost increases. FY23 has also started well with same-store sales growth continuing to impress, up 4% in Australia and 15% in Europe. They expect to open over 20 stores across their brands in FY23 to further drive growth.
Oz Minerals (OZL) $18.66
OZL +1.08% : Peter O'Connor upgrading OZL today to a buy on valuation grounds, saying: Earnings updated for guidance update (27 June 2022) including lower production and higher unit costs, West Musgrave start-up (pushed back one year) and tweaks to capex and D&A, (ii) Target price multiple to NPV lower from 1.25x to 1.1x and (iii) Rating Upgrade to BUY from HOLD on valuation (trading at discount to fair value for the first time in 2 years and potential overshoot vs commodity price. Worth noting that commodity equities follow the commodity price on ~90-95% of occasions, so with the copper price down ~22% from 2022 high and OZL down ~35% the share price drawdown looks to have gotten ahead of itself.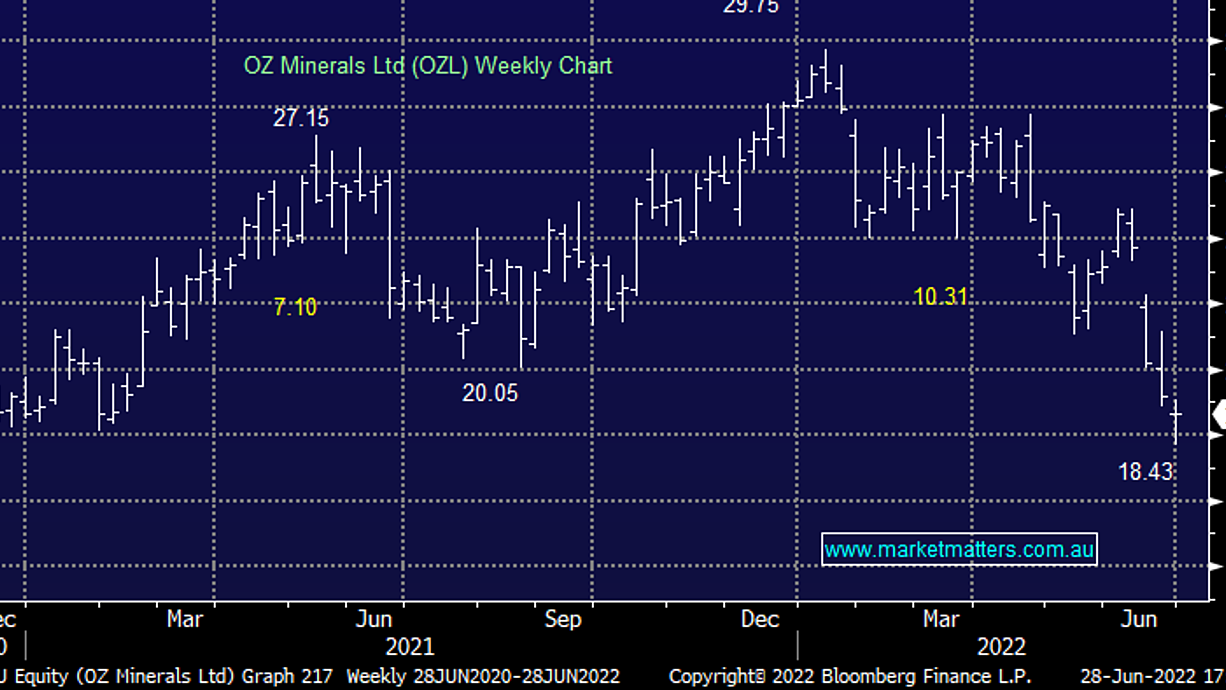 Broker Moves
Evolution Raised to Add at Morgans Financial Limited; PT A$3.23
Pepper Money Rated New Overweight at Wilsons; PT A$1.90
Wesfarmers Cut to Underweight at JPMorgan; PT A$41.20
Premier Investments Cut to Neutral at JPMorgan; PT A$20.50
Woolworths Group Cut to Neutral at JPMorgan; PT A$35.40
Coles Group Cut to Underweight at JPMorgan; PT A$17
Harvey Norman Raised to Overweight at JPMorgan; PT A$4.50
JB Hi-Fi Cut to Neutral at JPMorgan; PT A$42
Carsales.com Raised to Outperform at RBC; PT A$24
Regis Resources Cut to Hold at Canaccord; PT A$1.60
Resolute Mining Cut to Speculative Buy at Canaccord
Dacian Gold Cut to Hold at Canaccord; PT 9 Australian cents
Iluka Raised to Buy at Citi; PT A$10.50
Major Movers Today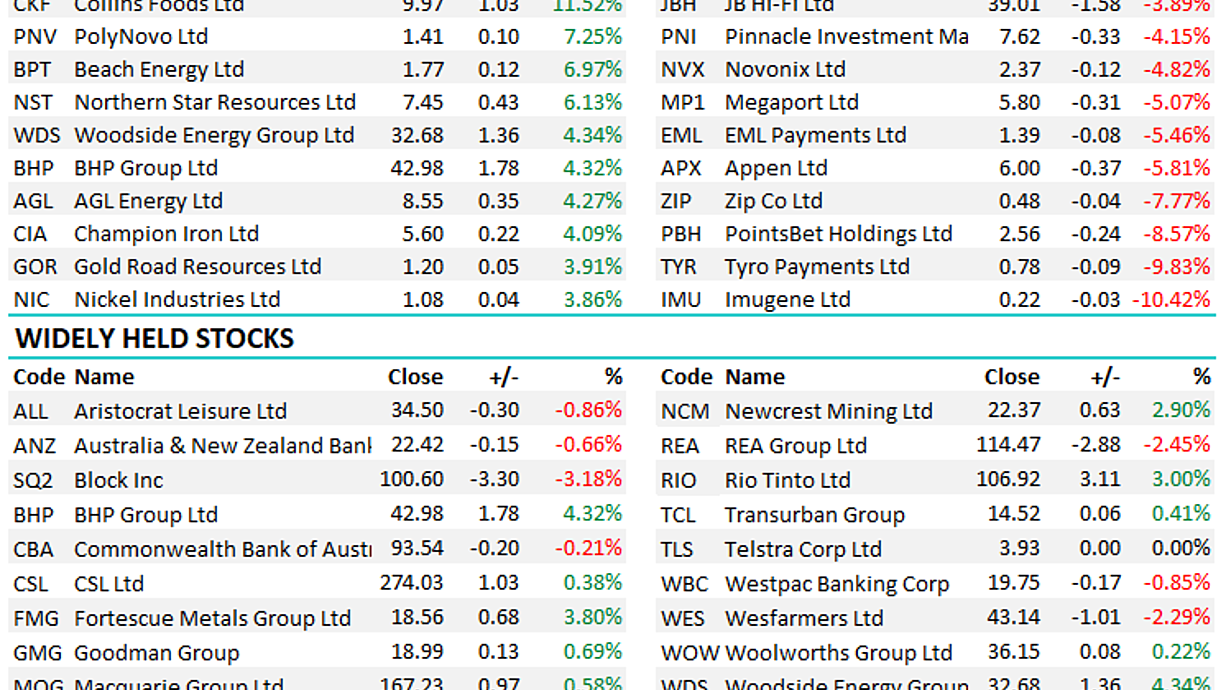 Enjoy your night

The Market Matters Team
---
Make informed investment decisions

At Market Matters, we write a straight-talking, concise, twice-daily note about our experiences, the stocks we like, the stocks we don't, the themes that you should be across and the risks as we see them. Click here for your free trial.
The Match Out will be available each day after the market close. Follow my profile to be notified when the latest report is live.