The Match Out: Index carried by resources, Platinum (PTM) smashed on weak FUM, GrainCorp (GNC) hits all-time highs
---
Commodities helped support the local index into the weekend as the index recouped most of the losses see this week. Materials were strong coming on the back of further sanctions on Russia as well as commentary out of Japan as they look for alternative sources of coal and other bulk commodities. Tech remained under pressure with central banks continuing to push higher rates and balance sheet tightening, also weighing on Real Estate stocks.
The ASX 200 finished up +35pts/ +0.47% at 7478
The Materials sector was the standout today, rising 1.25%. The race for second was a tight fought between Industrials (0.91%), consumer staples (0.66%) and Telcos (0.64%)
Tech (-0.24%) was the laggard for much of the session before Real Estate (-0.34%) took that unwanted prize right on the close
The index posted a small decline for the week, falling -15pts/--0.21%
GrainCorp (GNC), +5.75%, hit an all-time high today after upgrading guidance. EBITDA is now expected between $590-670m for the full year, 25% higher than guidance provided in February. Global supply has been hit by the Russian invasion of Ukraine, weather has supported strong planting conditions ahead of the winter crop and ports are running at full capacity all helping boost prices and earnings.
Platinum (PTM) announced a soft FUM update for march after market yesterday. The stock was whacked to all-time lows on the back of the news – more on that below.
Paladin (PDN), +13.13%, was the best gainer on the index today. More talk of nuclear power investment and a tighter market has helped support the stock after it raised money last week. We continue to like Paladin and are on the sidelines (frustratingly) for now.
BHP and Woodside (WPL) received the tick of approval from the independent reviewer today for the spin out of BHP's petroleum business. Most approvals have now been granted with a shareholder vote on May 19 now in the diary. They are targeting a June 1st completion.
Iron Ore was ~1% lower in Asia today.
Gold was flat today to US$1931
Asian stocks were mixed, Japan's Nikkei rallied strongly intraday to currently trade +0.1%, Hong Kong down -0.5%
US Futures are all higher, S&P500 +0.15% and the Nasdaq futures +0.25%
ASX 200 Chart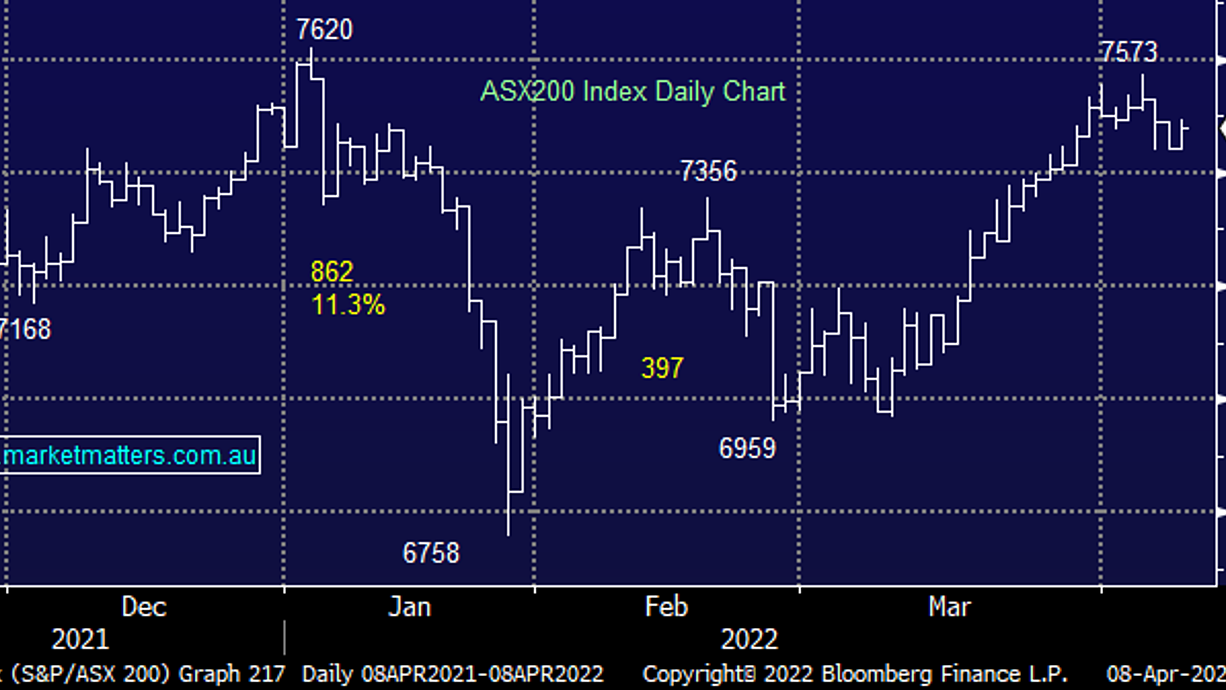 Platinum Asset Management (PTM) $1.895
PTM -15.02%: the fund manager struggled today after trying to sneak through a disappointing FUM update after market yesterday. They saw $222m in net outflows, but FUM fell a total of $1,676m to $19.4b, down 8.6% in March as performance weighed. Having a look at the funds, their largest, the Platinum International Fund which has over $7b under management, saw -6.6% returns in March alone. In fact across the suite of their funds there was only one that had positive performance in the month which houses less than 0.2% of the managers total. A very poor start to the year for Platinum, perhaps consolidation in the space will help turn it around.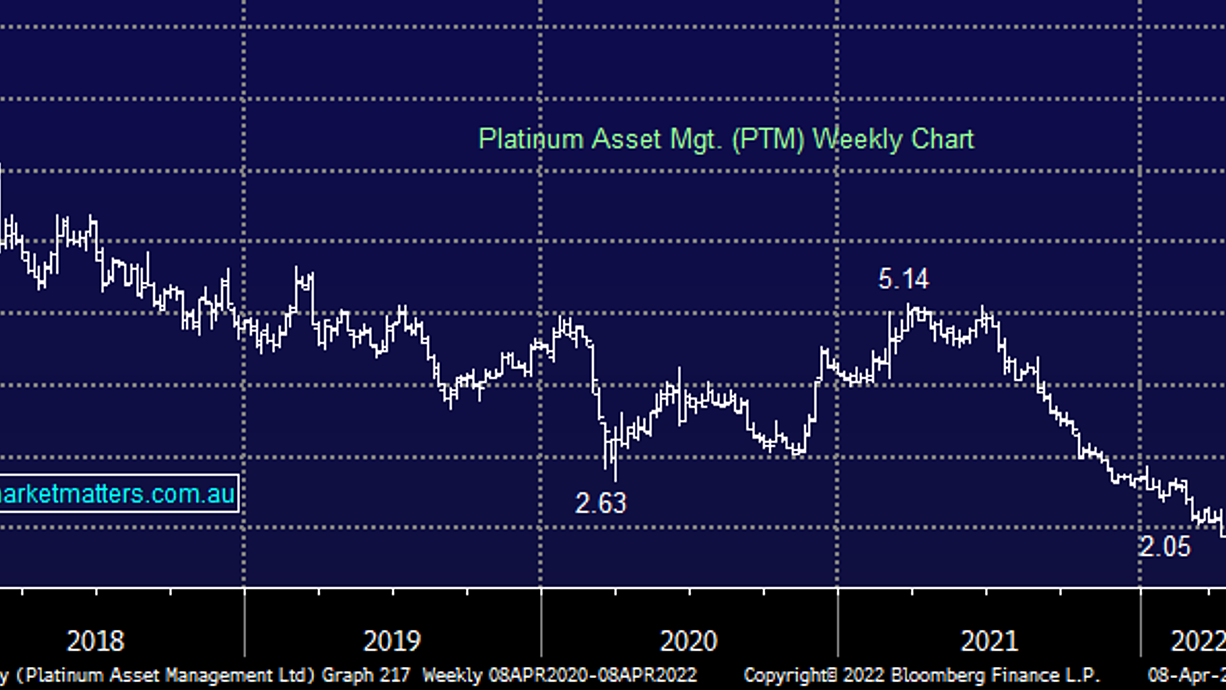 Sectors this week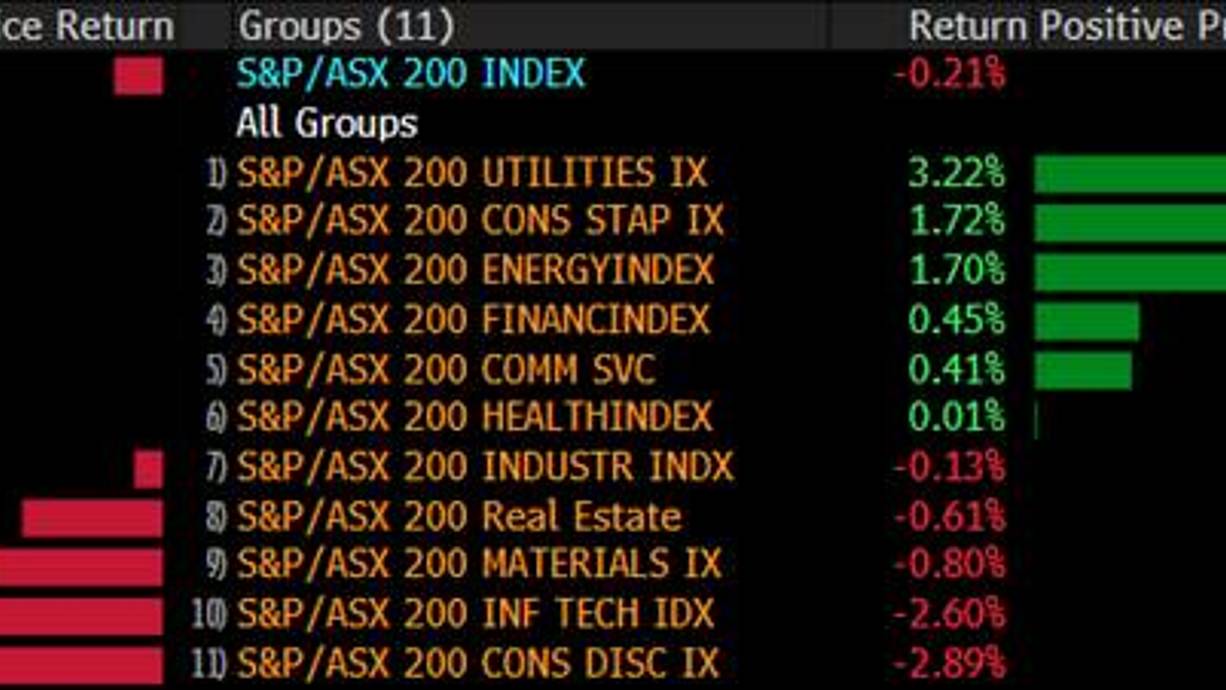 Stocks this week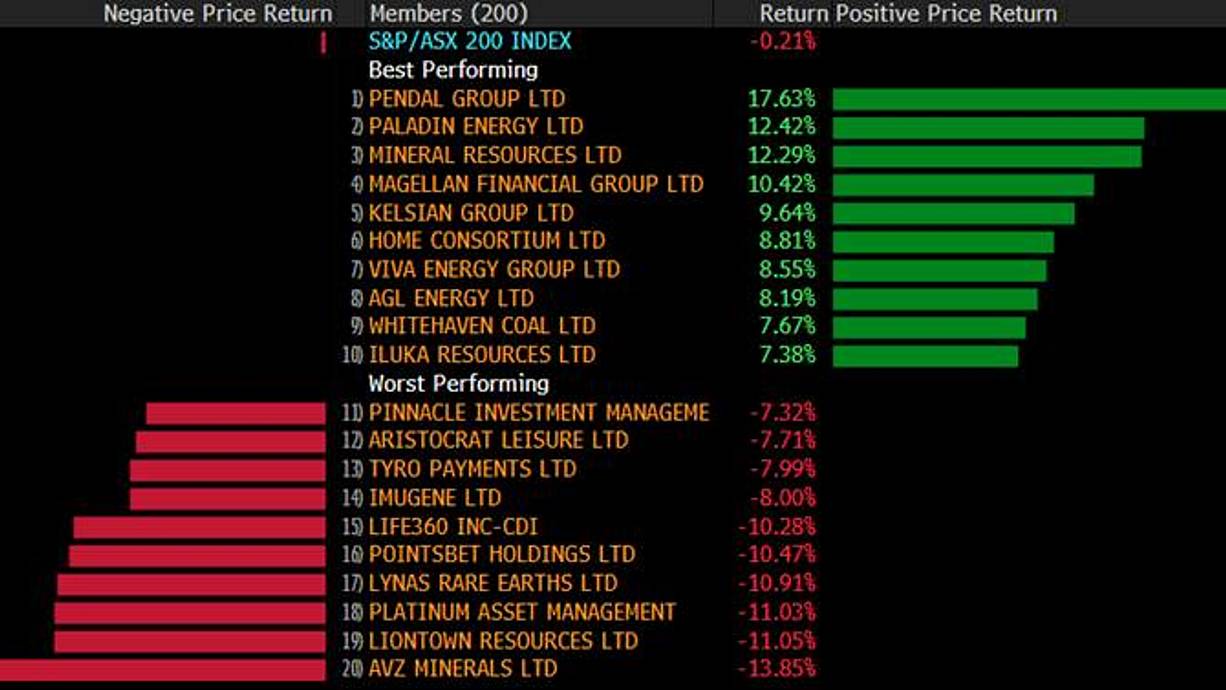 Broker Moves
IGO Rated New Sell at UBS; PT A$12.65
Platinum Asset Cut to Underperform at Credit Suisse; PT A$1.90
Origin Energy Cut to Hold at Morgans Financial Limited
Aristocrat Rated New Buy at Citi; PT A$4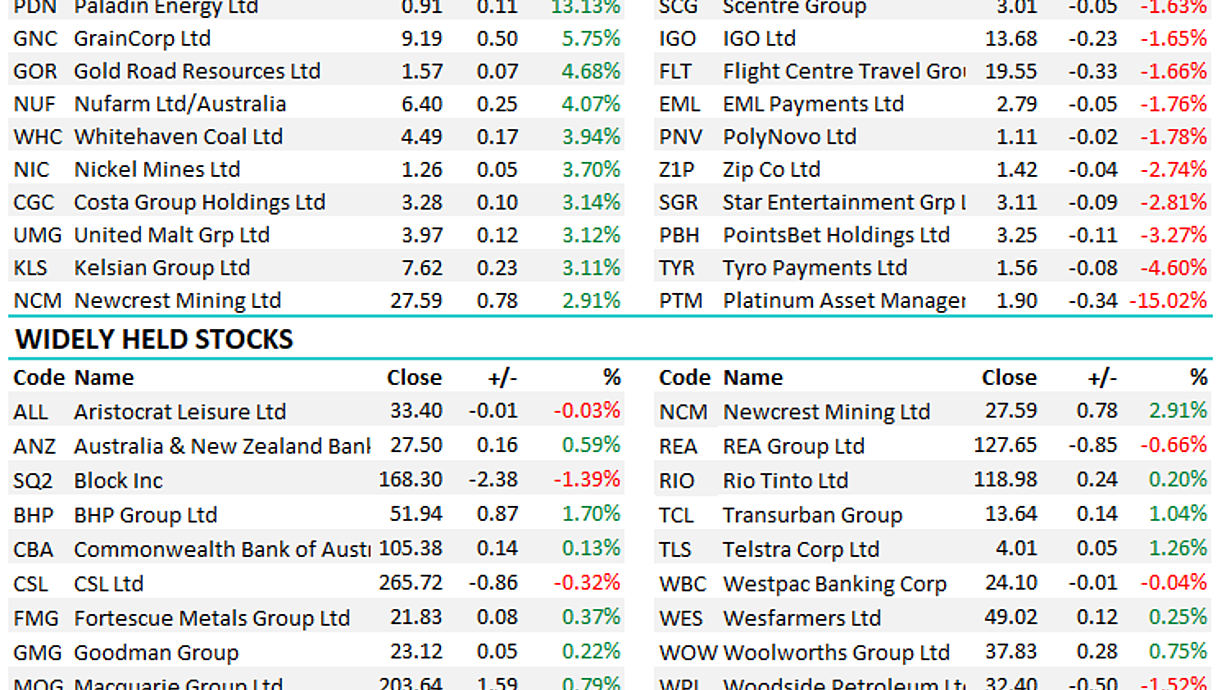 ---
Follow James Gerrish's wires
---