The Match Out: Market edges higher as inflation tamer than forecasts, RIO report just out
---
A disjointed morning before the buyers emerged following inflation data that was marginally tamer than expected printing 6.1% YoY versus the 6.3% consensus, signs that the rate of change in prices may be slowing is a good thing. Healthcare was strong today but the biggest influence from an index perspective came from the banks with CBA the standout up +2.24%.
The ASX 200 finished up +15pts/ +0.23% at 6823.
The Healthcare sector was best on ground (+1.19%) while Financials (+1.05%) & Consumer Discretionary (+0.92%) were also strong.
Materials (-1.21%) and Utilities (-0.57%) the weakest links.
IGO (ASX: IGO) +0.2% edged higher after posting FY22 production and sales results including high-level financials that were as programmed.
Westpac (ASX: WBC) +1.31% provided a market update this morning that set a path forward for the bank around digitisation, emissions and more, while flagging the looming end to remediation. In effect, it set out the future priorities for WBC while attempting to move on from its more checkered recent history.
James was on Ausbiz this morning talking about Westpac, the banks generally, along with some of our overseas holdings that reported overnight – Click Here to watch
Gold miner St Barbara (ASX: SBM) +3.33% released good production numbers, bucking the poor recent trend in the sector.
Newcrest (ASX: NCM) -0.91% gave back early gains as a big ~$350m block trade went through below mkt prices just before midday, obviously seller driven.
BNPL sector continues to recover in explosive fashion, Sezzle (SZL) +95% - yes, that's right, after opening lower this morning – extraordinary move before getting a speeding ticket from the ASX!
Rio Tinto (ASX: RIO) -2% fell ahead of releasing 1H results after market – these have just dropped with underlying earnings $8.63bn just ahead (3%) vs consensus $8.37bn. Sales revenue was pretty much in line at $29.78bn vs consensus $29.81bn whilst Adjusted EBITDA at $15.60bn was a whisker low vs consensus $15.83bn. The dividend, the equivalent of 267 US cents per share was lower than expected – the 50% payout ratio was less than the ~60% pencilled in.
We flagged this likely theme in a recent Livewire video here. Interestingly enough, higher energy prices cost RIO ~$500m in the half!
Iron Ore was ~2% higher in Asia.
Gold was flat at ~US$1719
Asian stocks were mixed, Hong Kong down -1.47%, Japan +0.40% while China was off -0.13%
US Futures are all up, the Nasdaq the best of the +1.39%.   
ASX 200 Chart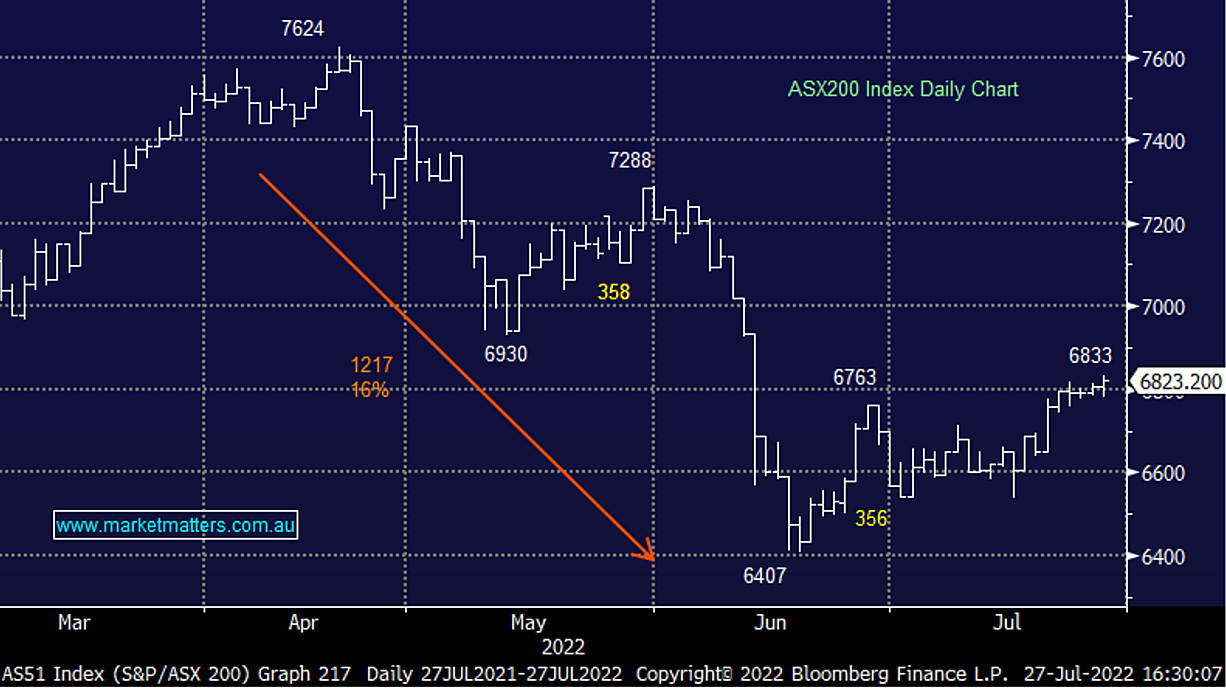 Inflation Data Today
Inflation data across the wires today at 11.30 am and the headline rate was very hot at 6.1%, although it was below the 6.3% expected by the market. The trimmed mean is the RBA's preferred measure which printed 4.9% versus expectations of 4.7%, its highest rate since 1991 for context while if we add in all the more volatile components like food, fuel, housing & health costs, the number was up +7.8% for the year. Clearly, this is still too hot but it is a rate of change measure and there are signs here that we may well have seen peak inflation. In MM's view, the RBA will hike by 0.50% and not by 0.75% as some expect in August while the expectation for the cash rate to be at 3.3% by Christmas remains too hawkish.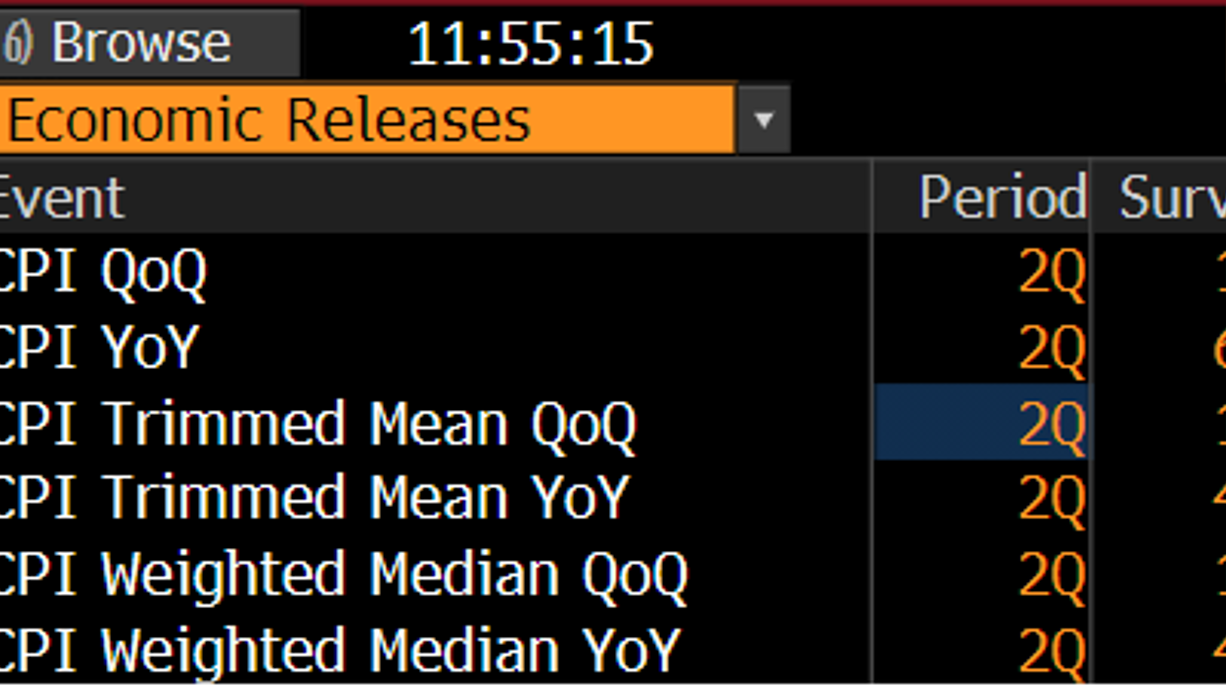 Newcrest (NCM) $18.51
NCM -0.91%: We discussed our views on NCM this morning and today there was a large $353m block traded around midday priced at $18.45 which was below market so clearly a seller-led transaction. GQG Partners have been sellers recently and seems they might be behind today's trade that was executed through JP Morgan. Newcrest reports earnings on the 19th of August.

St Barbara (SBM) 93c
SBM +3.33%: The gold producer was out with 4th quarter production numbers, and although they were largely pre-released there were still positives to take out of the update. Production guidance for the full year was met with 281koz of gold produced, as was cost guidance across all assets despite market fears of blowouts due to energy or labour which has weighed on the sector in recent months. Importantly their troublesome assets, Atlantic and Samberi, hit expectations for the period which should help the divestment process of each. The cash balance grew to $98m, placing the balance sheet in a very strong position despite some misconceptions in the market. St Barbara is cheap, it just needs a catalyst of higher prices or favourable corporate activity.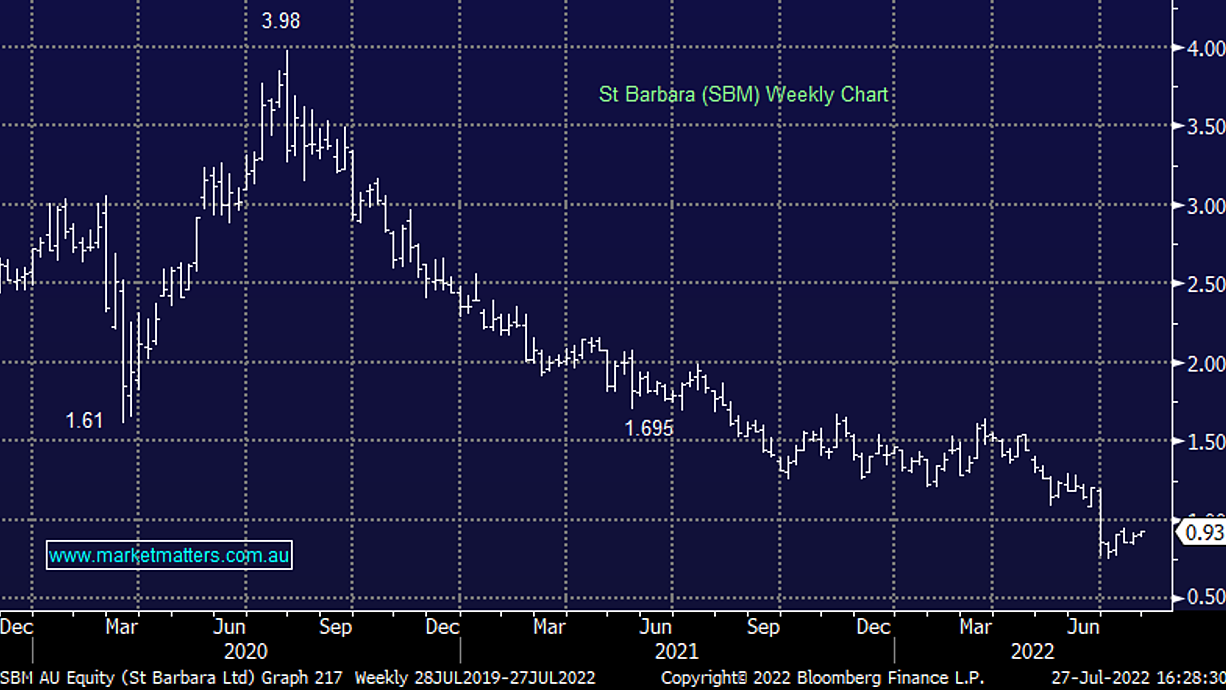 Broker Moves
Regis Resources Raised to Add at Morgans Financial Limited
EML Payments Cut to Neutral at UBS; PT A$1.05
Rio Tinto Reinstated Hold at HSBC; PT A$97
Endeavour Group Cut to Hold at Jefferies; PT A$8.10
Perseus Raised to Buy at Citi; PT A$2.10
Regis Resources Raised to Neutral at Citi; PT A$1.70
Bluescope Cut to Neutral at Credit Suisse; PT A$17.20
Major Movers Today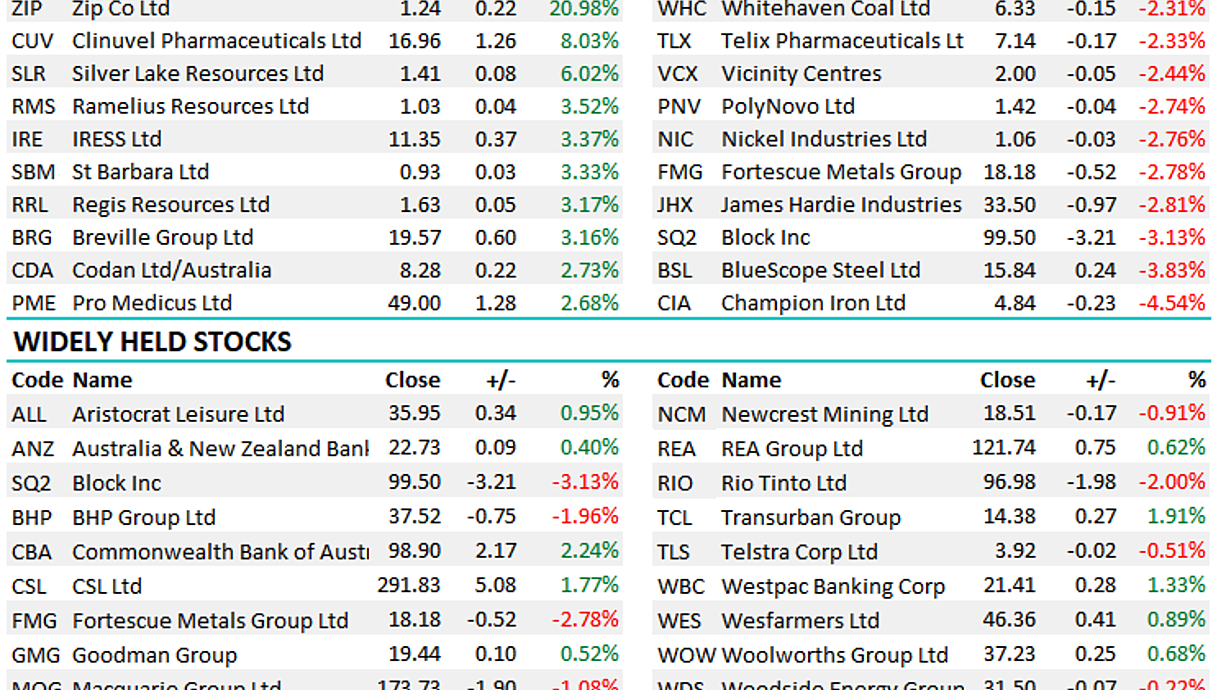 Have a great night
The Market Matters Team
---
Make informed investment decisions
At Market Matters, we write a straight-talking, concise, twice-daily note about our experiences, the stocks we like, the stocks we don't, the themes that you should be across and the risks as we see them. Click here for your free trial.
The Match Out will be available each day after the market close. Follow my profile to be notified when the latest report is live.