The Match Out: Market edges higher, Lithium stocks tumble
---
A fairly muted session today on the ASX with the defensive sectors doing well while those exposed to economic weakness struggled. Energy is at the pointy end of that, a crowded trade that is unwinding however if we see another ~10% downside we'll likely step back into the sector.
The S&P/ASX 200 added +19 points / +0.31% to close at 6528.
Real-Estate (+2.56%) & Healthcare (+1.97%) were the standouts.
Energy (-2.06%) and Materials (-1.50%) underperformed.
Expectations around interest rates have changed in the last week – from pricing a certain 50bps to now 'only' pricing an 80% chance when the RBA meet in July. That's hurt to AUD which today settled smack on 69c.
It's also been supportive of the oversold property stocks that were pricing the scorched earth sort of scenario – Goodman (GMG) a standout today up +4.87%.
Oil has taken a beating this week as concerns that a US recession is just around the corner hurt prices – Crude has now fallen over ~20% and it approaching $US100/bbl - Santos (STO) and other energy stocks have followed suit.
The small end of the Lithium sector has been where the real carnage has been, today Lake Resources (LKE) -16.67% fell sharply having only just gone into the ASX 200. Nothing like having your MD quit and then offload over $10m worth of stock to get the price lower. This has filtered into the other parts of the Lithium space, IGO (IGL) that we own dropped below $10 today into our targeted buy zone – we still plan to add to our position at some stage.
Lower grade iron Ore, the stuff that Fortescue (FMG) -2.1% mines has fallen from ~US$140/tonne to $US98.70/tonne
Iron ore futures down up 2.3% today recovering some recent losses.
Gold was flat ~US$1834 in Asia.
Asian markets were up, the Nikkei in Japan Flat, Hong Kong stocks rallied +1.38% while China was up 1.76%
US Futures are down a touch, ~0.20% across the board.
ASX 200 Chart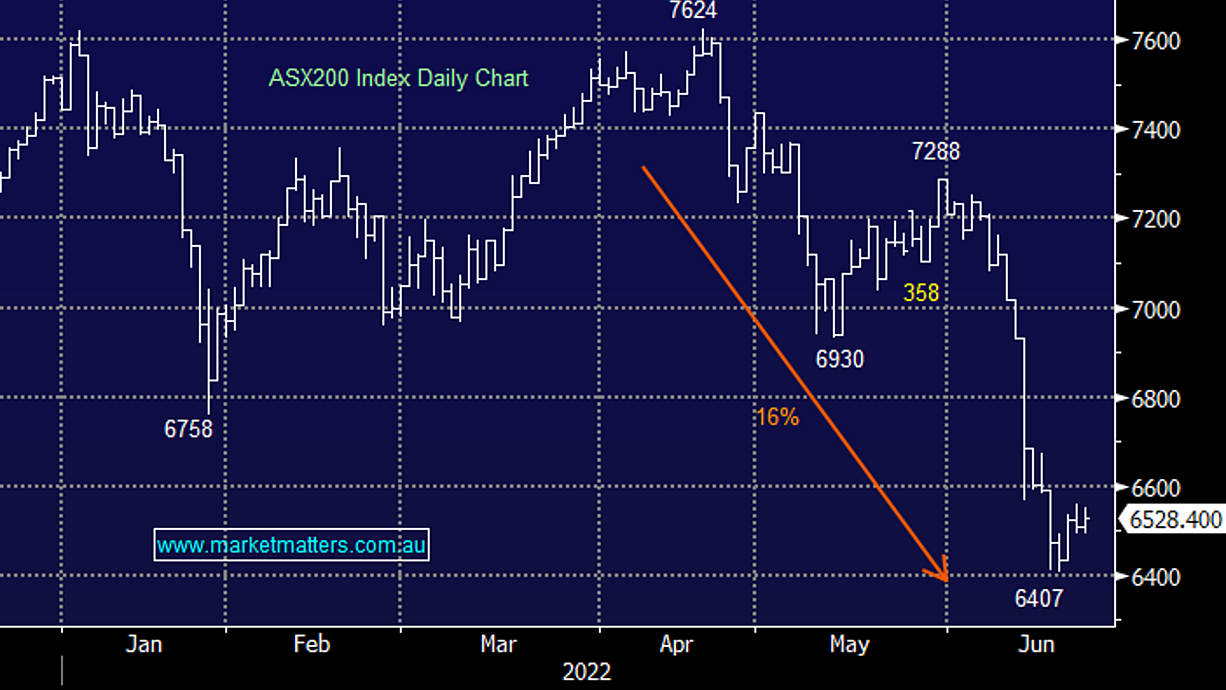 Ramelius (RMS) 99.5c
RMS -8.72%: another gold miner that has been forced to downgrade near the end of the period as conditions become increasingly more difficult. They've blamed the poor weather, COVID & influenza as well as lower grade when putting through a small downgrade to production guidance for the full year today, from 260-260koz down to 255-260koz. For the most part, these issues aren't company-specific and they will pass with time. Gold miners will also need a commodity tailwind to get investors interested again. One positive was that RMS didn't push costs higher, though they are expected to land at the top end of the previously guided $1,475-1,525/oz range.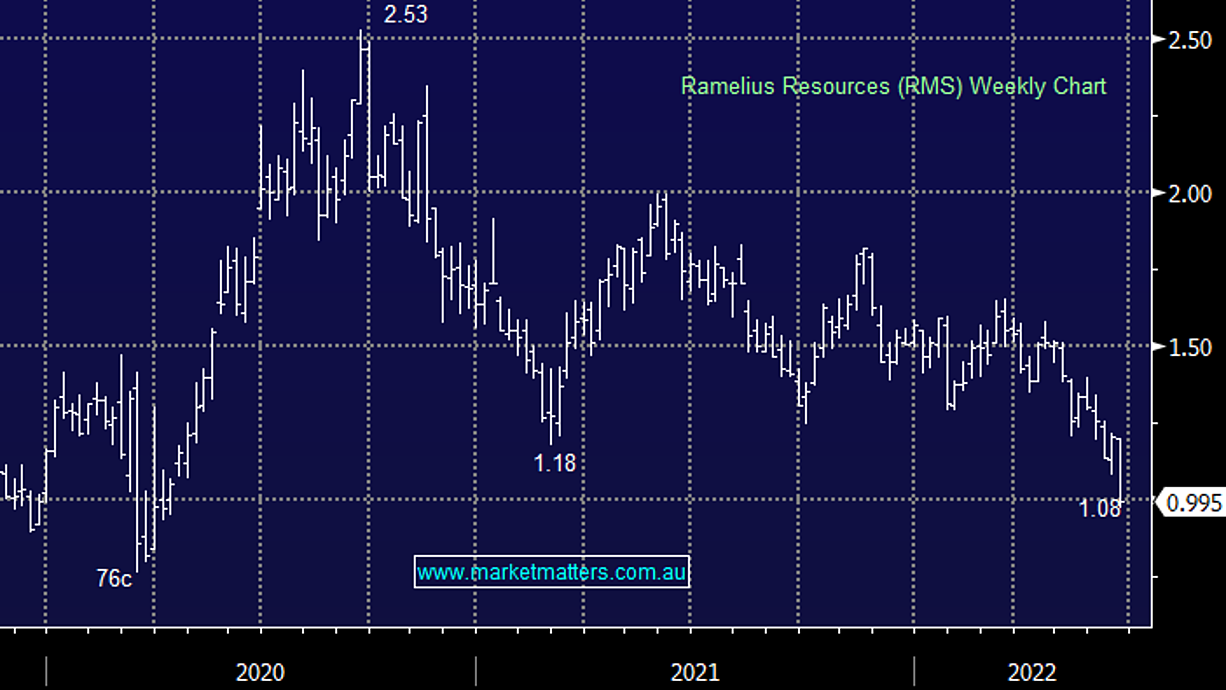 Broker Moves
St Barbara Cut to Neutral at Macquarie; PT A$1
Resimac Group Cut to Neutral at Macquarie; PT A$1.30
Regis Resources Cut to Underweight at Morgan Stanley; PT A$1.75
St Barbara Cut to Hold at Canaccord; PT 90 Australian cents
Link Administration Raised to Overweight at Morgan Stanley
Wesfarmers Raised to Positive at Evans & Partners Pty Ltd
Neuren Rated New Buy at Jefferies; PT A$5.40
Major Movers Today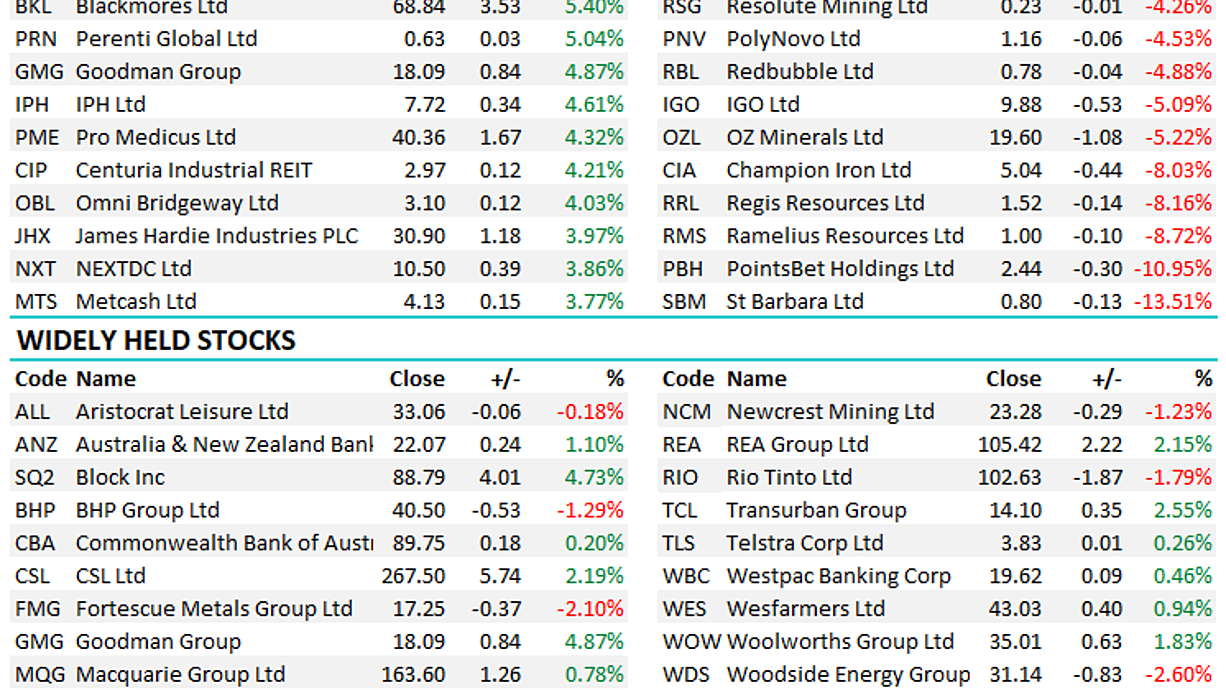 Enjoy your night
The Market Matters Team
Make informed investment decisions
At Market Matters, we write a straight-talking, concise, twice-daily note about our experiences, the stocks we like, the stocks we don't, the themes that you should be across and the risks as we see them. Click here for your free trial.
The Match Out will be available each day after the market close. Follow my profile to be notified when the latest report is live.