The Match Out: RBA hikes rates 50bps, Market edges higher
---
The RBA raised rates today by 0.50% as expected, the market rallied, the AUD edged marginally lower and the reaction was generally as we thought it would be, the market appreciating a level of certainty and a central bank stepping up and acting as they should be given the inflationary pressures. Not a lot else happening in the market today, so a short note as a consequence.
The ASX 200 finished up +16pts/ +0.25% at 6629
The Energy sector was best on ground (+2.16%) while IT (+1.67%) & Healthcare (+1.17%) were also strong.
Real Estate (-1.25%) the weakest link as you'd expect on the day of a 50bps rate hike while Industrials (-0.58%) and Financials (-0.09%) also fell.
The Aussie dollar was a tad lower after the RBA increased rates to 1.35% as predicted by all but one of 26 economists polled by Bloomberg – showing the move was priced in.
Magellan (MFG) +4.78% recovered some of yesterday's losses, although listed fund managers are still having a very tough time generally, the market has lost interest in them it seems.
Regis Resources (RRL) +10.69% showed that not all gold companies were having production/cost issues.
Iron Ore was ~2.5% higher in Asia today
Gold was flat at US$1809
Asian stocks were mixed Hong Kong up +0.21%, Japan +0.61% while China was off -0.76%
US Futures are all up, the Nasdaq the best of them +0.75%.
ASX 200 Chart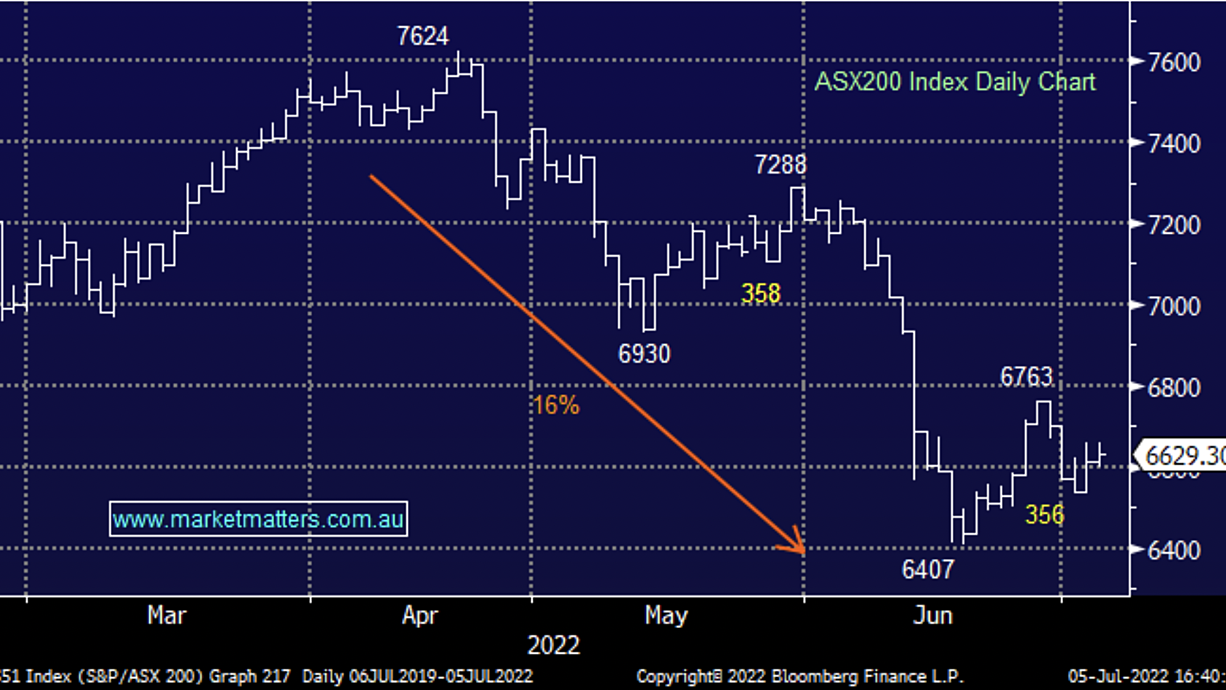 RBA rate hike
At its meeting today, the RBA increased the cash rate target by 0.50% to 1.35% as expected, sighting the following reasons:
Global inflation is high. It is being boosted by COVID-related disruptions to supply chains, the war in Ukraine and strong demand which is putting pressure on productive capacity.
Monetary policy globally is responding to this higher inflation, although it will be some time yet before inflation returns to target in most countries.
Inflation in Australia is also high, but not as high as it is in many other countries.
Global factors account for much of the increase in inflation in Australia, but domestic factors are also playing a role.
Strong demand, a tight labour market and capacity constraints in some sectors are contributing to the upward pressure on prices.
The floods are also affecting some prices.
In terms of forward-looking statements, they went on to say that Inflation is forecast to peak later this year and then decline back towards the 2-3% range next year. As global supply-side problems continue to ease and commodity prices stabilise, even if at a high level, inflation is expected to moderate. In other words, inflation will be short-lived and the RBA believes it'll have it under control shortly. These comments imply that futures pricing outlined in the chart below is way too aggressive, a cash rate at 3.49% by March 2023 as implied by the futures market is hard to foresee. 
RBA Today & Implied Forward Rates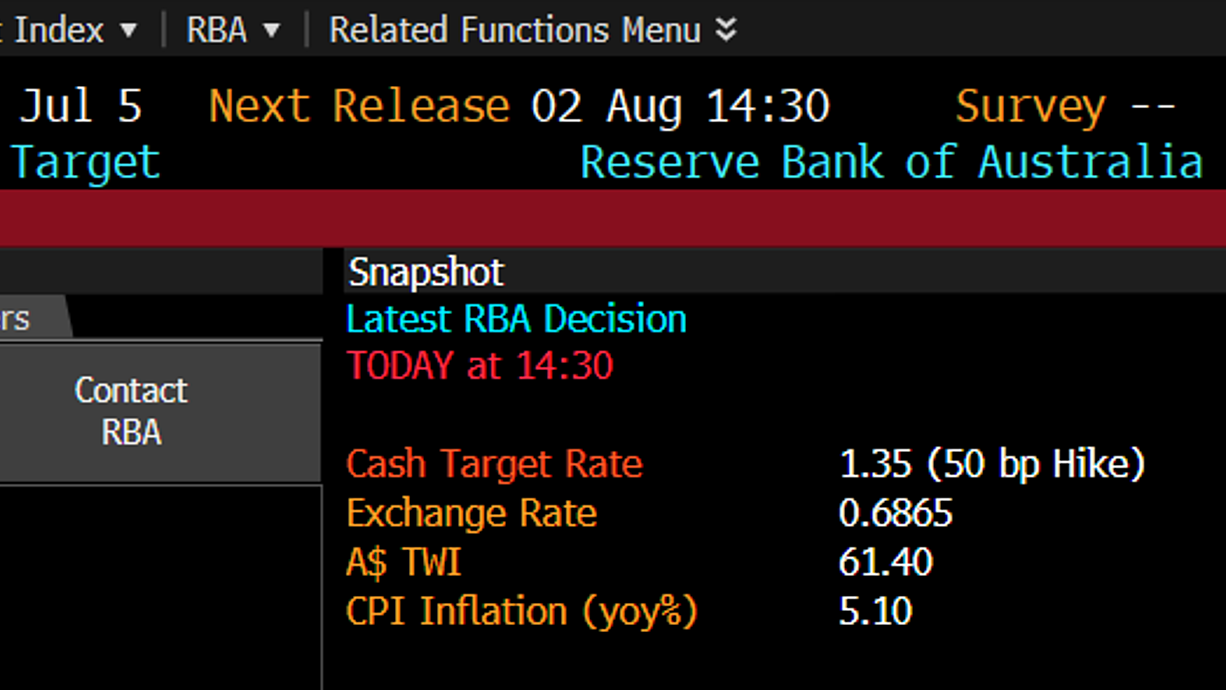 Regis Resources (RRL) $1.605
RRL +10.69%: a record last quarter helped Regis rally today with the gold miner managing its production better than peers in a tough period. A total of 124koz was produced in the 4th quarter, up 20% QoQ, taking the full year's production to 437koz, just shy of the midpoint of previous guidance. Costs were higher though and the company expects the average cost for the full year to come in slightly above the previous $1,425-1,500/oz guidance. More detail will be provided in the quarterly update due in a few weeks, however, FY23 is expected to see production growth continue, though I suspect costs will also climb given the labour and energy inflation hitting the sector at the moment.
Regis Resources (RRL)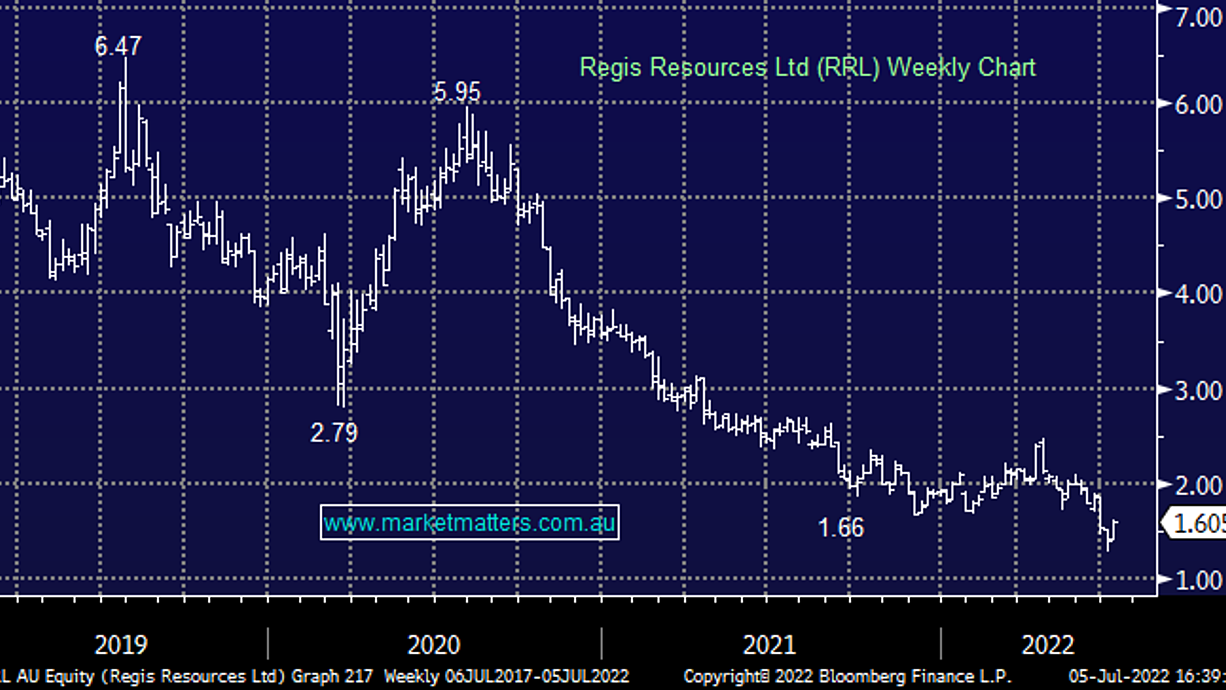 Broker Moves
HT&E Rated New Overweight at Wilsons; PT A$1.58
AIC Mines Rated New Buy at Jefferies; PT 70 Australian cents
Star Entertainment Cut to Hold at Morgans Financial Limited
Major Movers Today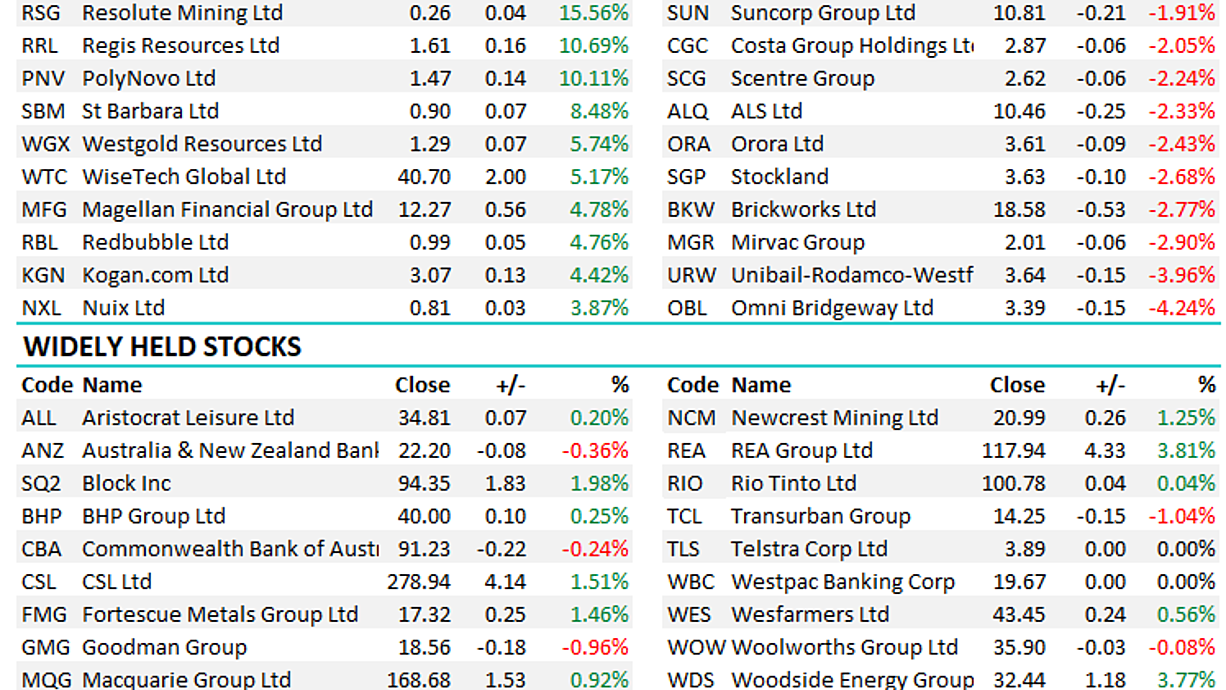 Have a great night

The Market Matters Team
Make informed investment decisions
At Market Matters, we write a straight-talking, concise, twice-daily note about our experiences, the stocks we like, the stocks we don't, the themes that you should be across and the risks as we see them. Click here for your free trial.
The Match Out will be available each day after the market close. Follow my profile to be notified when the latest report is live.