The Match Out: Stocks edge higher but finish well below day's best, CSL and Ramsay Healthcare in acquisition mode
---
A choppy but positive start to the week for the Australian market with strength in the material, energy and property sectors partially offset by weakness amongst financials and healthcare. The best of the session was seen before lunchtime with the market up +60pts at its peak, before a late sell-off created a fairly disappointing/lacklustre finish to trade.
The ASX 200 finished up +25pts/+0.35% to 7379.
Materials were strong today, Iron Ore +5% in Asia underpinning buying in the resource names, Coal prices also ~3% higher.
Fortescue Metals (ASX: FMG) was +2% today while BHP Billiton (ASX: BHP) was +2.70% – we like both in the short term, particularly BHP as they work towards the unification of their structure – i.e. collapsing the UK listing, there are lots of swings and roundabouts here but ultimately we see this as a positive for the share price in the near term.
Lots happening in the large-cap healthcare space today with Ramsay Healthcare (ASX: RHC) confirming a $1.4bn acquisition in mental health services while CSL (ASX: CSL) is tipped to be organising a $4bn equity raise.
There is no more Oil Search (ASX: OSH) on the ASX with OSH shareholders now holding Santos (ASX: STO) following the takeover/merger – Santos ended +1.85% higher today.
The platform providers were hot today, Netwealth (ASX; NWL) +6.2% led the charge however both HUB 24 (ASX: HUB) +2.83% and Praemium (ASX: PPS) +3.66% chimed in – we continue to like the space.
Appen (ASX: APX) +3.58% rallied after a tough week or so following a bearish note out from Macquarie Group (ASX: MQG) suggesting they were likely to downgrade. No downgrade has come (yet) and the longer they stay quiet, the greater the chance that MQG are wrong.
Audinate (ASX: AD8) -6.21% had a tough session having announced a small acquisition, the sell-off overdone in MM's opinion, Harry covers below.
Gold was flat in Asia today at $US1786 at our close.
As suggested above, Iron Ore prices were strong, Jan contract +6.84%.
Asian markets were all higher, Nikkei 0.85%, Hong Kong 1.01% while China was up 1%.
US Futures are up, all-around 0.40% higher.
A reminder for those looking for a market update at lunchtime, Markets @ Midday is a quick audio overview of the market, generally hosted by Harry Watt – Click Here to subscribe.
ASX 200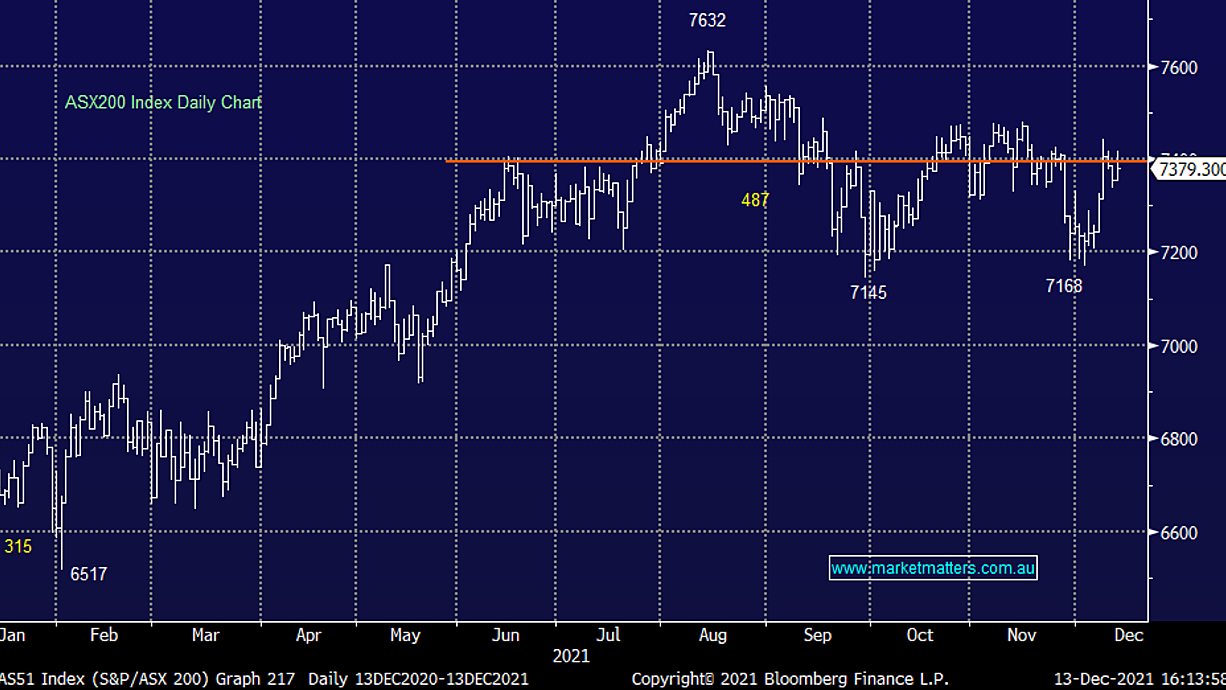 CSL Limited (CSL) $297.27
CSL -0.35%: The AFR this morning outed CSL as they prepare to make the largest acquisition in the companies history, potentially acquiring Switzerland's Vifor Pharma in a $10b plus deal. While it's not yet confirmed, they seem to be making plans for a ~$4bn equity raise to fund it, with Christmas clearly adding some complexity to the mix. CSL has not raised capital since 2008, at that time shares were trading at $39, today CSL closed at $297.27. The raise will be a placement to institutions then a retail component for existing shareholders, priced at somewhere between a 5-10% discount to last we would assume.
MM remains positive and long CSL.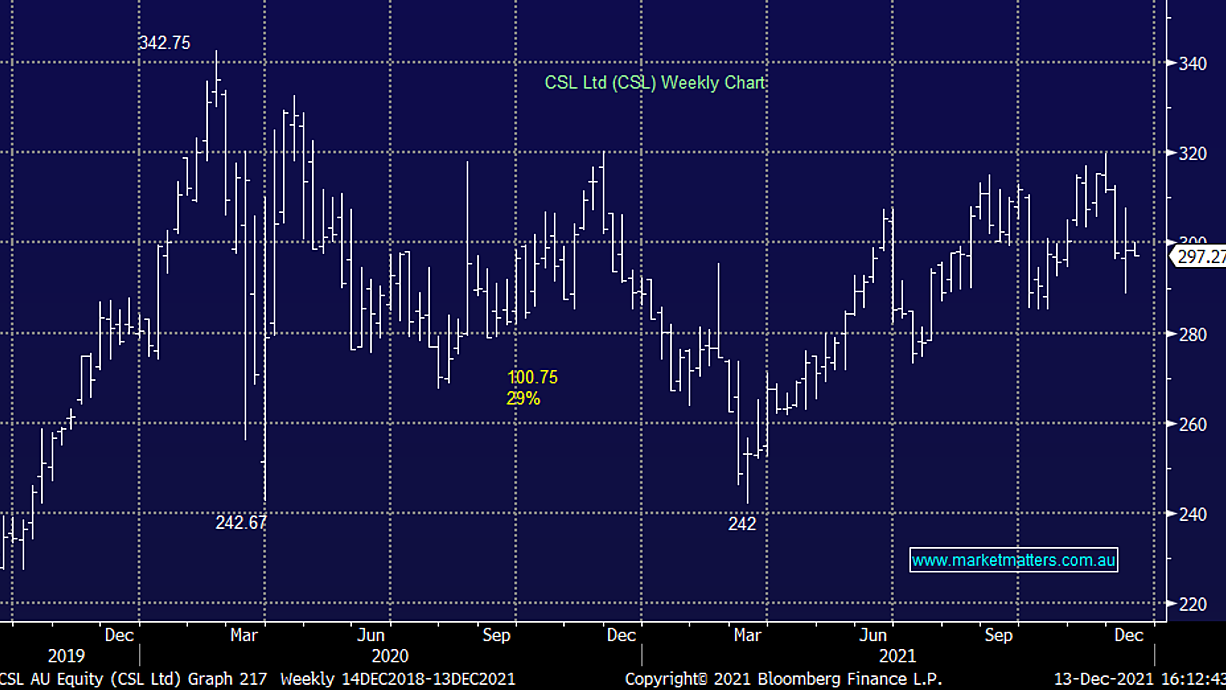 Audinate (AD8) $9.81
AD8 -6.21%: the audio-visual technology business struggled today after announcing a small bolt-on acquisition of Belgium-based video technology business Silex Insight. The acquisition will cost just $US6.5m upfront with another $US1.5m earn-out tied to increased revenues in the business over the twelve months after completion. The deal comes with 8 engineers whose skillset is said to complement that of Audinate's established capabilities in the video space. They flagged revenues for the Silex video business were likely to be subdued in the first half of 2022 as a result of supply chain issues and chip shortages, the same issues Audinate are facing themselves. Hard to see why such a small deal would put such significant pressure as it did, though shares in AD8 recovered strongly from lows today.
MM remains bullish and long on AD8 in the Emerging Companies Portfolio.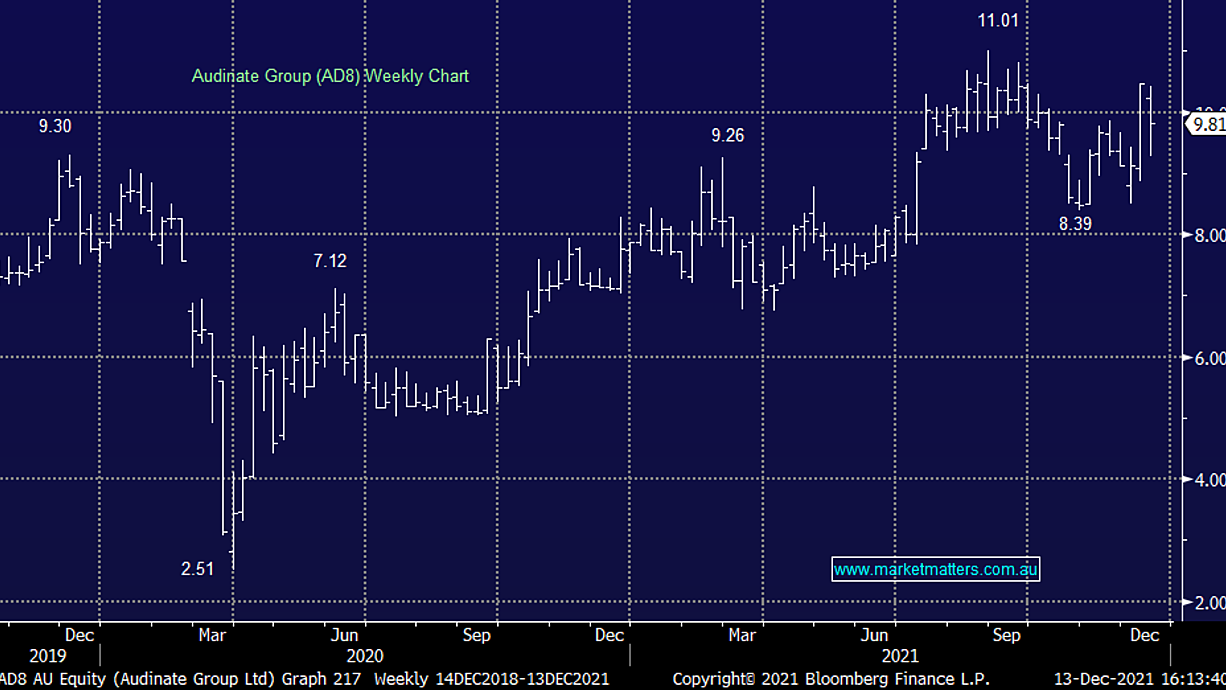 Ramsay Healthcare (RHC) $68.85
RHC -0.94%: Edged lower today after announcing they will acquire one of Britain's biggest private providers of mental health services for $1.4 billion. The acquisition of Elysium Healthcare, which runs 72 sites including rehabilitation centres and mental health services for children is from private equity firm BC Partners, with Ramsay sighting some very unfortunate trends in the mental health space as evidence to why they are entering this market in scale.

MM is neutral on RHC around $69.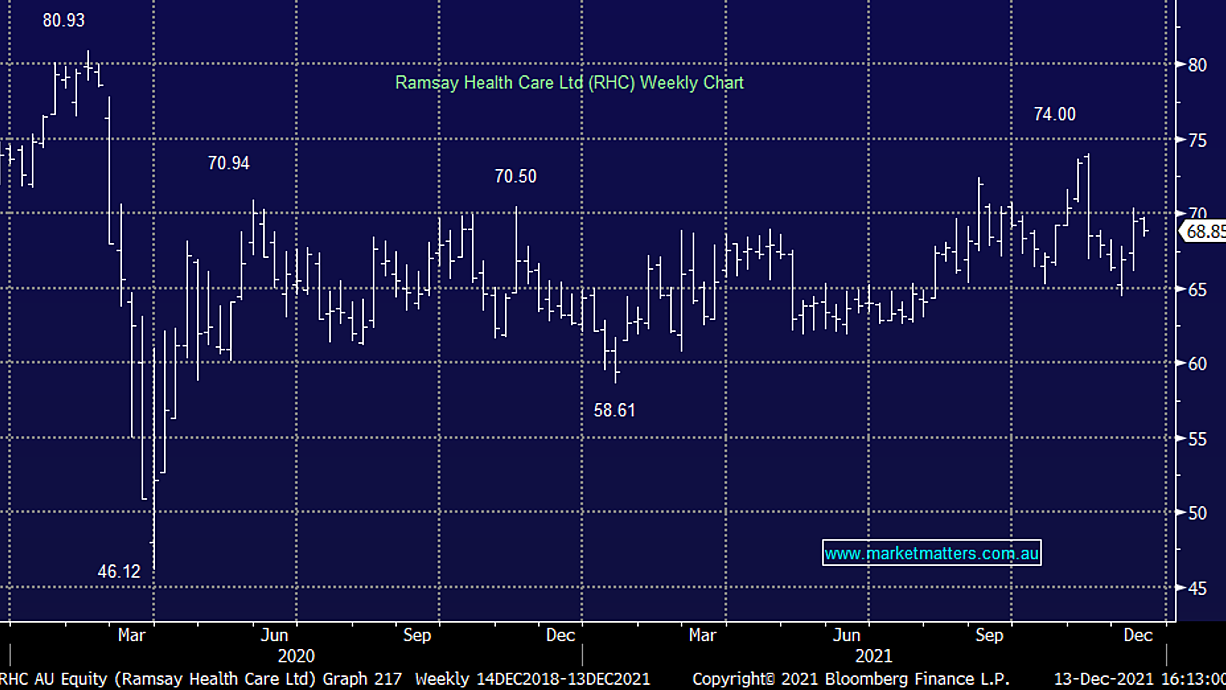 Dubber (DUB) $3.17
DUB -0.31%: Has announced an agreement with Optus to become natively integrated across the groups mobile network, opening up one-third of the Australian market and an enterprise user base in the hundreds of thousands. For those not familiar, DUB provides designs and develops communication software specifically used in call recording and analysis. This is a good signing for DUB with Optus being one of the biggest telcos in the world. It's not too late with DUB and the group is one of the most exciting SAAS plays on ASX. We are high conviction.
MM remains long and bullish on DUB.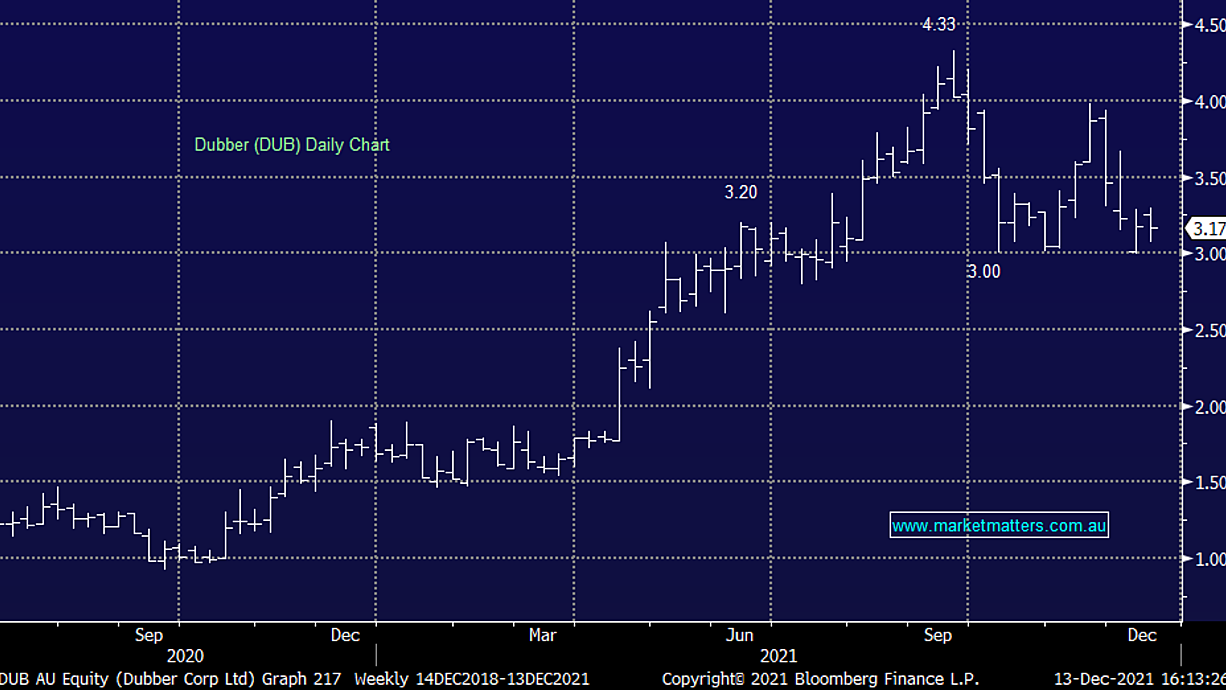 Broker Moves
City Chic Collective Raised to Overweight at Wilsons; PT A$6.50
Insurance Australia Cut to Sell at UBS; PT A$4.20
GrainCorp Rated New Outperform at RBC; PT A$9.10
Aurizon Reinstated Underweight at JPMorgan; PT A$3.10
SCA Property Raised to Buy at Jefferies; PT A$3.16
Major Movers Today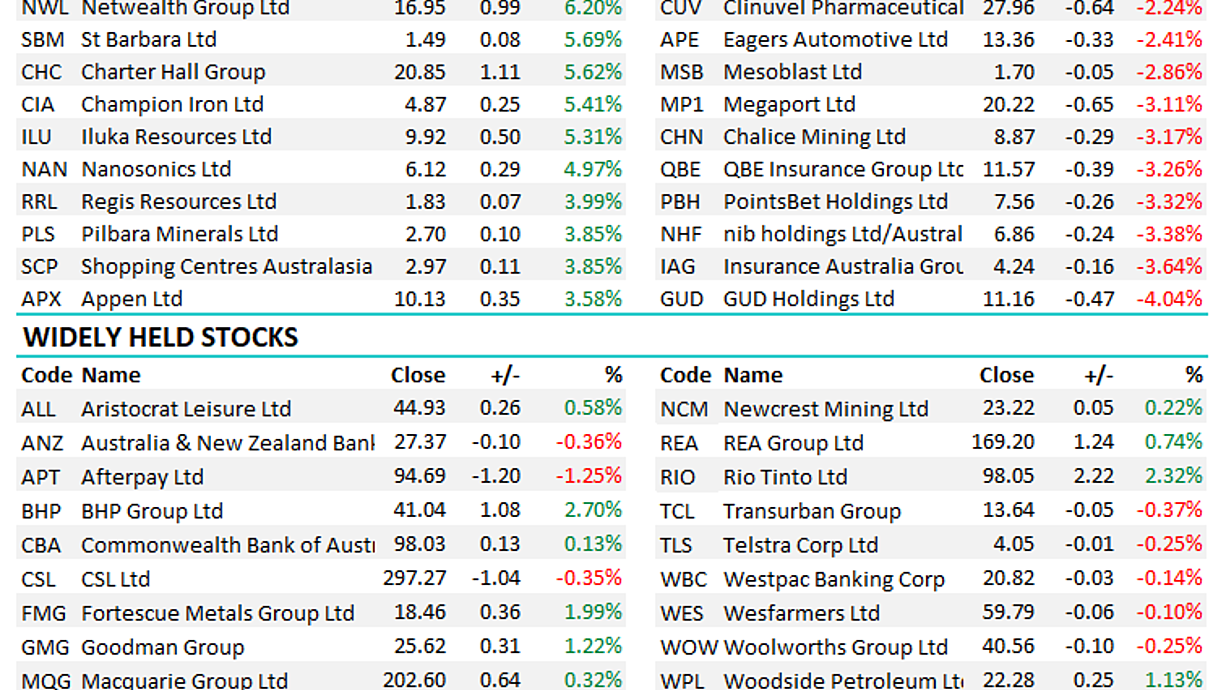 Have a great night,
James, Harry and the Market Matters Team. 
Make informed investment decisions
At Market Matters, we write a straight-talking, concise, twice daily note about our experiences, the stocks we like, the stocks we don't, the themes that you should be across and the risks as we see them. Click here for your free trial.
The Match Out will be available each day after the market close. Follow my profile to be notified when the latest report is live.