The power of serial compounders
---
In the 13th century, the writer Ibn Khallikan records the story King Shirham, so enamoured of the game of chess he sought to reward its inventor, Grand Vizier Sissa ben Dahir. When asked to name his prize, Sissa simply asked for all the grains of rice that would fill a chessboard by doubling the grains on each subsequent square, beginning with just one grain on the first. His wish was granted until the quantum of the prize was determined: over 18 quintillion grains of rice.
While this may seem extreme, it makes a compelling point; that a relatively small advantage at the outset, if sustained, can compound into a very large benefit over time. Such compounding is one thing investors can't ignore.
We see this principle at work in the outperformance of essential infrastructure in Chart 1, largely the result of Ausbil Investment Management's strict definition of the listed essential infrastructure universe that gives it an edge over others which can compound to a large difference over time.
Chart 1: Essential infrastructure: Limiting downside offers long-term outperformance against other asset classes
Ausbil's strict definition of a listed essential infrastructure universe captures some 80% of the upside movements in global equities markets over time, while conceding just 47% of the downside movements of global equities, as illustrated in Chart 2.

Chart 2: The essential infrastructure universe as defined by Ausbil: Capture of up and down-market movements
The result of this upside capture advantage over time for Ausbil's definition of the essential infrastructure universe is well illustrated in the compound outperformance over other asset classes (Chart 1) and other, older listed infrastructure definitions, as illustrated by the indices in Chart 3.

Chart 3: How more tightly defined essential infrastructure outperforms index definitions over time
The steady compound outperformance of essential infrastructure as an asset class comes down to one important thing, the superior stability of cash flows generated by the earnings (represented by EBITDA) of infrastructure assets compared to the more lumpy and unpredictable flows from global equities, as illustrated in Charts 4 and 5.

Chart 4: The more stable earnings of essential infrastructure over the cycle…
Chart 5: …can translate into an edge that outperforms global equities over time

Chart 5 demonstrates the power of compounding these more stable essential infrastructure earnings cash flows, generated by infrastructure with regulated and contracted revenue streams, and why it pays to focus on companies that are serial positive compounders of cash flow. 
This would be the one thing we suggest to focus on in 2020: enlisting the power of compounding in your portfolio. 

Stay informed in 2020
Stay up to date with my latest views. Hit the FOLLOW button below to be notified by email as soon as I publish my next wire.
........
The information contained in the article is given by Ausbil Investment Management Limited (ABN 2676316473) (AFSL 229722) (Ausbil) and has been prepared for informational and discussion purposes only and does not constitute an offer to sell or solicitation of an offer to purchase any security or financial product or service. Any such offer or solicitation shall be made only pursuant to a Product Disclosure Statement or other offer document (collectively Offer Document) relating to an Ausbil financial product or service. A copy of the relevant Offer Document may be obtained by calling Ausbil on +612 9259 0200 or by visiting www.ausbil.com.au . You should consider the Offer Documents in deciding whether to acquire, or continue to hold, any financial product. Neither this article nor the provision of any Ausbil Offer Document is, and must not be regarded as advice or a recommendation or opinion in regards to an Ausbil financial product or service or securities of any other entity including TheTradeDesk Ltd, or that an investment in an Ausbil financial product or securities of any other entity including TheTradeDesk Ltd is suitable for you or any other person. This article and the information it contains is for general use only and does not take into account your personal investment objectives, financial situation and particular needs. Ausbil strongly recommends that you consider the appropriateness of the information and obtain independent financial, legal and taxation advice before deciding whether to invest in an Ausbil financial product or service or in the securities of any other entity including TheTradeDesk Ltd. The information provided by Ausbil has been done so in good faith and has been derived from sources believed to be accurate at the time of completion. While every care has been taken in preparing this information. Ausbil make no representation or warranty as to the accuracy or completeness of the information provided in this article, except as required by law, or takes any responsibility for any loss or damage suffered as a result or any omission, inadequacy or inaccuracy. Changes in circumstances after the date of publication may impact on the accuracy of the information. Ausbil accepts no responsibility for investment decisions or any other actions taken by any person on the basis of the information included. Past performance is not a reliable indicator of future performance. Ausbil does not guarantee the performance of any Fund or the securities of any other entity including TheTradeDesk Ltd, the repayment of capital or any particular rate of return. The performance of any Fund depends on the performance of its underlying investments which can fall as well as rise and can result in both capital gains and losses.
---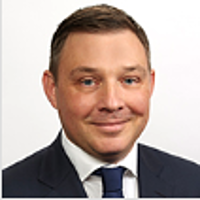 Head of Global Listed Infrastructure
Ausbil
Tim is a founding member of Ausbil's global infrastructure team and his roles at Ausbil include strategy, portfolio construction and stock analysis for the global listed infrastructure team.
Expertise