The rise and challenges of China
---
China's continued rise as a global economic powerhouse has been met with increasing caution and push-back from the Western world, not least from the United States during four turbulent years under President Trump. Now a very different administration has taken over Capitol Hill. How will this impact China-US relations? What challenges face President Xi and the CCP as they juggle internal issues with an enduring focus on global dominance. And what might this mean for investors? Chris Johnson, one of the world's foremost China experts and former CIA analyst, shares his views on the start of Joe Biden's presidency and how geo-political forces may shift again.

Never miss an episode
New episodes of 'Magellan - In The Know' will be published on the last Tuesday of each month. We seek to bring you timely, unique and thought-provoking insights to help you make sense of today's investment landscape. We will connect with colleagues and outside experts, including CEOs of stocks we hold and leading global consultants in economics, politics and risk. Click follow to be the first to receive it each month.
---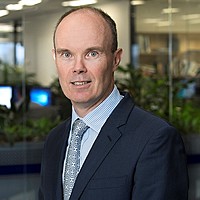 Chairman, CIO and Lead Portfolio Manager
Magellan
Hamish Douglass is Co-Founder, Chairman and Chief Investment Officer of Magellan Financial Group, and Lead Portfolio Manager of Magellan's Global Equity strategies.
Expertise