The Words of 2019: "Flygskam" & "Tågskryt"
---
For the lexophiles (yes this is a thing) amongst us, it's not the sell side research forecasts for the upcoming year ("cautiously optimistic with expected equity returns of 9%" – repeat yearly) that gets the heart racing into year end, rather it's the selections of the words by dictionaries that defined each year for "word of the year". 2017 saw "Fake News" nominated; 2018 saw "gaslighting" and 2019 has seen "Climate emergency" nominated by that well known left leaning institution, the Oxford Dictionary.

I'd like to add my picks: "Flygskam" & "Tågskryt"
"Flygskam" is a made-up Swedish word that roughly translates to "flight shame" and my contender for 2019 word of the year. Very rapidly, at least in Northern Europe, bragging about flying to far off exotic destinations has become a source of shame rather than an Instagrammable boast.
Whilst air travel only accounts for 4-5% of global carbon emissions, it's growing rapidly as there is a strong relationship between income and number of flights taken. But it is also very hard to substitute fossil fuels out in the way that electricity generation or road travel can substitute. As such it presents a challenge to addressing the growing emissions.
Airlines have also benefitted from the fact that taxing jet fuel has historically been difficult. Jet fuel has a tax exemption under the 1944 Chicago Convention which means you can't tax international air kerosene at local taxes so governments can't tax inbound fuel so airlines were always able arbitrage away the lowest fuel prices.
But your flying habits are the largest single emissions of carbon most individuals make in a year and people are becoming very aware of this now. It's also a discretionary choice in many circumstances.
Don't believe me on this idea of a Flygskam effect? In UBS's Evidence Lab series of data analysis, a survey of 1,200 UK citizens this month showed 37% said the climate emission implications of their holiday would influence their destination choice. This number rises to 47% amongst the 18-34 demographic. Further 50% said they would avoid flying due to carbon emissions. Bookings for rail travel in Sweden are up substantially over the last year. And yes, there's a word for this as well – "Tågskry" or "Train brag".
Swedish train traffic growth vs airport traffic
Source: Morgan Stanley
Morgan Stanley estimates that up to 25% of European short haul air traffic is at risk of being substituted. The threat to airports is even greater with 69% of traffic at risk. And this isn't just leisure travel. With companies now reporting their CO2 emissions, pressure will increase to reduce unnecessary corporate travel.
Even if the concept of "flight shame" doesn't move beyond a niche, it is sparking a debate about how to tax air travel. A flat tax on air travel is particularly regressive (i.e. it hurts lower income earners) as the flat dollars affect the wealthy very little and they are the biggest users of air travel. In the UK there has been a proposal for families to get a "voucher" for a certain amount of carbon-tax free air travel each year. You'd put the voucher code in when you do the booking. If you want to travel more, you'd have to buy vouchers off other people or pay more in tax.
All the above has the most relevance for short haul airlines, like Ryanair or Easyjet in Europe, as taking the boat to Australia remain impractical. Morphic has been short some of these short haul airlines, though for a variety of other reasons, but this is a large ESG consideration.
But you should also know it's also a risk to your superannuation: Australian super funds have been some of the biggest buyers of airports globally for their infrastructure funds. Nearly every model I have seen of airport traffic growth extrapolates out historical growth in air travel. The above chart, whilst only for the last 2 years, should give some pause for consideration.
We'd written before about "being the toaster" of change. The idea that your individual choices can alter the outcomes in a capitalist world where companies do respond to changes in consumer behaviour. In a year of depressing climate news, it is helpful to remind readers that their choices, like their votes, do matter. 
Never miss an insight
Morphic is a Sydney-based investment manager that has a strong record for delivering high risk-adjusted returns from investing in global equities in a way that doesn't harm the environment, society or people. Stay up to date with my latest thoughts by clicking the follow button below. 
---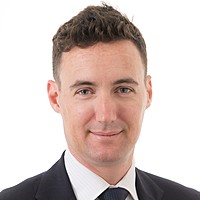 Co Head Global Equities (ex-Asia)
Ellerston Capital
Chad co-founded Morphic Asset Management in 2012. As a stock picker Chad is also a generalist but has strong regional knowledge of Europe and the Americas. He has also been awarded the CFA Charter.
Expertise