There is no dotcom bubble in tech stocks
---
For some years, commentators have been comparing the thundering run in technology stocks to the dotcom bubble of the 1990s.
For the past three years, technology has outperformed all other sectors, as promising new technologies have captured investors imaginations.
But comparisons of the present day to the dotcom era are arguably misguided. And claims that technology stocks are in a dotcom-style bubble are most likely wrong.
Today's tech rally vs dotcom
The first difference between the two eras is the strength of the tech rally. Simply put: the dotcom rally in technology stocks was far more powerful than today's. Had you invested $1 into the S&P 500 Information Technology Index, the major gauge of US tech stocks in June 1997, it would have turned into $3.20 by March 2000—a whopping 320% return in just two and half years.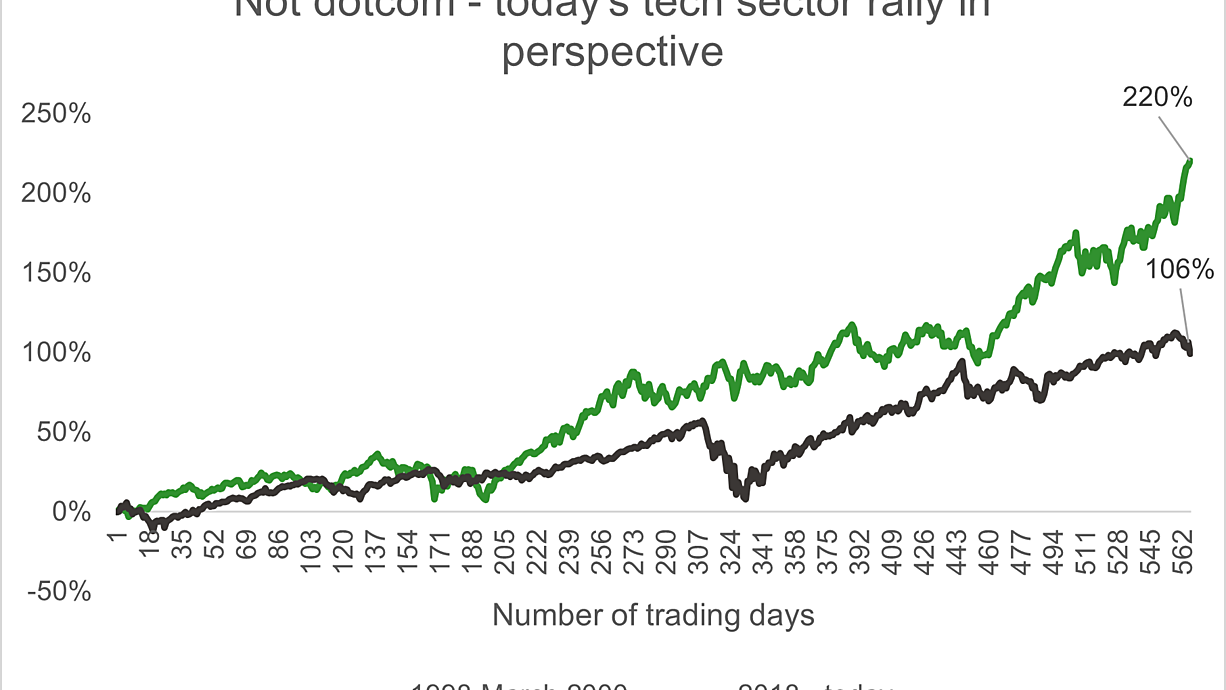 Source: Bloomberg, (Data from 1/1/1998 - 1/3/2000 and 26/11/2018 - 25/02/2021)
Had you put $1 into the index in mid-2018, it would have turned into $1.99 by the end of February 2021—thanks largely to the coronavirus driving up the value of technology stocks. That is still a very handsome return of 99%. But it pales in comparison to the dotcom era.
We see the same thing when we look at specific companies. Microsoft, Amazon and Apple were three of the major drivers of the dotcom boom. In the 1990s, the market judged them to be world-leading tech companies, with profits swelling well into the future (a correct conclusion, as things turned out). By all appearances, the market is making the same conclusion about these three companies today.
But again, we can see that the rally in these three sector-defining businesses has been weaker. And weaker despite Microsoft, Amazon and Apple being better businesses today – stronger profits, fewer competitors, more diversified – than they were in the 1990s. And despite interest rates being much lower today.
We can also contrast the "darlings" of each era. In the dotcom era, Qualcomm, Cisco and Oracle were among the darlings. They were great businesses then; they are still great businesses now. Today, the "FANGs" – Facebook, Amazon (again), Netflix, Google – are said to be the companies of our time.
But here again, the dotcom boom was very different. Qualcomm, Cisco and Oracle – and the rally they enjoyed – was of an order of magnitude greater than Facebook, Netflix and Google's. In fact, Facebook and Google have underperformed the tech sector index over the past two and five years. It is hard to see any dotcom-style boom in these businesses today.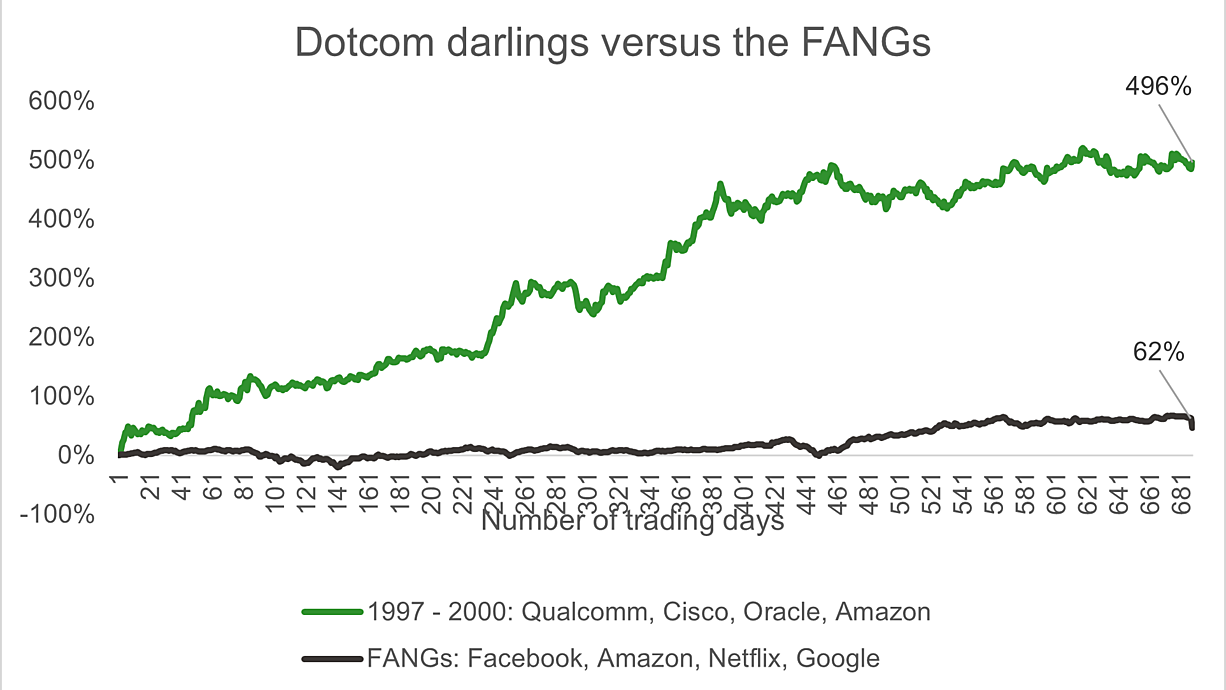 Source: Ycharts, (Market weighted price return. Dates from 2/6/1997 - 28/2/2000, and 4/6/2018 - 26/2/2021)
Dotcom era lesson: valuations matter
While it is hard to see a dotcom-style bubble in technology today, the lessons of that era still apply. The first is that when rallies are too strong, a correction can follow. The second more important lesson is valuations matter. During the late 1990s, the revenue and profits of tech companies were growing rapidly. In five years leading up to 2000, the earnings of Qualcomm, Oracle, Cisco, Intel, Microsoft and other tech leaders more than quadrupled.
But investors got too optimistic. They projected these profits too far into the future. As the rally peaked in early 2000, Oracle, Cisco and Qualcomm were all on triple-digit price-to-earnings ratios and double-digit price-to-sales ratios. These valuations may have been justified on a very long-term outlook. (Qualcomm and Oracle went on to exceed their 2000 peaks). But they proved unsustainable in the following decade.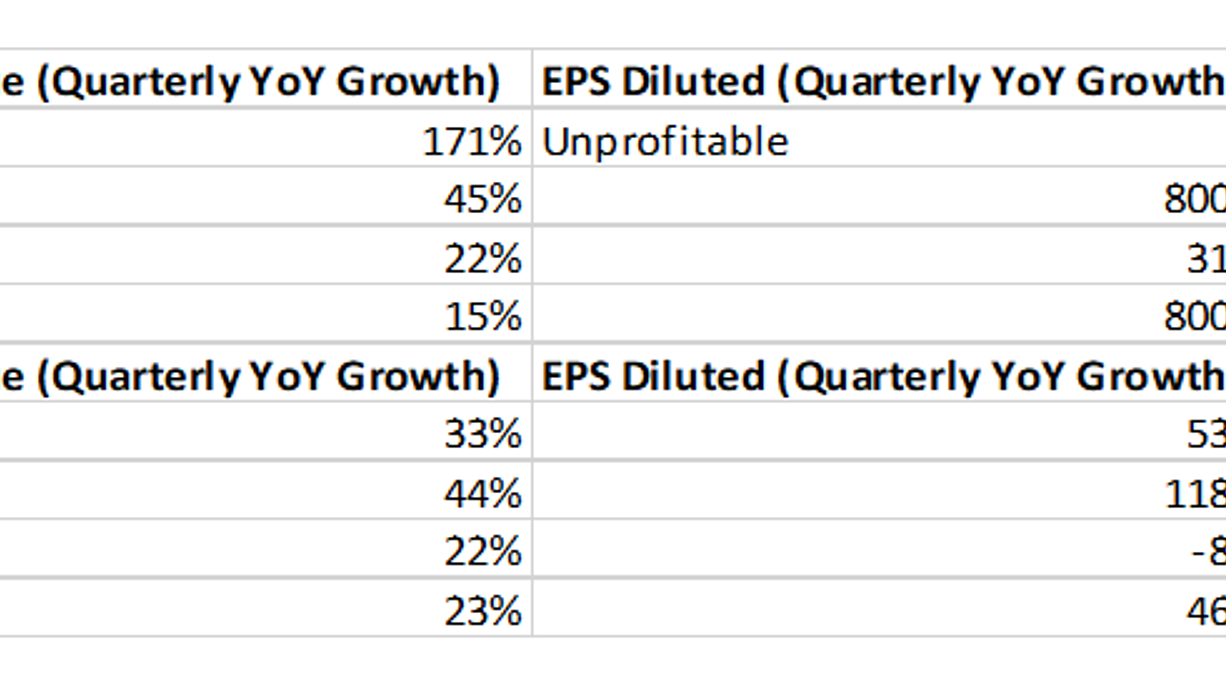 Source: Ycharts

Today by contrast tech stocks are on far more modest valuations. Suggesting that many investors have taken the lesson about valuations to heart. And perhaps suggesting that investors can become suspicious these days when tech stocks rally strongly (which could also explain the headlines).
Investing in technology today
Any technology investor should exercise caution when making stock selections – especially after a long rally. Caution is something that we have built into our own tech ETF, which takes a different approach to garden a variety of market-weighted ETFs.
Our tech fund –ETFS Morningstar Global Technology ETF (TECH) – uses a valuation filter to exclude overvalued companies. When picking tech stocks Morningstar's team of researchers, who control the index, remove companies that they believe are overvalued. They look at many valuation metrics, including price-to-earnings, price-to-sales and monitor them continuously. As such, stocks that are on dotcom-style 100+ PE ratios almost never make the cut.
How technology companies fare as the global economy "reopens" from the coronavirus we will have to wait and see. But for now, at least, it seems the lessons have been learned and tech stocks are safe from a potential bubble.
Access a range of opportunities
ETF Securities offer a range of ETFs across asset classes, regions, sectors and themes for your investment portfolio. Click the 'FOLLOW' button below for more of our insights.
---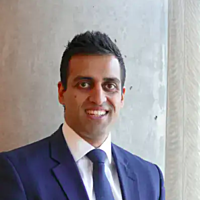 ETF Specialist & Head of Distribution
ETF Securities
Kanish Chugh is responsible for distribution covering sales and marketing strategy for institutional, intermediary and retail clients. He joined ETF Securities in 2015 and has previous experience with Fidelity International, BlackRock and...
Expertise