Three reasons why diamond miner Lucapa could sparkle this year
---
Gem production is ramping up successfully at Lucapa's Mothae mine in Lesotho, the first international tender for its Lulo alluvial diamonds closes on January 31 and results from its exciting Brooking diamond project in WA are due any day. Plus, Macquarie names Bellevue Gold as its pick of the explorers.
There is no surprise in seeing Lucapa Diamond Co (LOM) starting to wriggle higher as 2019 begins to unfold.
The African diamond producer and WA diamond explorer had been friendless for some time on the broader thematic that diamond prices were under pressure because as the ultimate item of discretionary expenditure, buying a diamond had become harder to justify for the down-trodden.
The truth is though that Lucapa's African wonders aren't for the down-trodden anyway. They are for those who can and always have been able to afford to pander to their expensive tastes by buying only top-end stones.
Still, that natural price protection has not exactly protected Lucapa from the general sell-off in what few listed diamond stocks are out there. What was a 28c stock back in June last year got as low as 17c in December.
But in the opening weeks of the new year it has started to wriggle higher and is now trading at 19c.
There are good reasons for the stock's re-awakening, all which are covered in detail in the company's December quarter report, released to the ASX this week.
What has clearly aroused the market's interest in the stock is the fact that Lucapa has an abundance of near-term likely market-rerating events ahead.
There are three of them, not the least of which is that Lucapa has recently commissioned its second mine – Mothae in Lesotho. It looks to be well on its way to achieving nameplate capacity.
Mothae is important to valuations of Lucapa because the project is based on a stock exchange-compliant resource of more than 1 million carats (to a depth of 300m) with an average modelled value of $US1,063 a carat.
So assuming the commissioning continues to go well – early production has been at twice the predicted average grade – it will deliver greater certainty in production/earnings than can be expected from the company's Lulu alluvial diamonds operation in Angola.
Lulu itself is going along nicely but there is upside to come from the way its diamonds are sold. Previously, sales of the premium diamonds were conducted though a state-controlled system. But in a commendable effort to improve transparency, Angola is now allowing sales by international competitive tender.
Lulu will be the first with a competitive bid sale, which is due to close of January 31. The expectation, put politely, is that the competitive tenders will generate higher sales prices for Lulu roughs than would have otherwise been the case.
The third near-term catalyst for Lucapa is the release of the first bulk sample results from its exciting Brooking diamond project in Western Australia's remote West Kimberley region.
It's where drilling has somewhat amazingly returned large numbers of micro and macro diamonds from drill core at the Little Spring Creek discovery.
Lucapa followed up in the December quarter by taking a bulk sample to get a better fix on whether it was on to a commercial proposition. The high clay content has meant the process of producing a heavy mineral concentrate and then "picking" out the diamonds has taken longer than first thought.
But the results are not far off now and could well excite the market.
Euroz highlighted the strong newsflow from Lucapa following the December quarter report. It has a 61c price target on the stock.
Bellevue is Macquarie's explorer winner 
The research crew at Macquarie have just released their annual "thematic" tome on the global precious metal developers and explorers. A fine piece of work it is too.
Today's interest is in which stock Macquarie picked as its top global explorer, the emphasis being on global.
Bellevue Gold (BGL) has won the day. Managing director Steve Parsons and the mining investor with the biggest smile in the business, Tolga Kumova with his 10% stake in the company, will be pleased.
They might well celebrate with a nip of Starward single malt whisky.
Yesterday, Kumova said he can't wait for the pending resource upgrade at Bellevue's namesake project, 40km north of Leinster in WA on the Wiluna-Norseman gold belt.
Others seem to be thinking the same as Bellevue has started off the new year on a bit of tear, rising from 41c to 49.5c for a market cap of $220m.
Bellevue is the old high-grade mine that was forgotten about for 20 years before Parsons came along and took a punt that the old girl had more to give.
And it has done just that, with last year's discovery of the Viago lode (550,000oz at a spectacular 22/g/t gold) carrying the resource base to 1.04Moz at 12.3g/t.
Based on the exceptional rate that Bellevue has grown the resource to date, the market reckons there is good potential for the resource to grow to 1.5-2Moz, maybe more.
Macquarie did not say that. But it did say that its expects Bellevue to "deliver a resource upgrade in early 2019 given the strong drilling results post the previous resource cut off."
"We also anticipate consistent news flow from exploration activities, particularly as Bellevue tries to define the extents of the high-grade Viago system," Macquarie said.
"Bellevue has only recently been defining extensions to the previously mined Bellevue system and we believe this could also add further to resources over 2019."
Macquarie has a 70c price target on the stock, which is based on a development "scenario" for Bellevue that envisages a 1Moz mining "inventory'' at 10.8g/t producing 116,000oz annually for an initial 8.5 years at an AISC of $A840/oz.
It assume $105m in capex for a 350,000tpa process plant and supporting infrastructure. Having said that, Macquarie is no different to others in thinking that Bellevue is a prime takeover candidate.
"We believe Bellevue to have strong acquisition potential given the project's high-grade and proximity to a sealed highway."'
Canaccord pondered the same thing back in October (its mining scenario was a 500,000tpa operation yielding 150,000oz annually from early 2021 at an AISC of $A850 an ounce for an initial 5.5 years).
It noted that there were half a dozen or so treatment plants owned by others within 200km of Bellevue, presumably all of which would welcome the boost that would come from blending Bellevue's high-grade ore with their own.
Canaccord nominated Gold Fields and Saracen as the most likely acquirers.
Talking about M & A . . .
Macquarie reckons there could well be a wave of M & A in 2019 for the "fewer quality" development plays out there globally.
It is recommending investors take a basket approach and buy all of its top picks, which would be good for business, if investors were to follow through.
There are eight of them in its basket, of which three are Aussies – Gold Road (GOR), West African (WAF) and Dacian (DCN).
---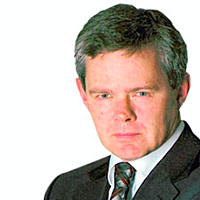 Principal
Independent Journalist
One of Australia's leading business journalists, Barry FitzGerald, highlights the issues, opportunities and challenges for small and mid-cap resources stocks, and most recently penned his column for The Australian newspaper.
Expertise