"The emerging evidence suggests that the fall in global and UK GDP in 2020 Q2 will be less severe than set out in the May Report. Although stronger than expected, it is difficult to make a clear inference from that about the recovery thereafter" BoE 18 June 2020.
The Bank of England (BoE) left official interest rates at 0.1% at its June meeting last night, as widely expected. It also met the market's hopes for more support via quantitative easing (QE), adding a further GBP 100 billion to its bond-buying program. But it negatively surprised by announcing its intention to reach a stock of GBP 745 billion of bonds by "the turn of the year". This target implies a much slower weekly pace of GBP 5 billion compared to the current GBP 14 billion. Moreover, purchases of corporate bonds look likely to be exhausted within the next month or so.
Like the Reserve Bank of Australia (RBA), the BoE appears keen to slow its purchases of bonds. After more than AUD 40 billion in April, the RBA bought just AUD 10 billion of bonds in May, and has largely stopped its QE program (for now). One could argue yields are already pretty low…the UK's 10-year gilt is 0.22% (up 3 basis points overnight) and the Aussie 10-year bond is 0.88%. And while no one is suggesting the near-term economic outlook is good, both the RBA (last week) and now the BoE are suggesting Q2's growth contraction may be 'less severe' than they thought back in May.
But, of course, a less severe Q2 collapse (which is still a collapse) is very different from returning to normal. Not only has the UK been one of the hardest hit countries in terms of its COVID-19 experience, but its economic performance has also been relatively weak. In our rather loosely-related chart today, we highlight the slow recovery in UK activity. Relative to the rest of Europe, the return of people to public transport (an indicator of the population's confidence in exiting hibernation and getting back to work) is glacial compared to an already very U- (not V-) shaped recovery in the rest of Europe, where Germany (as it is doing in foot traffic and auto traffic congestion) is leading.
Public transport traffic—UK underperforming Europe post COVID-19
Source: UBS Evidence Lab, Moovit End date 16 June 2020.
Follow our daily updates
We share Crestone Wealth Management views on a range of macro topics that we're watching. Click the 'FOLLOW' button below to be the first to hear from us.
........
General advice notice: Unless otherwise indicated, any financial product advice in this email is general advice and does not take into account your objectives, financial situation or needs. You should consider the appropriateness of the advice in light of these matters, and read the Product Disclosure Statement for each financial product to which the advice relates, before taking any action. © Crestone Wealth Management Limited ABN 50 005 311 937 AFS Licence No. 231127. This email (including attachments) is for the named person's use only and may contain information which is confidential, proprietary or subject to legal or other professional privilege. If you have received this email in error, confidentiality and privilege are not waived and you must not use, disclose, distribute, print or copy any of the information in it. Please immediately delete this email (including attachments) and all copies from your system and notify the sender. We may intercept and monitor all email communications through our networks, where legally permitted
---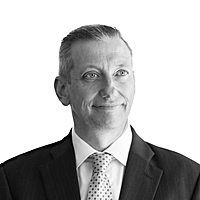 Chief Investment Officer
Crestone
Scott has more than 20 years' experience in global financial markets and investment banking, providing extensive economics research and investment strategy across equity and fixed income markets.
Expertise