Unpacking sustainable business
---
Over the last three decades plastic consumption has quadrupled with 353 million tonnes of plastic waste generated in 2019. While many use cases contribute to these figures the most prolific are consumer packaging (40%), consumer goods (12%) and clothing and textiles (11%). OECD data has found that the COVID-19 pandemic only reduced plastic use by 2.2% as slowing economic activity was largely offset by increased littering of food and takeaway packaging as well as medical equipment like masks.

Plastic is responsible for approximately 3.4% of global greenhouse gas emissions which is 80% more than the aviation industry in 2019. Governments and corporations are becoming increasingly aware that investment in sustainable alternatives will be a crucial step on the path to reaching challenging CO2 reduction targets.
A global sustainability mind-set
Across the world, governments are focused on lowering carbon emissions and meeting their respective targets aligning with the Paris Agreement. Of these 193 signatories, UK has made significant progress towards curbing its reliance on single use plastics. On April 1st 2022 the Plastic Packaging Tax will be applied to imports of packaging that contain less than 30% recycled plastic content. Companies who manufacture or import into the UK more than 10 metric tonnes of packaging over a twelve month period are required to register for the tax. Bulk packaging and imports containing goods such as plastic food and beverage containers will be taxed at a rate of GBP 200 per metric tonne. Similar government responses continue to make headlines around the world.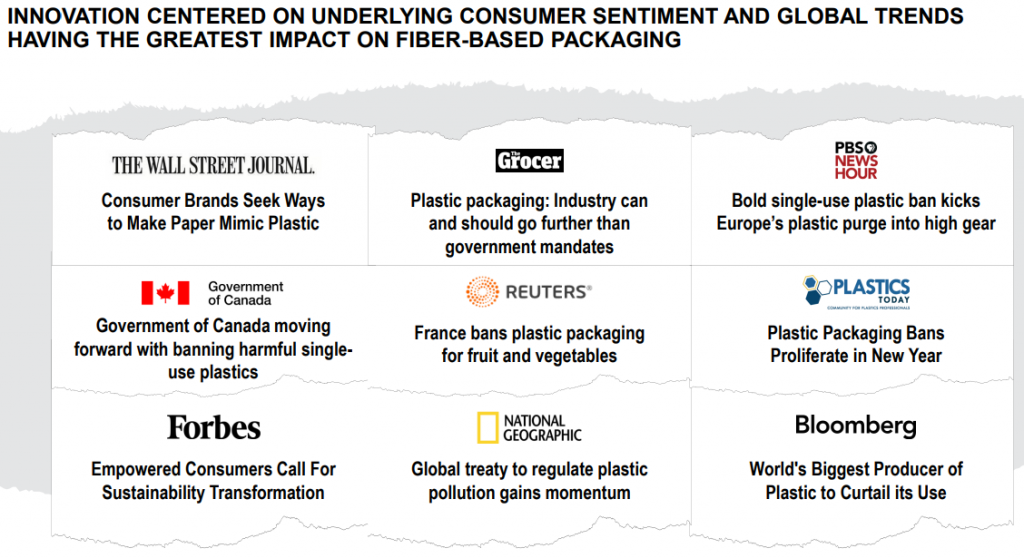 Lifting the lid on the plastic problem

Possible solutions to our plastic addiction include recycled plastics, bioplastics or sustainable fiber-based packaging. Packaging material that can undergo multiple iterations in its useful life will help in the transition to a circular economy.
Plastic recycling poses numerous consumer and environmental challenges as only 15% of plastic waste is collected from the consumer with 9% actually recycled and the other 6% disposed as residues. Of the remaining plastic, 50% ends up in landfill with the rest incinerated or left in the environment. Low plastic recycling rates have been difficult to shift and are caused by a lack of consumer awareness, volatility in the price of scrap plastic, a lack of scale compared to the virgin plastic industry and an absence of formal waste segregation services across the world.
Bioplastics include those made from agricultural or organic matter and are marketed as biodegradable. Bioplastics are thought to solve the issue of single use plastics left in the environment which can take up to 450 years to break down. 
The European standard for compostable plastics established commonly agreed requirements concerning temperature and timeframe for packaging to be considered biodegradable. These plastics still require industrial composting capabilities to break down and when left in the environment many behave like single use plastics for years. This solution will require significant investment in composting infrastructure and production to achieve the scale needed for economic viability, therefore seems difficult.
Fiber based packaging is produced using reusable, renewable or biodegradable materials including recycled content or natural fibers such as wood pulp. Fiber based packaging is commonly used as a substitute for Styrofoam and single use plastic in the food and beverage, consumer, health and beauty markets.
The global fiber packaging market is well established and has significant economies of scale, reaching $305 billion in 2020. The most environmentally friendly type of fiber based packaging utilises trees from sustainable forests and ethical harvesting practices. These trees are converted into virgin packaging at paper mills and used as cartons, cups and trays. 
Once used by the consumer, these materials can be recycled into new packaging solutions up to five to seven times while maintaining structural integrity. Consumer collection and recycling rates for fiber based packaging are 68%, well ahead of other materials.
Graphic Packaging is the market leader in fiber based consumer packaging in the Americas and Europe. Recyclable products account for 98% of the Company's sales with a clear line of sight to 100% in the next few years. As signatories to the Sustainable Forestry Initiative (SFI) and the Forest Stewardship Council (FSC) Graphic Packaging provide a sustainable forest policy that covers the breadth and depth of their integrated operations. The Company avoids wood or wood fiber that is harvested illegally, in violation of civil rights, harvested in areas where sensitive ecosystems are threatened, harvested in natural forests undergoing conversion to plantations and from forests where genetically modified trees are planted. On top of this, the company remains committed to increasing industry recovery of paper and paperboard in the US to >70%.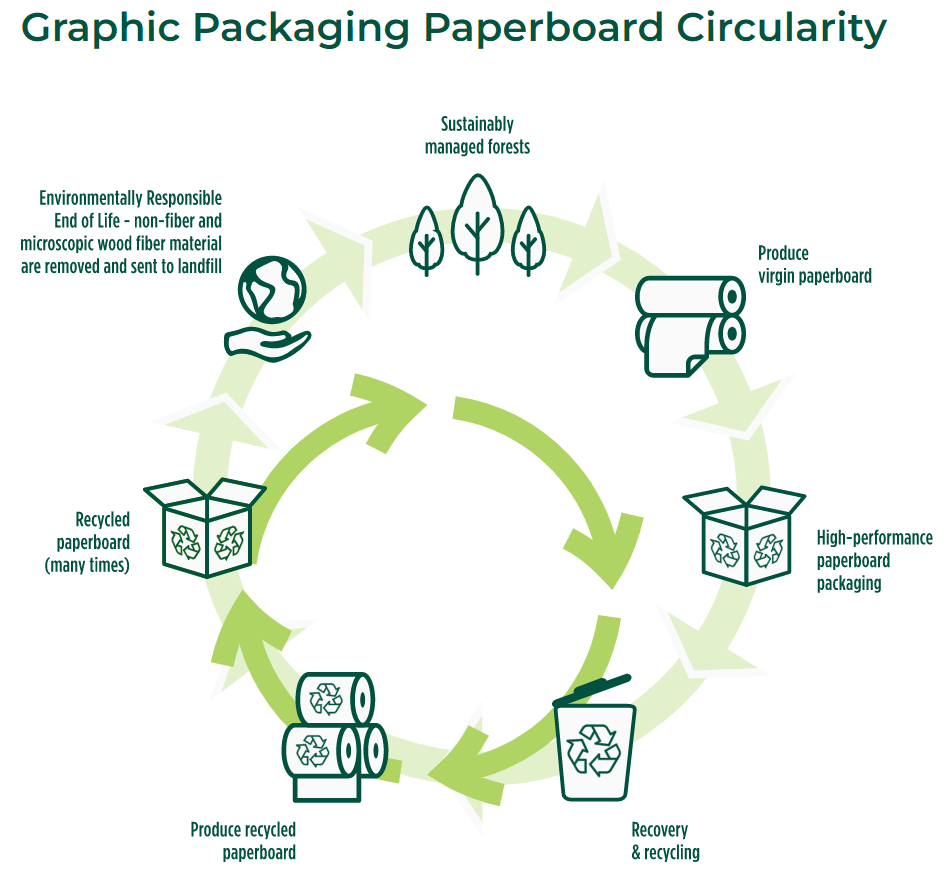 Thinking outside the box

"Consumers want to feel good about the choices that they make and there is increased awareness relative to the social and environmental impact of their choices. Parallel to that, we see the regulatory environment evolving very rapidly. So those two components put together are causing the brand owners and retailers to make choices and to make choices very quickly"

– Ricardo De Genova (SVP of Global Innovation, Graphic Packaging)
Graphic Packaging is capitalising on these trends to deliver innovative solutions to its customers through three key platforms; plastic substitution, strength packaging and cooking solutions. The cornerstone of its plastic substitution platform is the Multi-Pack technology which is targeted at replacing plastic rings and shrink wrap primarily in the beverage industry. In 2019 the company introduced the 'KeelClip' which is a paper fastener that can be run at high volumes and with multiple designs. More recently the company released the 'Cap-It', using the same technology but capable of holding larger bottles and targeted at replacing shrink wrap on water bottle packs.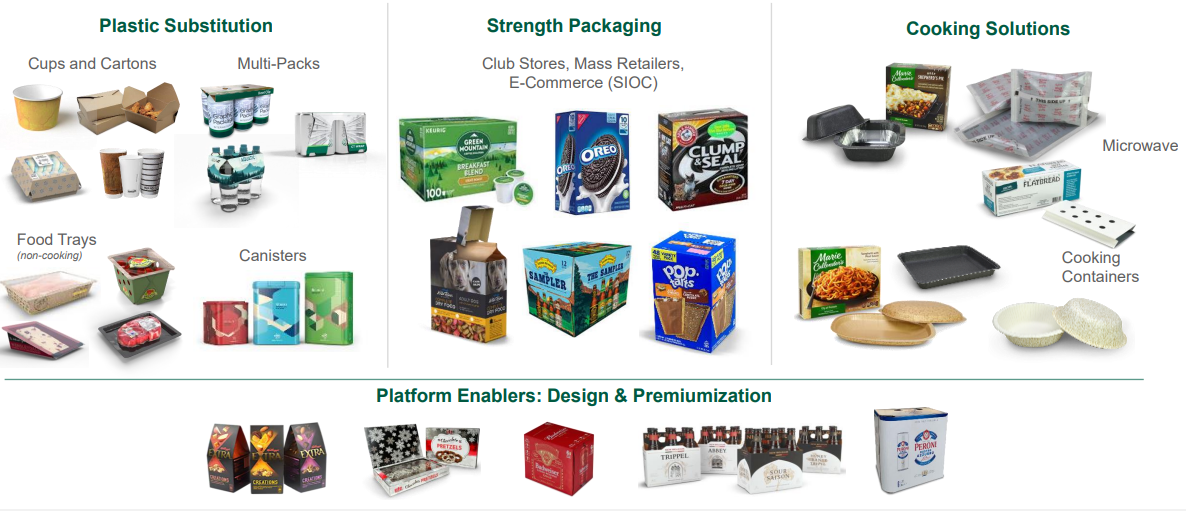 Graphic Packaging's innovative products are also integral in helping its customers meet sustainability targets. A great example is General Mills which is home to some of the most widely purchased and recognised brands in the supermarket including Cheerio's, Yoplait and Nature Valley. General Mills is working to ensure 100% of its packaging is recyclable or reusable by 2030. Since 2020, General Mills has also sourced 100% of its fiber packaging from recycled material and virgin wood fiber from regions with low deforestation risk. The solutions from Graphic Packaging meet this criteria while also guaranteeing structural integrity and high quality barrier properties. Achieving barrier properties on paper packaging is typically achieved with a thin film of plastic coating. Graphic Packaging have introduced the OptiCycle range of non-PE coated solutions targeted at the foodservice market where the use of Styrofoam is prevalent.

Solving the problem of single use plastics is no easy task. Bioplastics represent some of the more recent developments in the space but lack the scale, consumer understanding and critical infrastructure to make a meaningful difference to the environment. In contrast, Graphic Packaging has all of these winning qualities as the market leader in fiber based packaging and is well positioned to serve its customers' environmental and commercial demand for years to come.
This blog was written by Kelsey Bentley, Ellerston Global Investment Analyst
Access global companies that you won't find in most portfolios
We manage a concentrated global equity portfolio with a mid/small cap bias based off the highest conviction ideas from a filtered universe of securities that we feel are in a period of 'Price Discovery'. To learn more, please visit our website. 
Never miss an update
Enjoy this wire? Hit the 'like' button to let us know. Stay up to date with my current content by
following me
below and you'll be notified every time I post a wire
Welcome to Livewire, Australia's most trusted source of investment insights and analysis.
---
To continue reading this wire and get unlimited access to Livewire, join for free now and become a more informed and confident investor.
---
---
Bill is Co-Portfolio Manager for Ellerston Global. He has over 19 years of financial markets experience, previously working for UBS, MMC Asset Management, QIC and Kira Capital. Bill has a Bachelor of Commerce and is a CFA Charterholder.
---
Bill is Co-Portfolio Manager for Ellerston Global. He has over 19 years of financial markets experience, previously working for UBS, MMC Asset Management, QIC and Kira Capital. Bill has a Bachelor of Commerce and is a CFA Charterholder.
Expertise
Bill is Co-Portfolio Manager for Ellerston Global. He has over 19 years of financial markets experience, previously working for UBS, MMC Asset Management, QIC and Kira Capital. Bill has a Bachelor of Commerce and is a CFA Charterholder.
Expertise