US COVID-19 cases continue to rise…what does this mean for the recovery?
---
Global COVID-19 cases crossed the 10 million milestone over the weekend (and global deaths have almost breached 500,000). New cases averaged 70,000-80,000 per day during April and May but have jumped to around 175,000 per day in the last week of June. While many of the previously inflicted countries have now shown good progress in getting the virus under control (Europe, UK, North Asia and China), cases have continued to accelerate in parts of the emerging markets (Brazil, India and South Africa) and to re-accelerate rapidly in the US.
Of the roughly 175,000 new cases per day over the past few days, 100,000 (almost 60%) are coming from just the US, Brazil and India. As UBS shows in the chart for the US below, "States are diverging; 25 states are showing declining Covid cases, while the others are showing rising new cases". FactSet discusses several media articles reporting that the White House "is not concerned about recent uptick in infections, has no plans to change its strategy, and remains focused on reopening the economy." But while renewed lockdowns have not begun, some states, such as Texas, Florida and Arizona, are 'dialling back' their reopening pushes and re-closing some hospitality sectors.
As CBA has argued, "short, isolated, lockdowns are much less costly to the US economy than months-long, national-wide, lockdowns…the top five city agglomerations in states with high infection rates together account for [only] 13% of US GDP" . The next few weeks will be key to see whether the US (25% of new cases and deaths) can get this under control as other countries have. But as we have noted previously, while the initial phase of economies moving from 'stop' to 'go' can deliver V-shaped data recoveries at first, the constrained nature of re-opening aligns more to a U-shaped recovery. A cleaner, solid, economic recovery through Q4 and into 2021 remains our central case.
US states diverge—50% improving, 50% deteriorating
Source: Census, New York Times, UBS.
Follow our updates
We share Crestone Wealth Management views on a range of macro topics that we're watching. Click the 'FOLLOW' button below to be the first to hear from us
........
General advice notice: Unless otherwise indicated, any financial product advice in this email is general advice and does not take into account your objectives, financial situation or needs. You should consider the appropriateness of the advice in light of these matters, and read the Product Disclosure Statement for each financial product to which the advice relates, before taking any action. © Crestone Wealth Management Limited ABN 50 005 311 937 AFS Licence No. 231127. This email (including attachments) is for the named person's use only and may contain information which is confidential, proprietary or subject to legal or other professional privilege. If you have received this email in error, confidentiality and privilege are not waived and you must not use, disclose, distribute, print or copy any of the information in it. Please immediately delete this email (including attachments) and all copies from your system and notify the sender. We may intercept and monitor all email communications through our networks, where legally permitted
---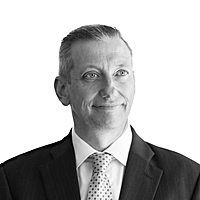 Chief Investment Officer
Crestone
Scott has more than 20 years' experience in global financial markets and investment banking, providing extensive economics research and investment strategy across equity and fixed income markets.
Expertise