US election market impact less than clear
---
"Economics is a choice between alternatives all the time. Those are the trade-offs…I can't think of a president who has been overburdened by a knowledge of economics." - Paul Samuelson, American Economist 1915-2009
US equity markets have been trading in a range around relatively expensive valuations (at least based on the earnings outlook, and less so relative to bond yields). Today, they are less than 10% below their pre-COVID-19 peak. The outlook is buoyed by the US and the rest of the world's return from April/May lockdowns, massive monetary and fiscal support, and prospects for a relatively synchronised global recovery through 2021. The outlook is, however, also challenged by the emerging stop-start return to activity as US authorities (and other countries) struggle to contain renewed outbreaks and the strong likelihood that the Q3 V-shaped growth rebound will morph into a much more restrained U-shaped pick-up thereafter.
There are other risks to the outlook that have the potential to foster significant market volatility during H2 2020, including the as yet uncontained virus outbreaks in the emerging markets (ex-China) and rising geo-political tensions between the US and both Europe and China. And, of course, the most obvious is the 2020 US presidential election, now only a few months away. Former Vice President Joe Biden is the presumptive Democratic candidate to challenge President Donald Trump for the White House in November.
What's clear at the moment is that Trump is well behind in the polls, and if that's all that mattered, the election result would be relatively clear. But a broad range of political analysts still argue the election is closer than it appears (and there's a fair amount of 'time in politics' before polling day). There's also more to market outcomes than just the president. The true closeness of the race appears tied up in the difference between the popular vote and the electoral college voting system, as well as in a number key states that Biden will have to win (such as Wisconsin, Michigan and Pennsylvania). Moreover, while Biden is ahead in these states now, in the prior Clinton/Trump election, actual outcomes proved much closer on polling day. How the economy unfolds will also be key. Who controls Congress may also matter more for policy.
In terms of equity markets, and coming to our chart today from Société Générale, it also appears that how the overall market will respond to a Trump or Biden victory is hard to judge ahead of time. And the timeframe over which one looks is pretty important too. As Société Générale highlights, "historically, ten days after a presidential election, a Democratic victory tended to be less positive for the S&P 500…one-hundred days after the election, a Republican victory tended to be less positive than a Democratic win, if we exclude Barack Obama's first election, which happened during the 2008 financial crisis". Including the GFC, 100 days out, there isn't much difference. The point Société Générale is making is that the state of the economy will matter. Moreover, there ends up being a lot more divergence in stocks and sectors, depending less on who wins and more on the specific policies that are implemented. Sector impacts may turn out to be more important for portfolio performance than the overall index.
For equities—Democrat win bad, Republican win good not supported by history
Source: Société Générale. S&P 500 indexed from election day.
Follow our updates
We share Crestone Wealth Management views on a range of macro topics that we're watching. Click the 'FOLLOW' button below to be the first to hear from us.
........
General advice notice: Unless otherwise indicated, any financial product advice in this email is general advice and does not take into account your objectives, financial situation or needs. You should consider the appropriateness of the advice in light of these matters, and read the Product Disclosure Statement for each financial product to which the advice relates, before taking any action. © Crestone Wealth Management Limited ABN 50 005 311 937 AFS Licence No. 231127. This email (including attachments) is for the named person's use only and may contain information which is confidential, proprietary or subject to legal or other professional privilege. If you have received this email in error, confidentiality and privilege are not waived and you must not use, disclose, distribute, print or copy any of the information in it. Please immediately delete this email (including attachments) and all copies from your system and notify the sender. We may intercept and monitor all email communications through our networks, where legally permitted
---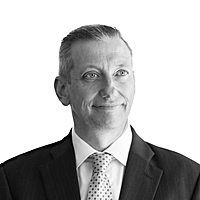 Chief Investment Officer
Crestone
Scott has more than 20 years' experience in global financial markets and investment banking, providing extensive economics research and investment strategy across equity and fixed income markets.
Expertise