US jobs market improving at a slower pace
---
This week's purchasing manager indices (PMIs) across the US, UK, Europe and Australia significantly beat expectations. In the US, the composite measure (services and manufacturing) rose from 37.0 to 46.8, in Europe it rose from 31.9 to 47.5 and, in the UK, it rose from 30.0 to 47.6. As BCA Research notes, "the flash PMIs for June confirm the notion that the global economy is experiencing a quick rebound as activity resumes after prolonged lockdowns".
Of course, technically, being still below 50, this would suggest activity is still contracting in these major economies, just at a markedly slower pace (in contrast to Australia where it actually rose to 52.6). This may seem a little 'glass half full'. There's no doubt there are plenty of indicators now pointing to a clear rebound in activity through late May and June, both in Australia and offshore. Last night's beat for US capex orders (+16% in May after -18% against consensus for +11%) is a good example and a positive sign of a pick-up in activity.
The point is that, while that recovery may look V-shaped in the months ahead, it is likely that a more U-shaped pace will take hold through Q4 and 2021. A hint of that can be found in the labour market data, and particularly in last night's US weekly claims data. New unemployment claims fell from 1.54 million to 1.48 million, much less of an improvement than the consensus for 1.3 million. As our chart today shows, continuing claims (after spiking) are now coming down only a little week by week. That's not to say the data doesn't point to re-hiring…it does. But new flows are continuing, suggesting ongoing economic pressure in some sectors (and the virus outbreak has lifted new claims in some key US states).
So, while there is clearly a 'V' evident in the PMIs and other activity data, there is a much slower 'U' unfolding in the jobs market. The still present pandemic and threats of reacceleration (as is evident in Victoria and some regions offshore) has the potential to punish some sectors for an extended period (well in to 2021), as reflected in the announcement by Qantas yesterday to lay off 6,000 workers.
US continuing unemployment claims coming down only slowly
Source: Tradingeconomics.com, US Department of Labor
Follow our daily updates
We share Crestone Wealth Management views on a range of macro topics that we're watching. Click the 'FOLLOW' button below to be the first to hear from us
........
General advice notice: Unless otherwise indicated, any financial product advice in this email is general advice and does not take into account your objectives, financial situation or needs. You should consider the appropriateness of the advice in light of these matters, and read the Product Disclosure Statement for each financial product to which the advice relates, before taking any action. © Crestone Wealth Management Limited ABN 50 005 311 937 AFS Licence No. 231127. This email (including attachments) is for the named person's use only and may contain information which is confidential, proprietary or subject to legal or other professional privilege. If you have received this email in error, confidentiality and privilege are not waived and you must not use, disclose, distribute, print or copy any of the information in it. Please immediately delete this email (including attachments) and all copies from your system and notify the sender. We may intercept and monitor all email communications through our networks, where legally permitted
---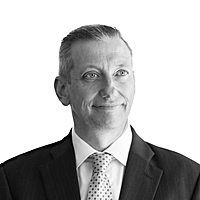 Chief Investment Officer
Crestone
Scott has more than 20 years' experience in global financial markets and investment banking, providing extensive economics research and investment strategy across equity and fixed income markets.
Expertise