US jobs market is improving
---
US data overnight continued to signal a record drop in Q2 growth ahead after Q1's already weak -5.0% result (revised overnight from -4.8%). Durable goods orders—a leading indicator of capex—fell 17% in April and pending home sales fell 21% in April. Consensus is currently targeting a 32% drop (annualised) for Q2 growth, while the Atlanta Fed Nowcast points to -40.4%. The first look at US Q2 growth is not due until 30 July, hanging over our heads until then!
In the meantime, attention will focus on data looking beyond Q2. One of UBS's favourite current indicators is railcar shipments which, after cratering through early April, is now showing signs of a turn-around. According to UBS, this suggests "that the industry with the greatest weakness—autos—is beginning to recover in May". Another leading indicator is jobless claims. Last night, the weekly unemployment claims 'eased' to 2.12 million new lodgings. While this was broadly in line with expectations, it marked the eighth consecutive week that claims have fallen.
However, we frequently see quoted the fact that, since COVID-19 crunched through the US economy, there have been 40.7 million unemployment claims lodged. The current 14.7% unemployment rate in the US represents 23.1 million unemployed workers, so if we are heading to over 40 million, then that suggests the unemployment rate spikes to over 25%. This is unlikely because the sum of new claims is a flawed statistic.
What is important is not the sum of each week's new claims, but the running total of 'continuing claims'. Last night, this fell for the first week since the pandemic began from a record high of 24.9 million to 21.1 million (better than expected and below April's unemployment level). This confirms that, despite still high weekly flows into unemployment, there is now an accelerating flow out of unemployment, which UBS suggests reflects both "re-employment" (likely helped by the US's own 'JobKeeper'-type program), as well as the easing of lockdown restrictions across a number of states.
Bottom-line, despite the two months we have to wait to see just how horrific Q2 GDP will be in the US (and elsewhere), evidence of the stabilisation in the US jobs market is already beginning to accumulate, consistent with a rebound in activity (even if moderate) in H2 2020.
Signs of improvement in the US jobs market accumulate
Source: Department of Labor, UBS.
Be the first to know
We share Crestone Wealth Management views on a range of macro topics that we're watching. Click the 'FOLLOW' button below to be the first to hear from us.
........
General advice notice: Unless otherwise indicated, any financial product advice in this email is general advice and does not take into account your objectives, financial situation or needs. You should consider the appropriateness of the advice in light of these matters, and read the Product Disclosure Statement for each financial product to which the advice relates, before taking any action. © Crestone Wealth Management Limited ABN 50 005 311 937 AFS Licence No. 231127. This email (including attachments) is for the named person's use only and may contain information which is confidential, proprietary or subject to legal or other professional privilege. If you have received this email in error, confidentiality and privilege are not waived and you must not use, disclose, distribute, print or copy any of the information in it. Please immediately delete this email (including attachments) and all copies from your system and notify the sender. We may intercept and monitor all email communications through our networks, where legally permitted
---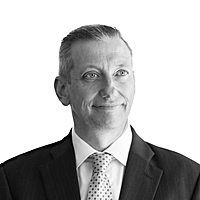 Chief Investment Officer
LGT Crestone
Scott has more than 20 years' experience in global financial markets and investment banking, providing extensive economics research and investment strategy across equity and fixed income markets.
Expertise