"My expectations were reduced to zero when I was 21. Everything since then has been a bonus." Stephen W. Hawking, 1942-2018
A number of risks to the outlook have drifted onto the radar in recent weeks, from a renewed rise in COVID-19 cases in a few US states, to the uncontained spread of the virus through a number of large emerging markets, as well as the geo-political risks surrounding US President Trump's underperforming election polling that could foster a rise in trade tensions as the US election approaches. Over the past 24 hours, tensions on the Korean peninsula have also, once again, heated up.
Despite this, last week's decline in risk appetite, leading equities, oil and other risk assets weaker (and seeing bond yields retrace) is now being chipped away. Positive policy developments have helped, particularly the US Federal Reserve's additional support for corporate bond markets announced on Monday, as well as overnight news of another potential drug to mitigate COVID-19's fatality rate. Most positively, however, is that we seem more clearly to be entering the phase where catastrophic data (mostly for Q2 2020) starts to become less catastrophic!
Overnight, US May retail sales dramatically beat expectations, rising 18% compared with 8-9% expected, suggesting that "the reopening is happening faster than we anticipated, and households are spending as if they do not see permanent damage to incomes", according to UBS. This is a bit of a challenge to our thesis that the consumer will recover much more gradually than industrial activity. In Australia, yesterday's payroll data showed a 1% rise in jobs through May (about 120,000), suggesting the worst has passed here too, despite a further likely jump in job losses and unemployment rate in the more lagged official May data due Thursday.
Of course, the key characteristic of a 'square-root'-shaped recovery is that after an initial V-shaped rebound, activity sets off on a slower-than-expected path, as rigidities around re-starting businesses, lagged insolvencies, elevated unemployment and changed consumer behaviour weighs. For now, the better economic data is lifting near-term growth expectations. As today's chart shows, the Atlanta Fed Nowcast, we are now seeing Q2 GDP figuring trending higher (led by the actual data), with the latest print post US retail sales rising from -55% to -45%. The shape of the recovery, and sustainability of rebounding data, remains a key uncertainty for the outlook.
Atlanta Fed Nowcast for US Q2 growth lifts from -55% to -45%
Be the first to know
We share Crestone Wealth Management views on a range of macro topics that we're watching. Click the 'FOLLOW' button below to be the first to hear from us.
........
General advice notice: Unless otherwise indicated, any financial product advice in this email is general advice and does not take into account your objectives, financial situation or needs. You should consider the appropriateness of the advice in light of these matters, and read the Product Disclosure Statement for each financial product to which the advice relates, before taking any action. © Crestone Wealth Management Limited ABN 50 005 311 937 AFS Licence No. 231127. This email (including attachments) is for the named person's use only and may contain information which is confidential, proprietary or subject to legal or other professional privilege. If you have received this email in error, confidentiality and privilege are not waived and you must not use, disclose, distribute, print or copy any of the information in it. Please immediately delete this email (including attachments) and all copies from your system and notify the sender. We may intercept and monitor all email communications through our networks, where legally permitted
---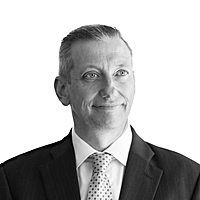 Chief Investment Officer
Crestone
Scott has more than 20 years' experience in global financial markets and investment banking, providing extensive economics research and investment strategy across equity and fixed income markets.
Expertise