US retailer, Target experiencing strong earnings tailwinds
---
Target is experiencing strong earnings tailwinds that remain underappreciated by the market. The US consumer remains a bastion of strength. Unemployment is touching 50-year lows and new job creation remains strong, so it's not surprising to see that consumers are feeling good and consumption is booming.  Retail sales in July jumped to +6.4% y/y.
Strong demographics and new household formation are likely to further support growth of budget conscious consumers for years to come. For example, the key 35-44yr demographic, which buy houses and start families, has only just inflected back to growth in 2017, after 14 years of decline.  
Online disruption has meant that physical stores are generally being closed in significant numbers, but not all of this business will move online and survivors will likely gain share. Target has refreshed its stores, improved ranges and invested in online fulfilment to adapt to changing consumption patterns.
Second quarter comps (+6.4% y/y) were the best in 13 years and online sales were exceptionally strong at +40% y/y.  Guidance suggests a deceleration in the second half to +4.8%, which appears overly conservative.  Fixed cost leverage means that margins will also likely improve from here.  
The business has undergone a significant strategic shift, which is only just beginning to gain traction. This puts it in an excellent position to capitalise on a resurgent US consumer.  Trading on a PE of ~16x, Target remains reasonably priced relative to the potential earnings opportunity.  It also generates strong cash flows, even after a significant reinvestment in its business, and offers a dividend yield of close to 3%. 
---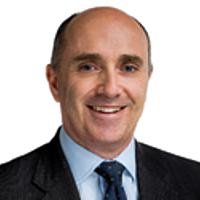 Global Portfolio Manager
Alphinity Investment Management
Jeff is a Global Portfolio Manager of Alphinity Investment Management. His focus is on the Banks, Insurance, Property and Consumer Staple sectors, as well as portfolio management oversight. Jeff worked as a global fund manager at K2 Asset...
Expertise