Value amongst volatility; investing in Russia
---
In this episode, David is joined by Mattias Westman & Akshay Bhutiani of Prosperity Capital Management. A fund manager that focuses on investing in public companies across Russia and former USSR countries. They discuss the opportunities that this region provides to investors, citing examples of companies offering 20% yield whilst trading at three times earnings. Mattias and Akshay also discuss their thoughts on the current tensions between Russia and Ukraine, as well as why Mattias believes the likelihood of these tensions actually escalating to an invasion of Ukraine is low.
Mattias Westman is based in London, but shares his time between London and Moscow. He has been investing in Russia since 1993 and lived in Russia full-time from 1997-2004. Mr Westman was a co-founder and Deputy Chairman of Russia's Investor Protection Association. He has also served on the board of numerous Russian companies - including Lenenergo and Magnit. Mr Bhutiani joined PCM in 2008 as the firm's first intern and continued as a member of the team throughout his final year of university, assuming a full-time role upon graduation. He is a member of the investor relations team and has broad-ranging responsibilities for marketing and client services across PCM's investor base.
Not already a Livewire member?
Sign up today to get free access to investment ideas and strategies from Australia's leading investors.
More podcasts

If you're enjoying Inside the Rope and don't want to miss a future episode, click 'follow' below to get notified when a new episode is released.
........
This research note has been prepared without consideration of any client's investment objectives, financial situation or needs. Before acting on any advice in this document, Koda Capital Pty Ltd recommends that you consider whether this is appropriate for your circumstances. While this document is based on the information from sources which are considered reliable, Koda Capital Pty Ltd, its directors, employees and consultants do not represent, warrant or guarantee, expressly or impliedly, that the information contained in this document is complete or accurate. Koda does not accept any responsibility to inform you of any matter that subsequently comes to its notice, which may affect any of the information contained in this document. © Copyright Koda Capital 2020 | AFSL: 452 581 | ABN: 65 166 491 961 | www.kodacapital.com
---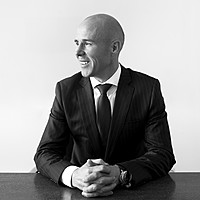 Adviser & Partner
Koda Capital
David Clark is an Adviser & Partner at Koda Capital. In his podcast 'Inside the Rope', David interviews some of the leading minds in wealth management.
Expertise