Victorian COVID-19 testing may be part of the problem...
---
In my previous post I highlighted screenshots from our real-time, global COVID-19 infection/fatality tracking-system that demonstrated that Victoria had never flattened its curve, and had chronically underperformed other Australian states in terms of its COVID-19 containment efficacies. I have reproduced a couple of those screenshots for your benefit immediately below. 
This article prompted an enormous amount of feedback, which we greatly appreciate. Credible explanations have been posited, including temperature and radiation differentials, fundamental vulnerabilities in the security arrangements around Victoria's quarantine hotels, growing community indifference to the mixed messages from the premier regarding lockdowns and protests, and the lack of translated COVID-19 communications that meant ethnic minorities might not have fully understood the gravity of the crisis. 
Another explanation relates to deficiencies in Victoria's COVID-19 testing intensity. Our systems track a rich range of real-time data on testing from around the world on a state (or provincial) level through to national statistics, which are updated automatically. When we evaluated the testing data from Victoria, there did indeed appear to be some shortcomings. 
In particular, cumulative tests per capita materially lagged New South Wales, Queensland and South Australia, and the national Australian and New Zealand averages, between the onset of the crisis in March through to early May. It seemed the Victorians new something was awry by that time, because there was a noticeable acceleration in testing per capita thereafter to such an extent that by mid May Victoria was outperforming most states (and the Australian and New Zealand averages). You can see our system screenshots enclosed below.
While the recent outbreak in Victoria has been disappointing, it is encouraging that the premier has now moved to lockdown the 10 affected regions, because one thing we know with conviction is that high-integrity lockdowns do work.
Never miss an update
Stay up to date with my content by hitting the 'follow' button below and you'll be notified every time I post a wire. Not already a Livewire member? Sign up today to get free access to investment ideas and strategies from Australia's leading investors.
........
General Disclaimer: Past performance does not assure future returns. All investments carry risks, including that the value of investments may vary, future returns may differ from past returns, and that your capital is not guaranteed. This information has been prepared by Coolabah Capital Investments Pty Ltd (ACN 153 327 872). It is general information only and is not intended to provide you with financial advice. You should not rely on any information herein in making any investment decisions. To the extent permitted by law, no liability is accepted for any loss or damage as a result of any reliance on this information. The Product Disclosure Statement (PDS) for the funds should be considered before deciding whether to acquire or hold units in it. A PDS for these products can be obtained by visiting www.coolabahcapital.com. Neither Coolabah Capital Investments Pty Ltd, EQT Responsible Entity Services Ltd (ACN 101 103 011), Equity Trustees Ltd (ACN 004 031 298) nor their respective shareholders, directors and associated businesses assume any liability to investors in connection with any investment in the funds, or guarantees the performance of any obligations to investors, the performance of the funds or any particular rate of return. The repayment of capital is not guaranteed. Investments in the funds are not deposits or liabilities of any of the above-mentioned parties, nor of any Authorised Deposit-taking Institution. The funds are subject to investment risks, which could include delays in repayment and/or loss of income and capital invested. Past performance is not an indicator of nor assures any future returns or risks. Coolabah Capital Institutional Investments Pty Ltd holds Australian Financial Services Licence No. 482238 and is an authorised representative #001277030 of EQT Responsible Entity Services Ltd that holds Australian Financial Services Licence No. 223271. Equity Trustees Ltd that holds Australian Financial Services Licence No. 240975. Forward-Looking Disclaimer: This information may contain some forward-looking statements. These statements are not guarantees of future performance and undue reliance should not be placed on them. Such forward-looking statements necessarily involve known and unknown risks and uncertainties, which may cause actual performance and financial results in future periods to differ materially from any projections of future performance or result expressed or implied by such forward-looking statements. Coolabah Capital Investments Pty Ltd undertakes no obligation to update forward-looking statements if circumstances or management's estimates or opinions should change except as required by applicable securities laws. The reader is cautioned not to rely on forward-looking statements.
---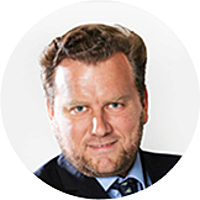 Portfolio Manager & Chief Investment Officer
Coolabah Capital
Chris co-founded Coolabah in 2011, which today runs over $8 billion with a team of 26 executives focussed on generating credit alpha from mispricings across fixed-income markets. In 2019, Chris was selected as one of FE fundinfo's Top 10 "Alpha...