Weaker business conditions, profits and capex plans in focus
---
"Faith in the endgame helps you live through the months or years of build-up." Jim Collins (Good to Great)
The focus this week turns to the building blocks for Australia's Q1 growth data (due Wednesday week 3 June). Most major economies have already released their Q1 data, with the sharpest falls in China (-10%, which leads the timeline for the pandemic and going into lockdown first through Q1). Europe has fallen almost 4% while the US and Japan saw smaller falls near 1%. Much sharper falls are expected in Q2, rendering the world technically in recession.
Economists have been debating over whether Australia's Q1 growth will be a small fall, or if it will scrape over the line with a positive print. Latest estimates from UBS argue growth in Q1 will fall around 0.8% (a similar fall to the US and Japan for Q1), while CBA argues a small positive gain of 0.1%. While January bushfires dragged on early Q1 growth, strong March retail panic-buying, a strong March jobs report (prior to April's plunge) and strong exports through the quarter look to have supported Q1 growth. But it's neither here nor there really, though it could become interesting if a small Q1 positive raises the risk Australia may avoid a 'technical' recession in 2020—even if we all know we are deep in a real one.
This week we start to see some of the harder data that builds into Australia's Q1 growth data. Thursday sees Q1 business capex data. After a 2.8% fall in Q4, expectations for Q1 are a further fall of 2-3%. Q1 was dominated by business uncertainty amid the unfolding COVID-19 pandemic, and uncertainty does not foster business decisions to invest—nor does declining profit growth. As our chart today shows, the latest NAB survey profits component has weakened sharply, and much more than recent trailing earnings per share estimates to date. This suggests company earnings and profits have significantly further to fall through 2020. This is likely to see the accompanying data on capex outlook downgraded sharply this week (also due on Thursday).
Elsewhere this week, it is Memorial Day holiday in the US on Monday, ahead of a week likely to remain focused on rising US-China (and Australia-China) trade tensions. On Wednesday, European Central Bank President Lagarde speaks, ahead of US Federal Reserve Chair Powell on Friday night. Interestingly, regional US manufacturing surveys (Dallas, Kansas, Richmond) are all expected to show improving May confidence, potentially flagging a further rebound in the national purchasing manager indices (PMIs) down the track, albeit April core durable capex orders on Thursday night are expected to be weak (as in Australia), potentially down 20%. Finally, China releases its May PMIs on Sunday with slightly weaker results expected—though with the indices still around the key 50 mark.
Weak business conditions point to sharper capex, earnings and profit declines
Source: ABS, Factset, UBS, NAB
Be the first to know
I'll be sharing Crestone Wealth Management's views as new developments unfold. Click the 'FOLLOW' button below to be the first to hear from us.
........
General advice notice: Unless otherwise indicated, any financial product advice in this email is general advice and does not take into account your objectives, financial situation or needs. You should consider the appropriateness of the advice in light of these matters, and read the Product Disclosure Statement for each financial product to which the advice relates, before taking any action. © Crestone Wealth Management Limited ABN 50 005 311 937 AFS Licence No. 231127. This email (including attachments) is for the named person's use only and may contain information which is confidential, proprietary or subject to legal or other professional privilege. If you have received this email in error, confidentiality and privilege are not waived and you must not use, disclose, distribute, print or copy any of the information in it. Please immediately delete this email (including attachments) and all copies from your system and notify the sender. We may intercept and monitor all email communications through our networks, where legally permitted
---

Follow Scott Haslem's wires
---
---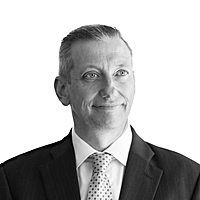 Chief Investment Officer
LGT Crestone
Scott has more than 20 years' experience in global financial markets and investment banking, providing extensive economics research and investment strategy across equity and fixed income markets.
Expertise